That start of a new year in Boston means freezing temperatures, blankets of soft snow, layers of warm clothing, stick figure trees, and hot chocolate. A season of staying cozy indoors. But wait, why settle for that narrative? A Valentine's Day photoshoot in Boston works as a great excuse to get dressed, step outside, and have some fun even when there isn't much sun!
Now, I'd like to stop you before you assume that a Valentine's Day photoshoot is only for couples. Take a closer look – my pictures here are all solo! Some I shot by myself, and others my husband helped me shoot.
Just like the holiday itself, the photoshoot is also an opportunity to celebrate whoever and whatever gives you joy – your partner, your best gal pals, your family, your pet, or just yourself!
So grab your camera, anyone you'd like, and your best smiles – because we're going to have some outdoor fun in Boston's coldest months!
7 fun spots for a Valentine's Day photoshoot in Boston
1. Ruggles Station
The first thing that comes to mind when I think of celebrating love is celebrating ALL love. That's what makes the JOY mural (Ruggles) my first stop in Boston for a Valentine's Day photoshoot!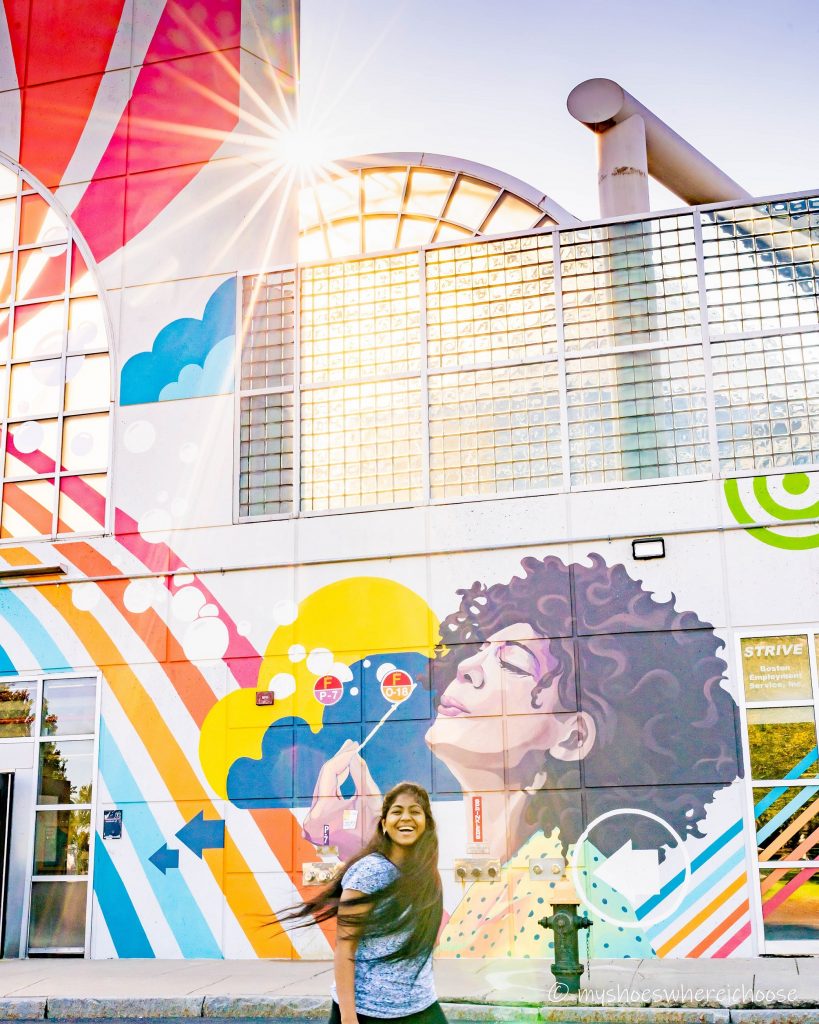 A part of Northeastern University's public art project, I love the vibrant colors, the symbolism of inclusivity that we can attach to it, and how this place is uniquely Boston!
If you're feeling up to it, you can check out another quirky spot just a few meters from the Ruggles station – the Gemini art installation.
Also read: Complete list of my travel photography gear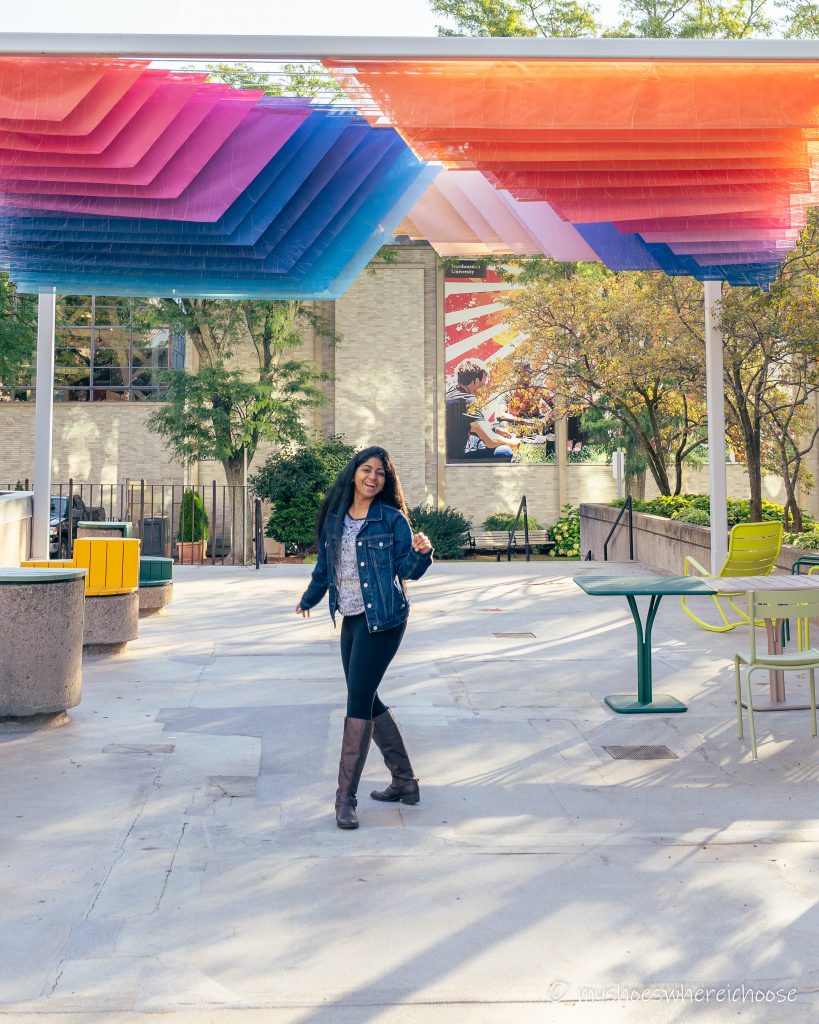 2. Seaport District
The Seaport District in Boston always lifts my spirits with its upscale vibe! Okay fine, not always – finding a parking spot here is no fun at all.
Once you find that parking spot though, head to Seaport Common – an urban park in Seaport District that has seasonal installations and is lined by pop-up stores that form The Current. This is a great place to check for Valentine's Day themed art or decor.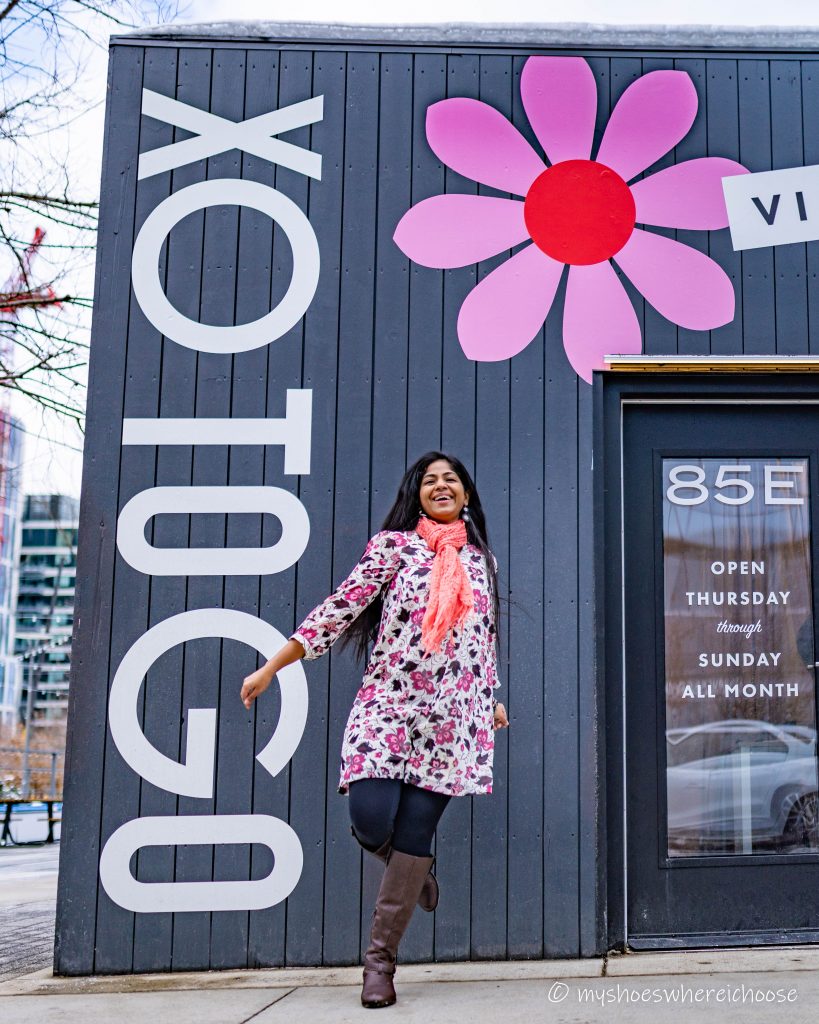 The firepit at the Fan Pier Park is another fantastic spot at Seaport District, not just for pictures but also to admire the sunset hues along the Boston harbor.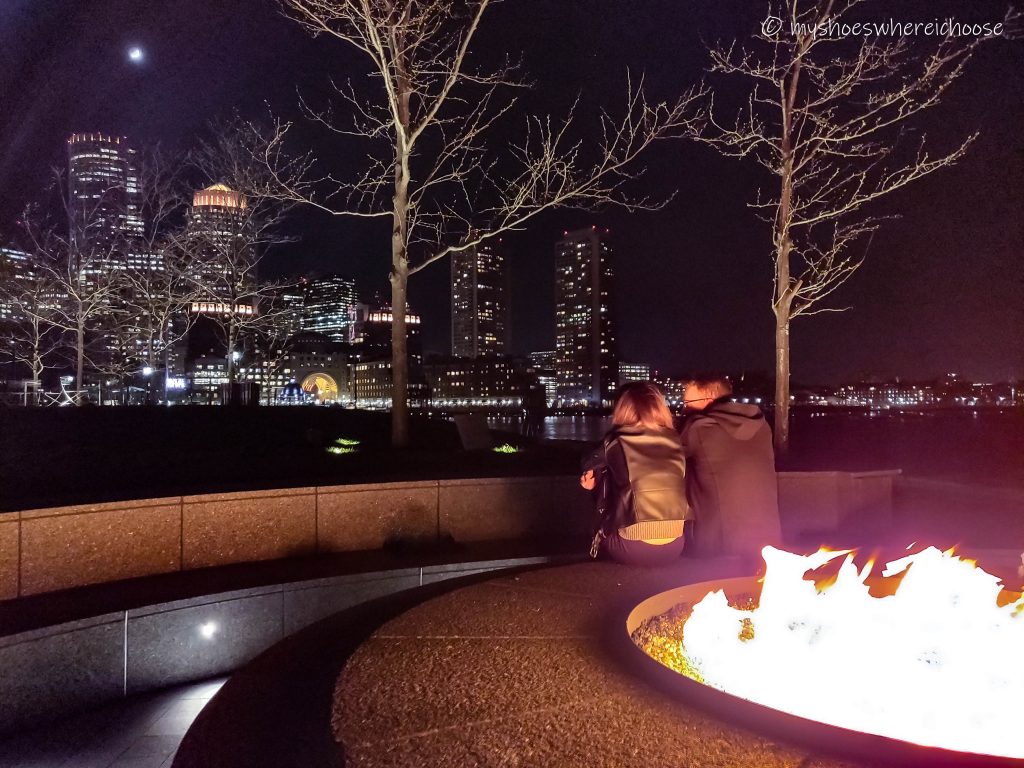 3. Franklin Street
How often do we come across travel content where we can't identify a place without a geotag? In a world where most cute spots have already been shared extensively on social media, I love discovering my own little hidden gems. Introducing what I refer to as Cheese!
You'll also find something that reminds you of Paris's Louvre right in the heart of Boston! All this on Franklin Street adjacent to One Post Office Square – one of the most picturesque places in Boston.
4. The Verb Hotel
The vibrant Verb Hotel near Fenway Park, popular for its vintage rock and roll style, makes for one of Boston's best Valentine's Day photoshoot locations. And don't miss the red bus parked outside which pairs perfectly well with some pink balloons!
Note: The bus wasn't parked outside the hotel when I visited in March last year – call them beforehand to plan for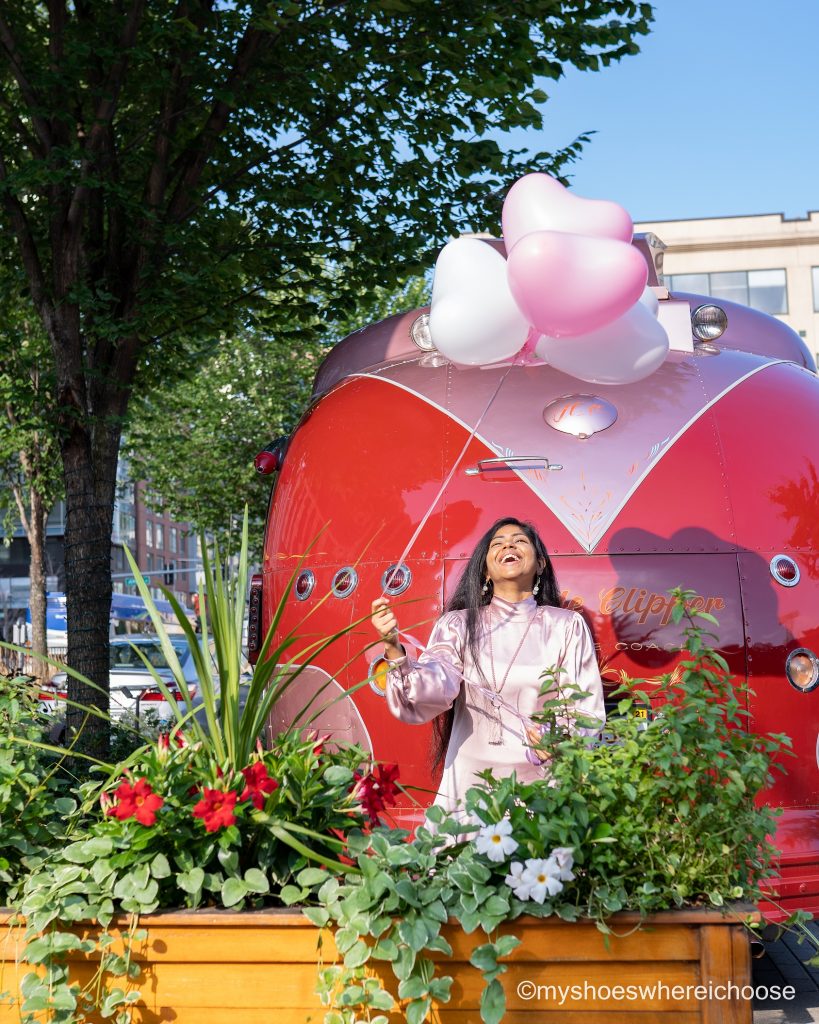 It's hard to miss Hojoko's vibrant mural with a baby sumo wrestler and a lovely pink-purple-blue palette adjacent to The Verb Hotel. While my pink balloons didn't stand out, they sure did blend in with the art here.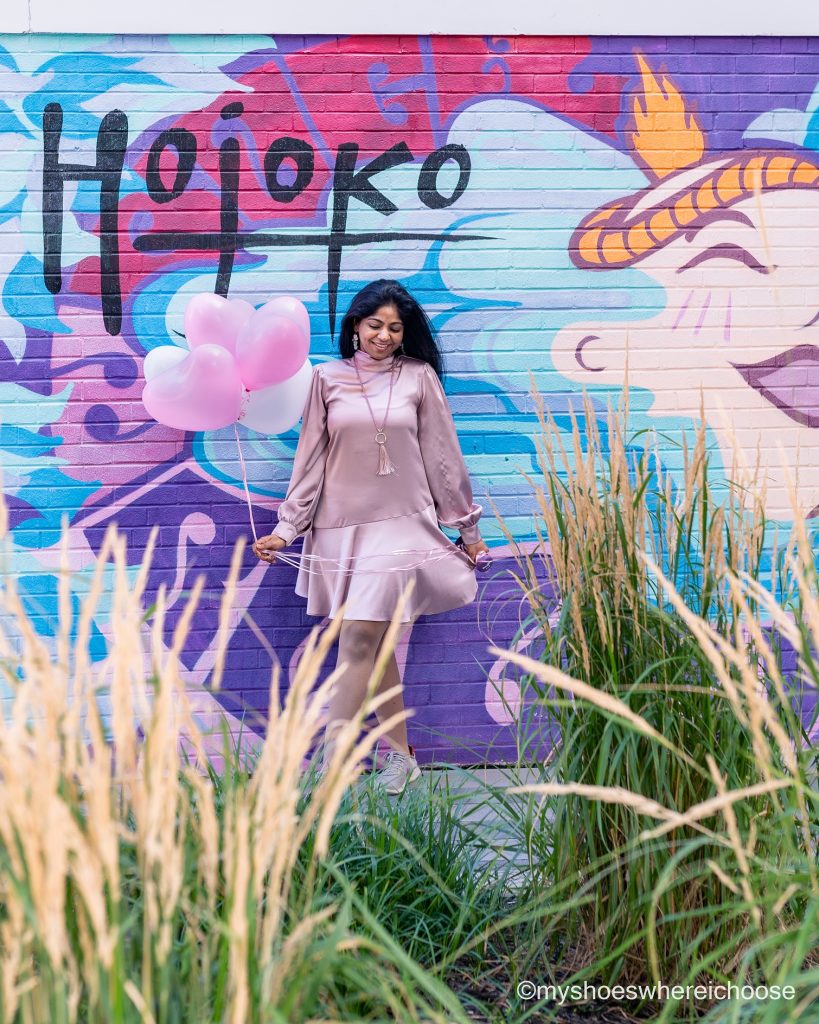 Also read:
The Ultimate Guide to Boston Murals
Complete list of my travel photography gear
5. Citrus and Salt
What's a Valentine's Day photoshoot without more pink walls, you ask? You're absolutely right! And while we're at it, let's also add some coastal vibes, cute skulls, tacos and margaritas. What we're looking for is Citrus and Salt at Boston Back Bay!
With string lights and a smiling skull on a white wall on one side, and a pink wall lined with golden chandeliers on the other, your view is guaranteed to be very different from someone sitting right across you at the same table!
This restaurant was designed with social media in mind. Everything you'll find here is insta-worthy – their food, mimosas, painted floor, and even the mirror in the restroom!
6. Underground at Ink Block
When it comes to expressing your love, why not say it loud and clear like this mural at Underground at Ink Block?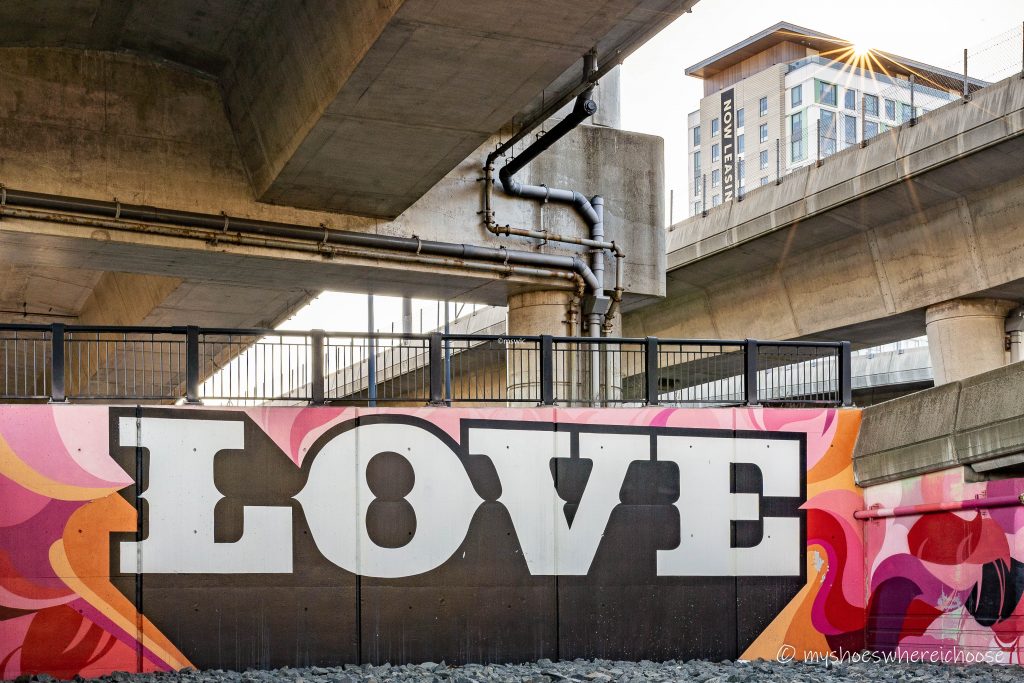 The mural is large enough that you can even choose to use just a portion of the wall for a funky pink and red background backdrop!
Underground at Ink Block is a fascinating underpass near South Boston housing murals, seasonal events, and a parking garage. You can read more about this urban park here: Underground at Ink Block.
7. Boston Theater District
Plan an evening Broadway/Ballet show, stop for a pre-show Chinese/Thai dinner, and strike a quick pose for your Instagram – all at Boston's amazing Theater District.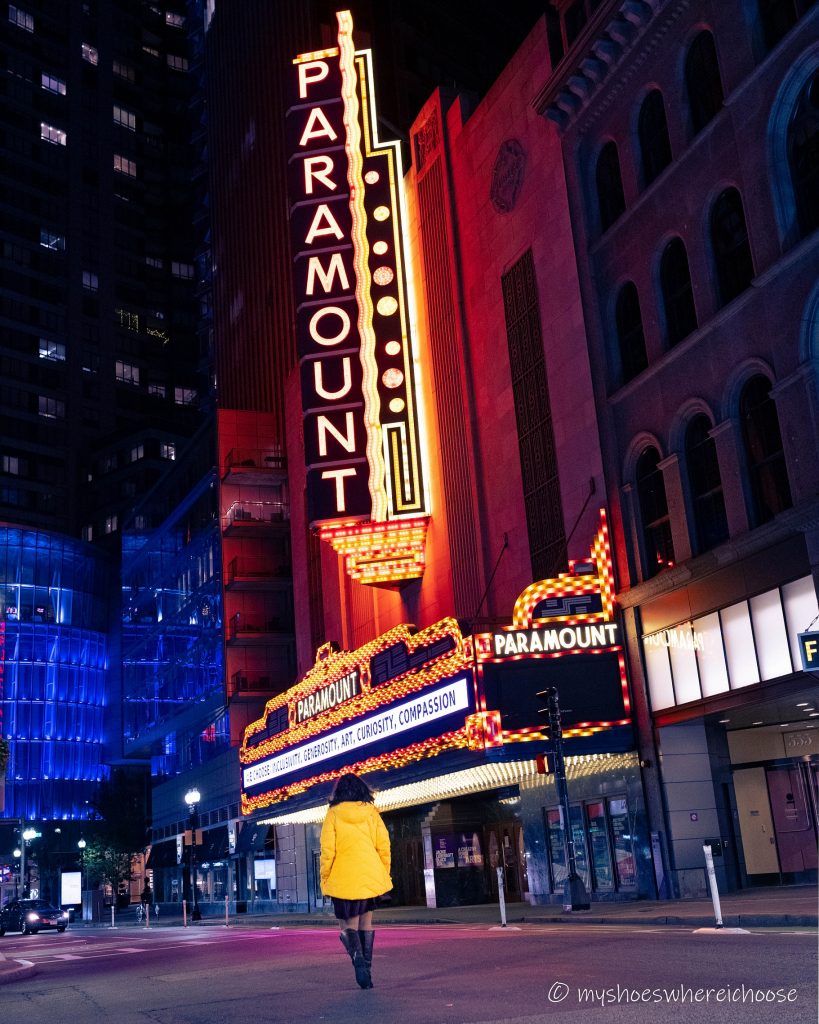 The Paramount Theater (pictured here) is a designated Boston Landmark that opened originally in 1932. It, however, hasn't always looked this way. In 2002, 70 years after its opening, the developers of the adjacent Ritz-Carlton Hotel worked to restore its exterior façade, giving the Boston Theater District landmark its iconic look back.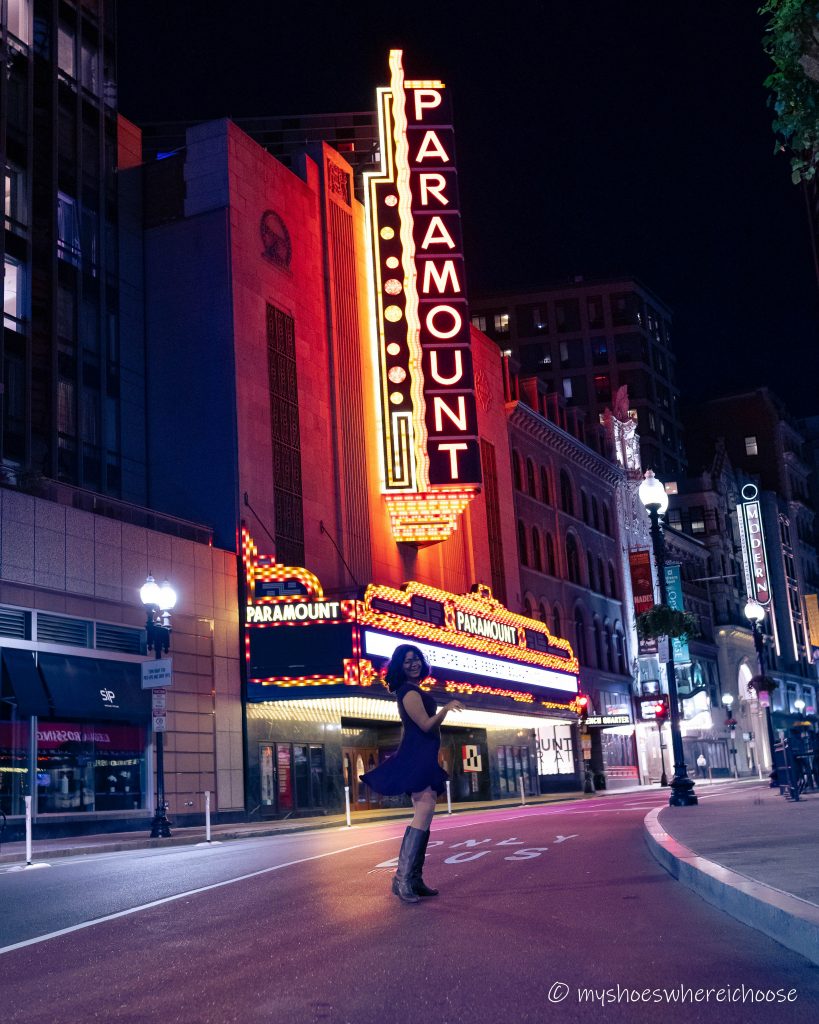 Pro tip: The corner opposite the Paramount theater is a popular light painting photography site. That said, there's a traffic signal here that helps build your patience while waiting for a smooth flow of traffic 🙂
Also read: What's in my camera bag?
That's just my list, though! This city is filled with twinkling lights, brick-walled buildings, charming horse-drawn carriages, ancient architecture majestically standing alongside the modern, making just about any corner a perfect spot for a Valentine's Day photoshoot in Boston.
Where will you be shooting this V-Day? 🙂
Until next time <3
Nam
Pin This Post
Other Posts You Might Like
Latest posts on myshoeswhereichoose