Boston is home to a large variety of beautiful spring blossoms! Starting from the Daffodils in March to the Lavender in July, there's always some type of blossom adding color along the streets of this lovely city. Be that as it may, peak springtime in Boston is typically associated with the peak of Magnolia and Cherry blossoms. And although all through April is a great time to witness these, I've consistently seen the best Saucer Magnolias and Cherry blossoms between the second and third weeks of April.
So, now that we know when to go looking for them, let's dive into where in Boston we can find the best Magnolia and Cherry blossoms! Ready?
Best spots to see Magnolia and Cherry blossoms in Boston
5. South End
South End is one of Boston's most diverse neighborhoods, and is home to a lot of parks (nearly 30!). The most popular place to look for Magnolia and Cherry blossoms is along the SW Corridor path. The residential street near Rutland square is another personal favorite to see some seasonal color added to the already colorful houses.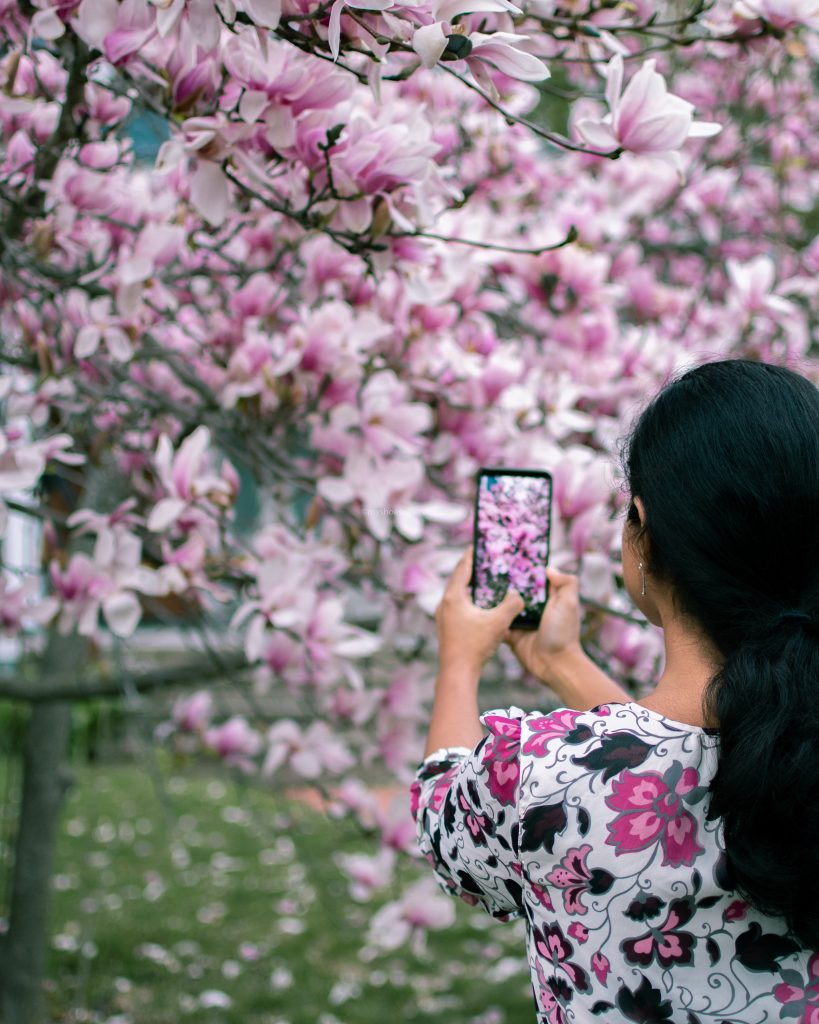 Pro tip: South End has a vibrant food scene. Have a cocktail at Beehive, enjoy a quick bite at Flour Café, or grab some ice cream at Fomu!
Also Read:
Guide to Spring Blossoms in Boston (includes a spring calendar)
6 Tips for your Spring Blossom Photoshoot
4. Beacon Hill
Beacon Hill – Boston's famous historic neighborhood! This charming neighborhood stands out for its elegant doors and cobblestone streets. Blossoms of all varieties make a beautiful contrast against the gorgeous brick-red walls of Beacon Hill.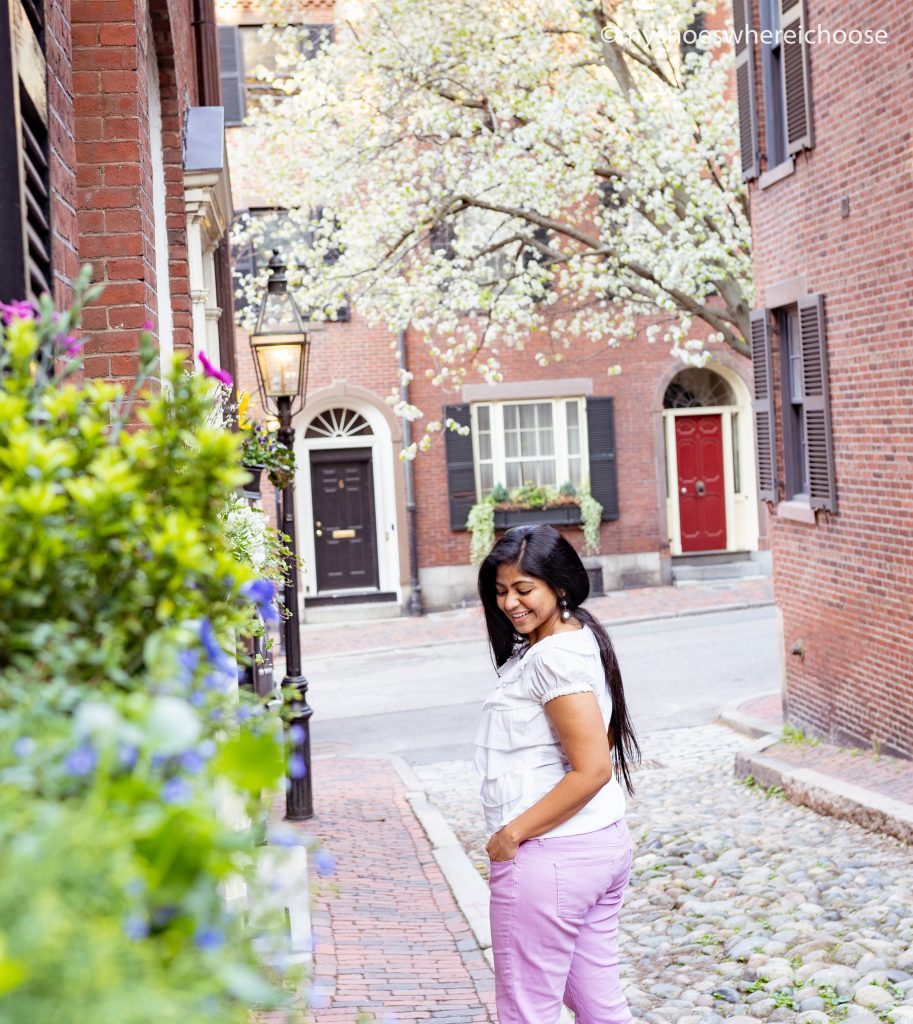 Take a walk along Pinckney, Mt Vernon, and Chestnut streets. You'll even discover gems like Rouvalis and The Sunflower Castle.
A hot spot for tourists and photographers is Acorn street – touted to be the most photographed street in the country.
Also read: What's in my camera bag – a list of all my favorite travel photography gear!
3. Boston Public Garden
The best place to take advantage of the weather and enjoy a picnic under some cherry blossoms is the Boston Public Garden.
George Washington Statue at Boston Public Garden

Iconic Public Garden Bridge
Keep an eye out for the multi-color tulips and the opening of swan boat tours as we get closer to May.
2. Back Bay
Step outside the Public Garden towards Commonwealth Avenue (or Comm Ave, as locals call it) for houses lined with the prettiest Magnolia blossoms in Boston!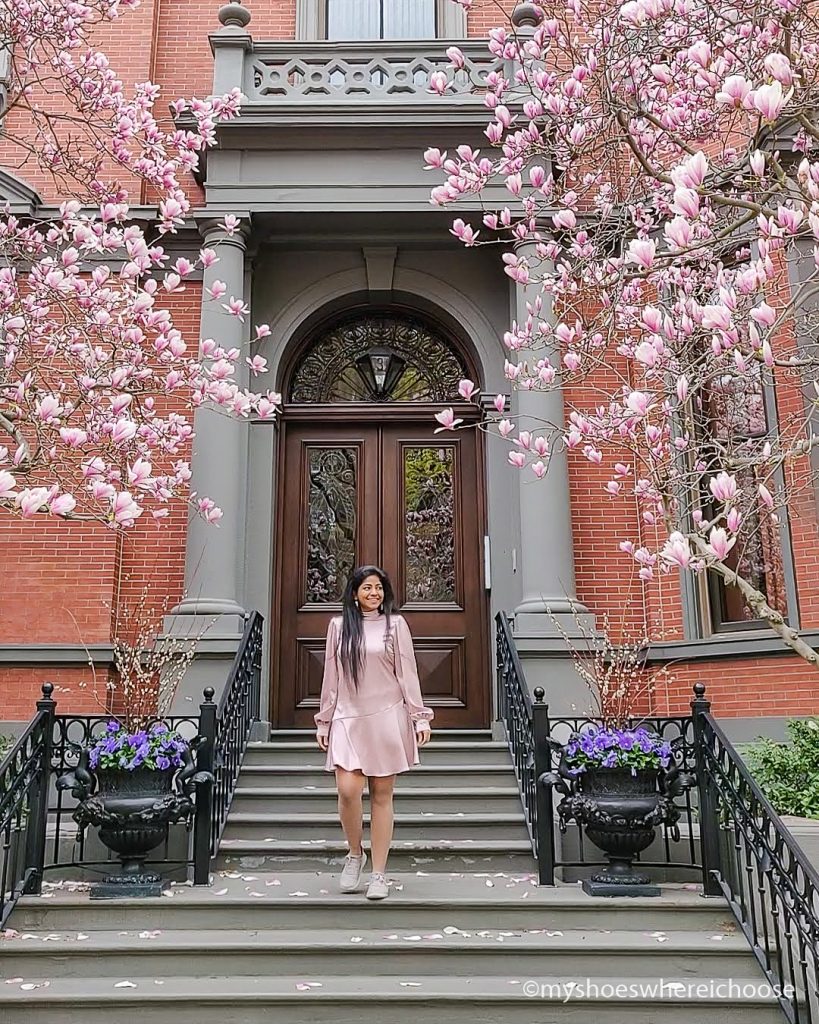 Don't worry if you miss the first 'peak'. Due to the orientation on the trees with respect to sunlight, one side of the street typically blooms a bit later than the other. And I love this because it gives us some extra time to enjoy their presence on Comm Ave!
Framing the Prudential building with blossoms

Beautiful houses – BackBay Boston
Although Comm Ave has the most popular display of Magnolias in Back Bay, you wouldn't want to miss the trees on streets parallel to Comm Ave – especially Newbury and Marlborough Streets!
Also Read:
Daffodils in Boston – where to find them and their significance
6 Tips for your Spring Blossom Photoshoot
Guide to Spring Blossoms in Boston
1. Charles River Esplanade – #1 spot to see Magnolia and Cherry Blossoms in Boston
Saving the best for the end! The Charles River Esplanade is my #1 spot in for Magnolia and Cherry blossoms in Boston. Here, you'll find city life perfectly blending in with nature. Bikers, runners, kayakers, cute bridges, and the Charles River add to the magic of the cherry blossom trees along the water.
The prettiest place to see Cherry Blossoms!

Magnolias along the Charles <3
The Esplanade is primarily lined with cherry blossom trees. But you'll also find stunning Magnolia blossoms on the Hatch Shell end of the Esplanade!
I've listed my top 5 spots, but there are so many more places to see these blossoms in Boston. Leave a comment if you'd like a Part 2 with more spots, including some hidden gems!
Join me on Instagram to see more Boston content!
Bonus: My photo collection of Magnolia and Cherry Blossoms in Boston
Pin This Post
Other posts you might like
What's in my camera bag – all my favorite travel photography gear!
Guide to the Most Beautiful Spring Blooms in Boston
Tulips in Boston – Where to find them
Most Instagrammable Places in Boston
The Ultimate Guide to Boston Murals
Latest Posts on myshoeswhereichoose