Are you someone who meticulously plans flat-lays and snaps pictures of your food before you take a bite? I'm not (yet)! I typically get too excited to see my food and only think of my camera after my plate has been wiped clean! Instagrammable cafes to the rescue – cafes worth capturing even after all the food has been devoured are perfect for people like me, right? So, I went on a hunt to find cafes that are not just the most Instagrammable cafes in Boston, but also ones serve the most amazing food that keeps me going back. And hopefully, one of those times, I'll remember to capture the food as well! 😉
The Most Instagrammable Cafes in Boston
Ogawa Coffee
Located on the aptly named "Milk Street" in Boston, Ogawa Coffee brings you artisan coffee all the way from Kyoto, Japan! (I can totally see my Japan-loving sister sit up as she reads this, haha). This café is Ogawa's first international branch, and I couldn't be happier that they decided to open in Boston!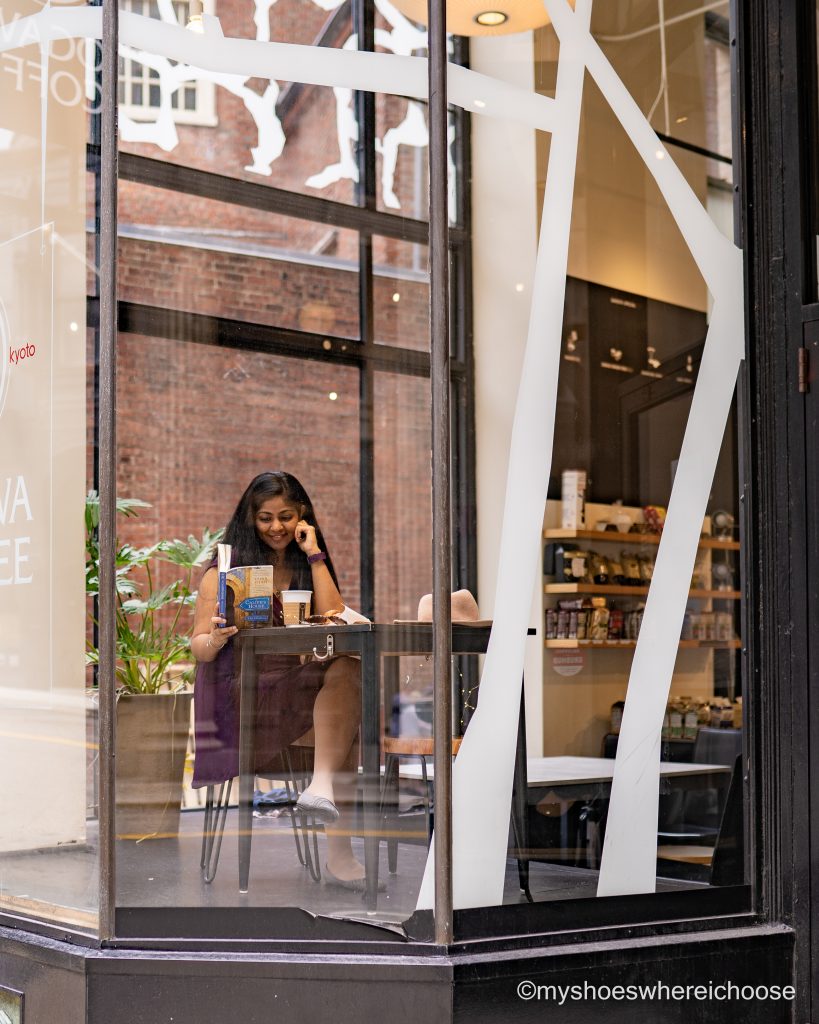 The baristas here are the friendliest I've met. We had a lovely conversation, and they even took pictures of my photoshoot setup for the cafe's social media! Their croissants are delightfully buttery, and their matcha latte is a must-try.
For the delicious food, friendly baristas, and lovely aesthetics inside-out, Ogawa is a must-visit when in Boston!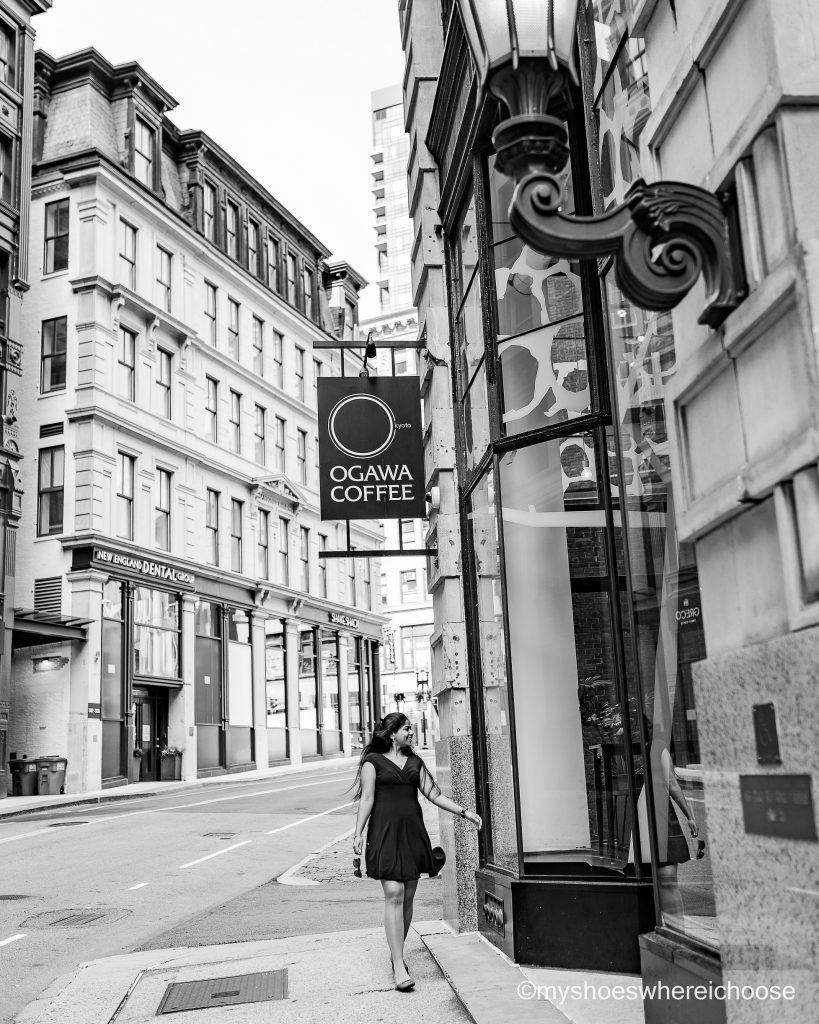 Pro Tip: Super-talented Barista Sheppy makes the most unique latte art – be sure to ask for something seasonal when you're visiting!
Also read:
New England Fall Road Trip – The Ultimate Guide
Complete list of my travel photography gear
Thinking Cup
I will always remember Thinking Cup as my winter oasis on the day I took my first ever DSLR out for the first time!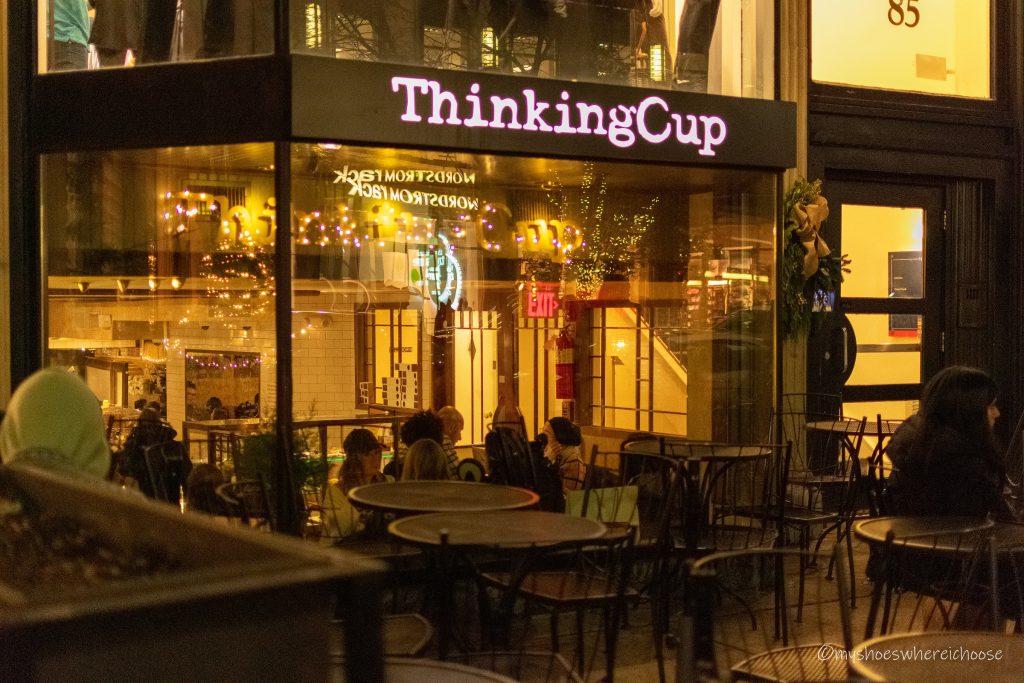 I bought my Nikon D3400 during a Black Friday sale, and received it on the first week of December 2017. After about 2 hours of excitement with the camera one evening, I knew I had to do something before I froze in the December cold such that you couldn't tell the difference between me and the statues on Comm Ave. That's when I discovered Thinking Cup on Newbury Street – its golden glow a beautiful promise of the warmth it was going to provide!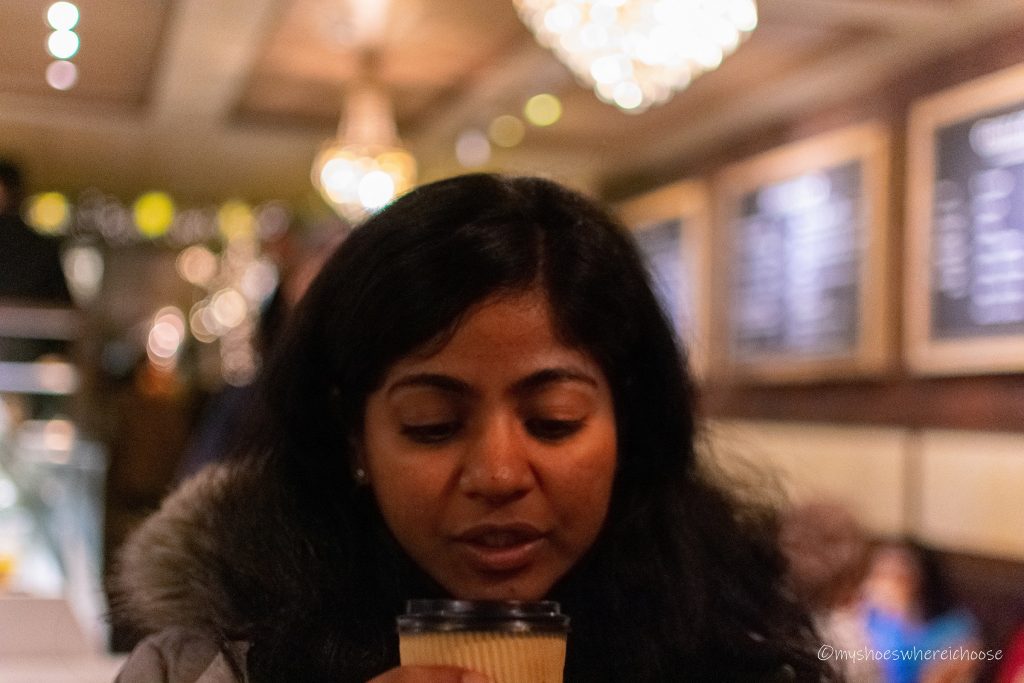 This is one of the first Boston cafes that I fell in love with. Their table-tops are made with newspapers older than a hundred years, giving off the perfect vintage vibes as you enjoy your delicious biscotti and latte on them!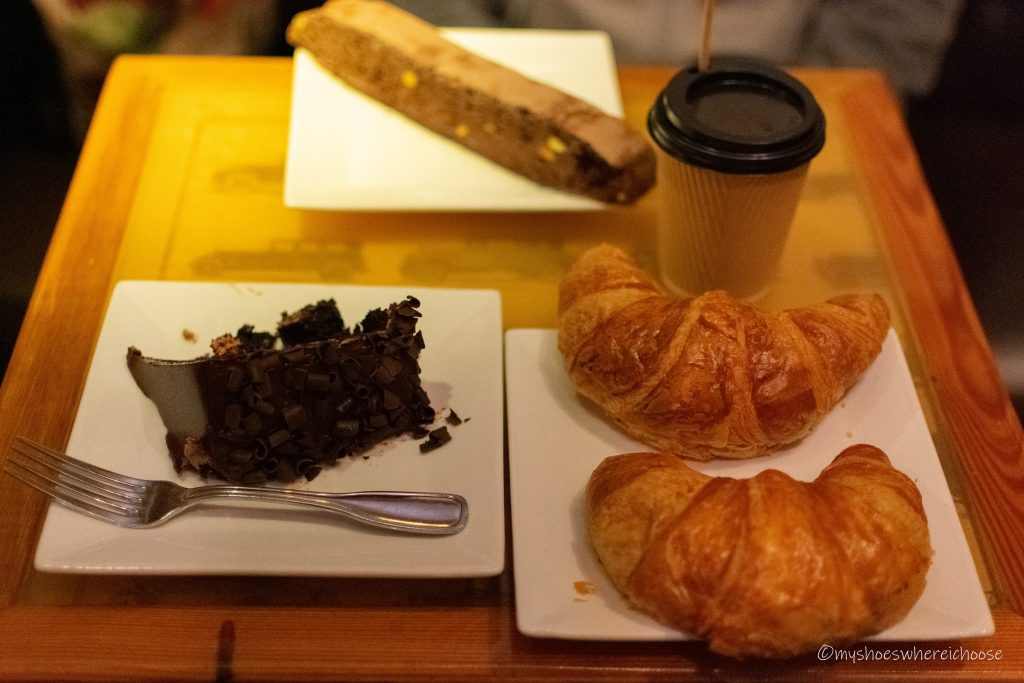 Pro Tip: The Thinking Cup does not offer free Wi-Fi..I guess they'd like you to truly connect to your thoughts while you're here?
Caffe Vittoria
My friend introduced me to Caffe Vittoria back in 2017, and it's been a favorite of mine ever since. Located on Hanover Street in North End since 1929, Vittoria is Boston's first Italian café!
The first time I visited Vittoria with friends, we found no legit parking space. So, we decided to park in a resident-only spot and split the parking ticket 5-way – the things we sometimes have to do to park in Boston!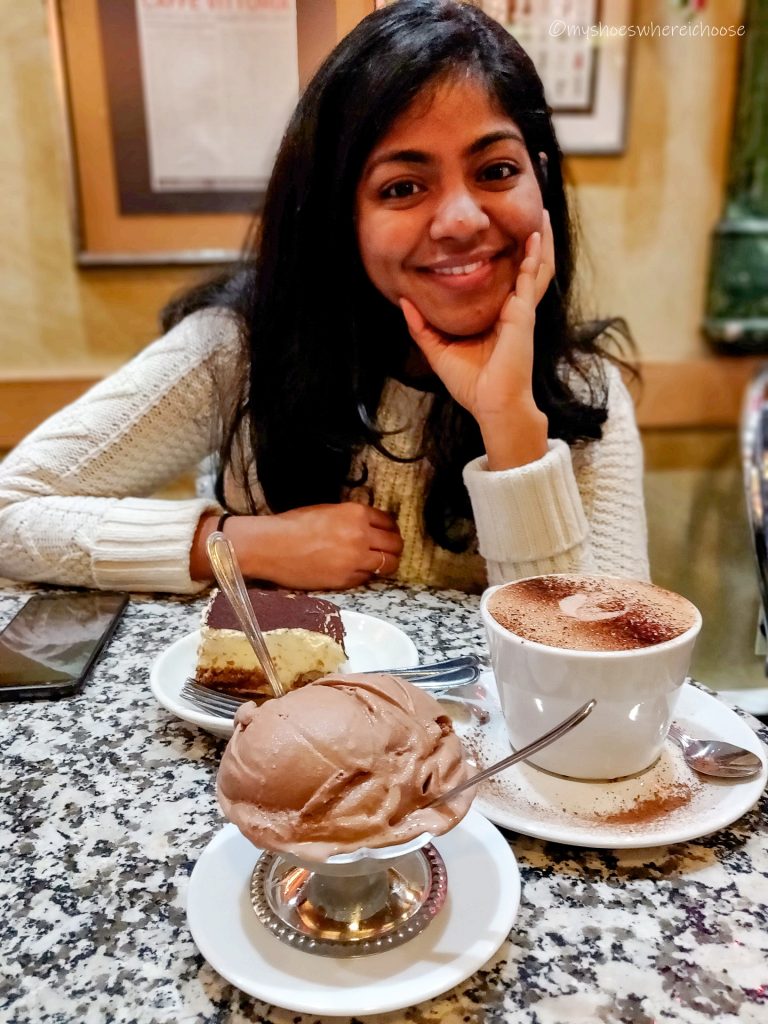 I can't decide what I love more – Vittoria's vintage coffee-brewer décor or their Espresso Affogato! Also, who can say no to a slice of Tiramisu from an Italian café, am I right?
Pro tip: Caffe Vittoria accepts cash only. Don't worry, though – there's an ATM nearby if you don't come prepared.
Also read:
10 most instagrammable places in Boston
What's in my camera bag?
Tatte Bakery & Café
When in Boston, Tatte is to cafés what Acorn is to streets – super popular, and for a reason! You can't walk past Tatte without noticing the savory aroma of the bakery that urges you to step in!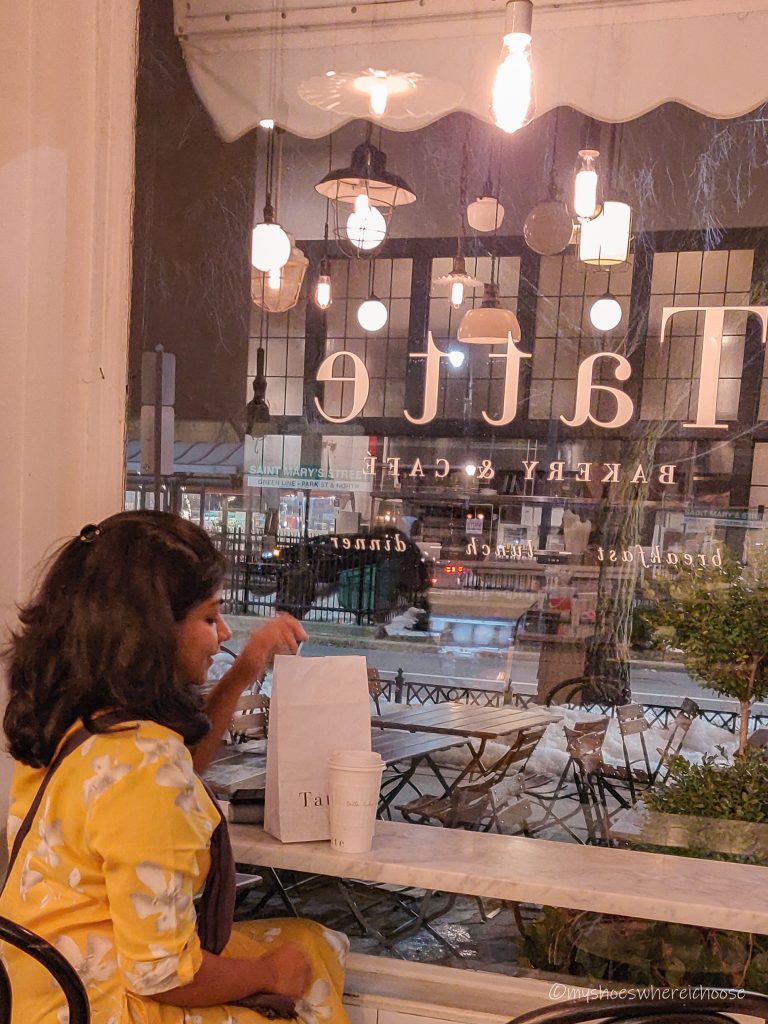 Relish their customizable tartines alongside some rich hot chocolate, or their coffee while biting into their soft, light croissants. All of this while feasting your eyes on their counters lined with pretty stacks of pastries and bread!
Also read: Most Instagrammable Outdoor Locations in Boston
Pro Tip: While Tatte has about 20 locations across Boston and Cambridge, they're all typically busy around brunch time (even on weekdays!) – so plan to stop by earlier/later if you're visiting with Instagram on your mind.
Caffe Nero
Nero, the Italian coffee shop with their locations in USA primarily concentrated in Boston, gives me the vibe of sitting in someone's cozy cottage! Not all tables are designed to be the same, and it can be a fun activity picking out where you'd like to sit, only to come back and try another table the next time!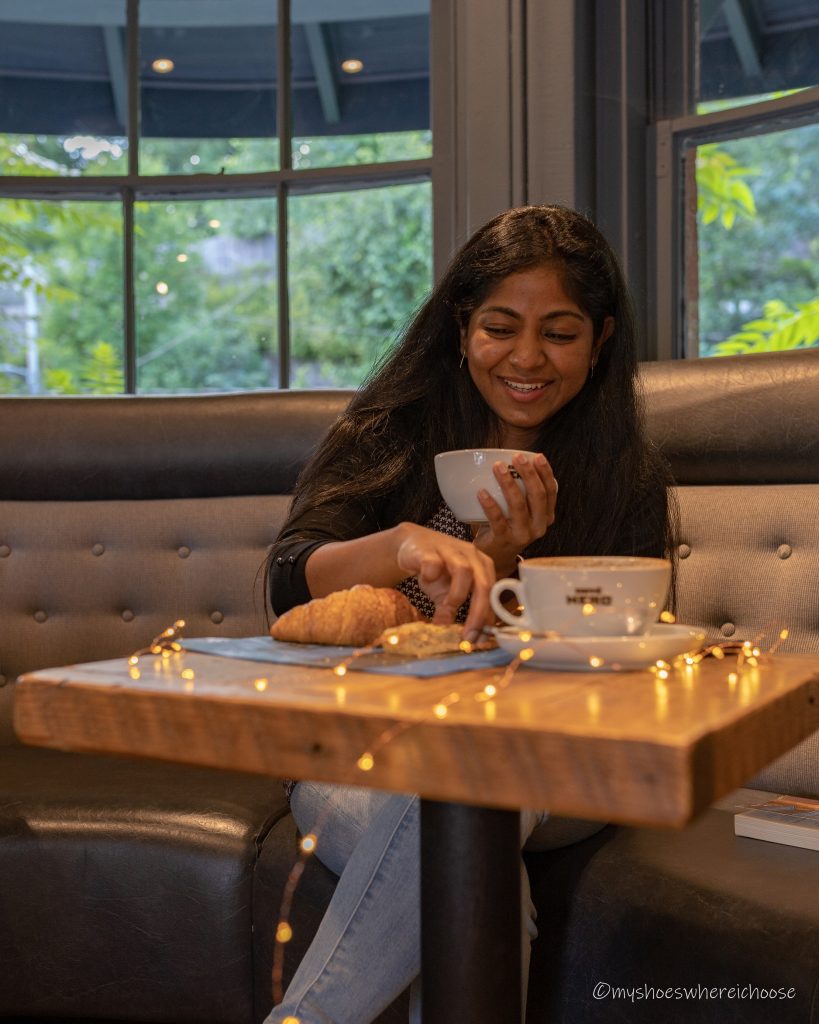 Nero's distinct blue and black brand colors makes it instantly recognizable anywhere. The ambiance makes Nero the perfect place to relax with a book, or chat with a friend about your dreams to visit Italy – the land that inspires their amazing coffee-roasting technique!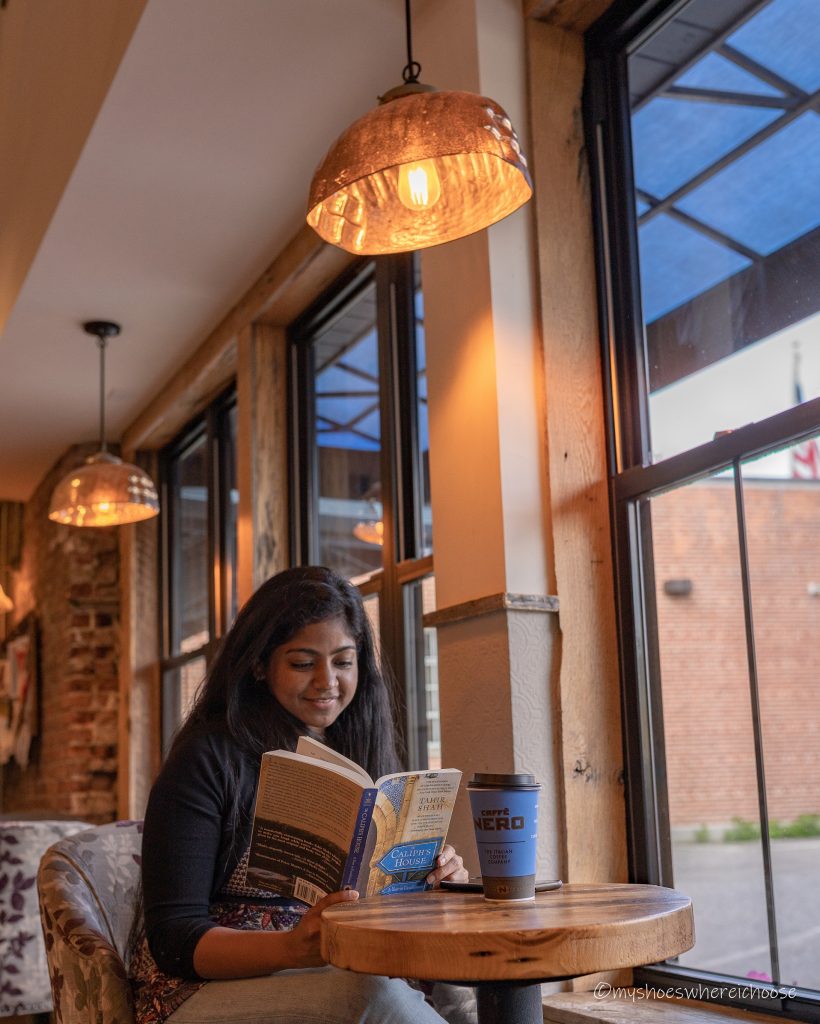 Pro Tip: No two tables feel the same at Nero. I've been to one of their branches thrice, and each time has felt like I was at a different coffee shop altogether!
I'm still on my pursuit to discover other Instagrammable cafes in Boston that also serve great food – but these are the ones I currently love and keep going back to!
Have you been to these cafes? What are some others that you think should absolutely make it to this list?
Until next time <3
Nam
Pin This Post
Other Posts You Might Like
Latest posts on myshoeswhereichoose