Winter 2023 in Boston has been most unusual – almost as though Fall directly transitioned into Spring. I sure am grateful that my snow shovel didn't have much work this year, but I wish we could have had at least one good snow-storm on eastern Massachusetts. Every other year, though, March is when the average Bostonian's patience with the cold weather here starts to run out. March is when we're ready to put away our winter coats, boots, and gloves for good. And we desperately start to look for signs of Spring. While our favorite Magnolia and Cherry blossoms may not show up until April, the Daffodils in Boston show up earlier and are a welcome sigh of relief!
My 5 favorite spots to find Daffodils in Boston
1. Charles Esplanade
The Charles Esplanade is a perfect spot all year round. It's great for picnics, for a walk/run, and for showing Boston off to visitors! I haven't run into too many daffodils at the Esplanade, but it's one of my favorite spots to scout them for two reasons: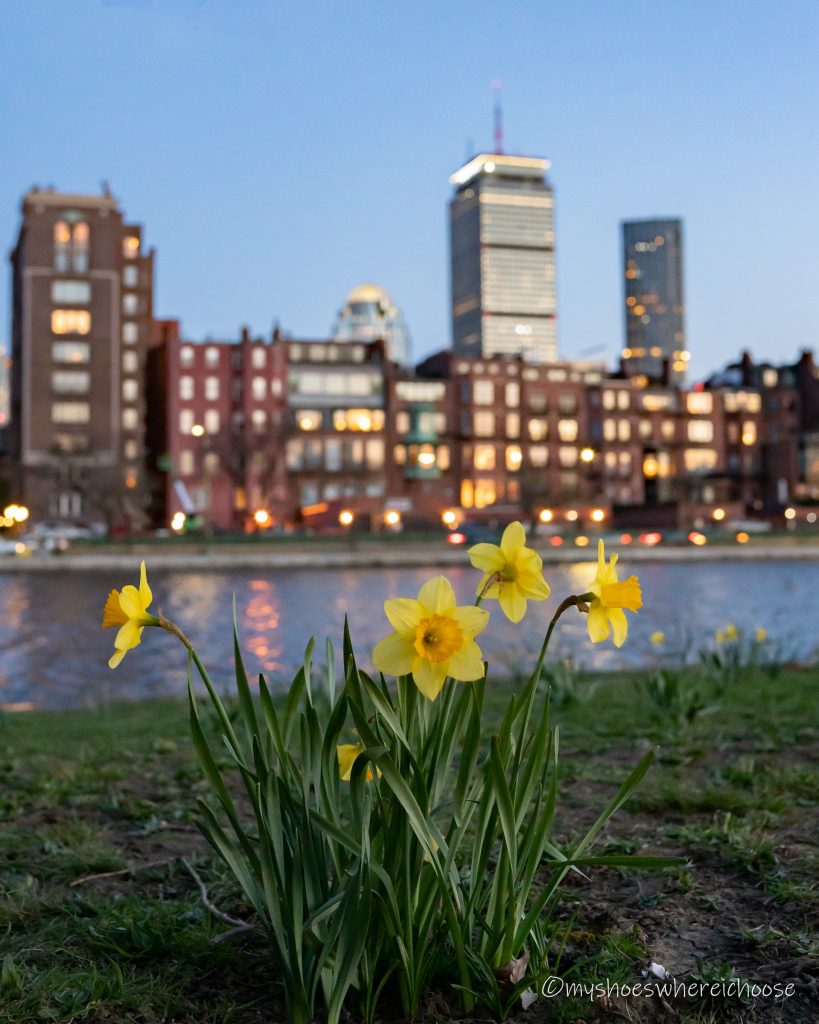 They make an amazing foreground for the Pru (as pictured above)
It makes for a great excuse to check on the status of the cherry blossoms
Stay till the end to see daffodils with cherry blossoms at the Esplanade!
2. Back Bay
Finding yourself on the Commonwealth Avenue at any time during spring is guaranteed to reward you with any one of the many types of blossoms of the season. From daffodils late March to crabapple blossoms and tulips in May – this street has it all! Give yourself enough time to walk a good length of this street, and then walk into the Public Garden to enjoy some time watching the swans.
Daffodils waiting for Magnolias above

Comm Ave is a treasure!
3. North Point Park
At most places, Daffodils feel like an addition and not the main attraction. But that's not the case with North Point Park. There's a whole bed of them here, making this a quintessential daffodil spotting place in Boston!
And they make the view of the already photogenic Zakim bridge so much more colorful!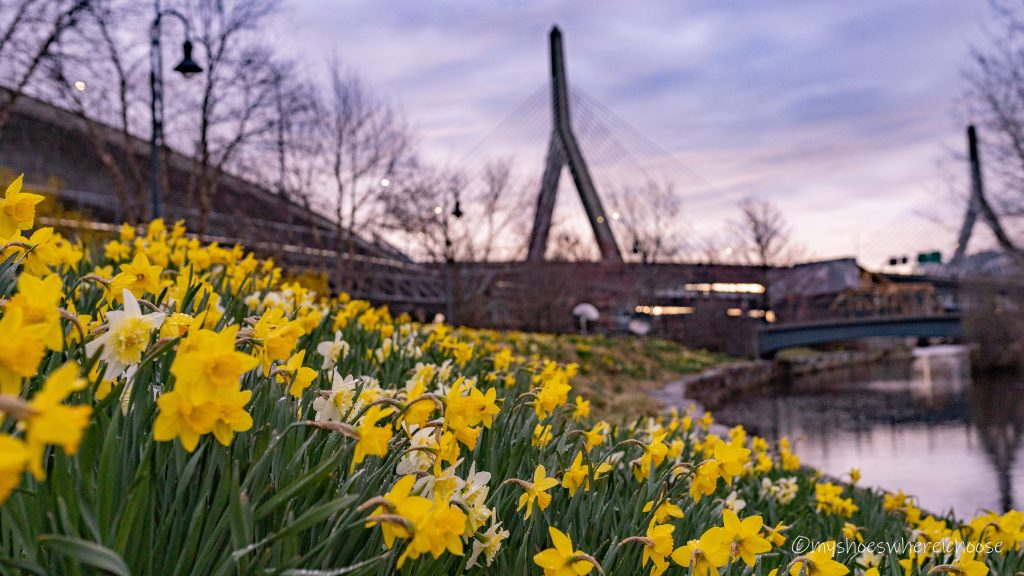 Pro tip: Watch out – a lot of people walk their dogs here without a leash. One particularly big dog gave me the fright of my life by sneaking up behind me!
Also read:
Guide to Magnolias & Cherry Blossoms in Boston
6 Tips for your Spring Blossom Photoshoot
4. Seaport
This isn't really a 'trick' spot. Because the Fan Pier at Seaport is lined with some real Daffodils if you only want to see the real ones. However, I also enjoy these "fake" art ones that balloon up and change direction with the blowing breeze at Seaport Common. This temporary art installation is called 20 Knots (the ideal speed of wind that activates it).
5. Beacon Hill
Beacon Hill is one of the most beautiful neighborhoods in Boston! It is also home to a cute little shop called Rouvalis – where you're guaranteed to have some early Spring vibes! It's the perfect place to not only see Daffodils in Boston, but also purchase them if you're interested!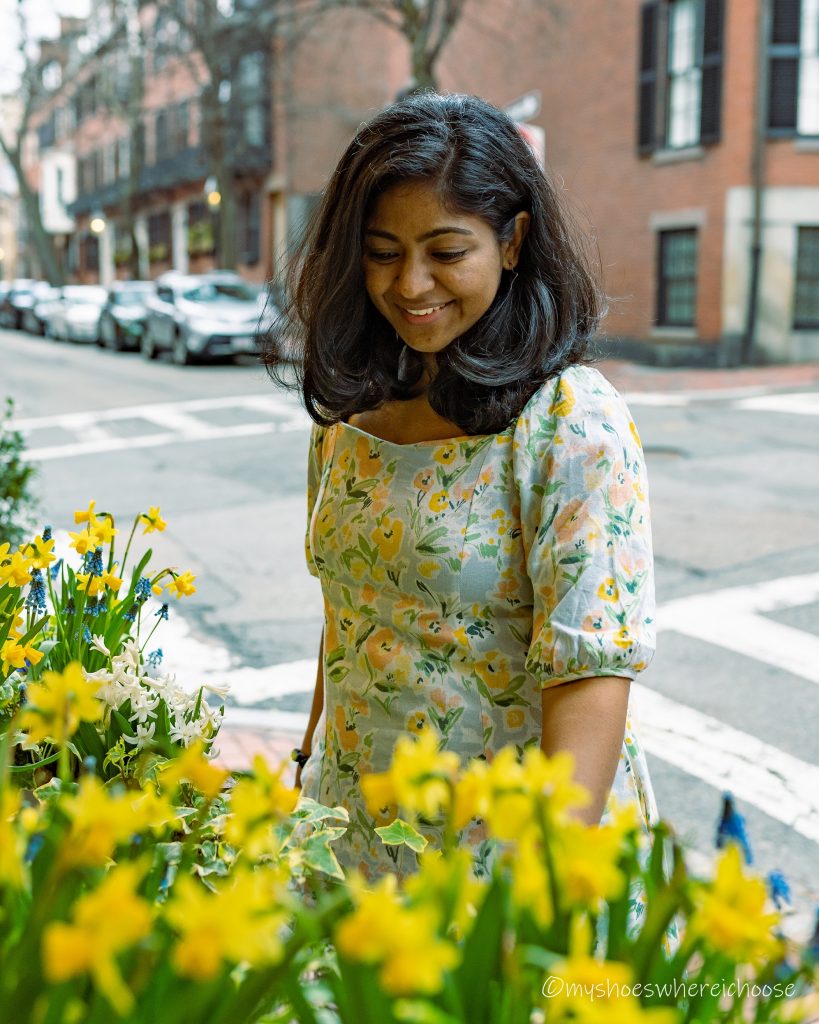 Aside: Are you planning to buy a new camera? Here's the Complete list of photography gear I use that can help you decide!
Bonus Daffodils – Boston Marathon
Did you know that Daffodils have a deeper significance in Boston? As a tribute to Boston Strong, about 25,000 daffodils imported from Holland line the Boston marathon route every year since the Boston Marathon bombing. They're a sign of hope, rebirth, and resilience. You can read about Marathon Daffodils, the non-profit that makes this possible, here.
If you've made it this far, you're amazing – I can tell that you're truly excited for spring and the daffodils! So here are some more daffodil pictures for you!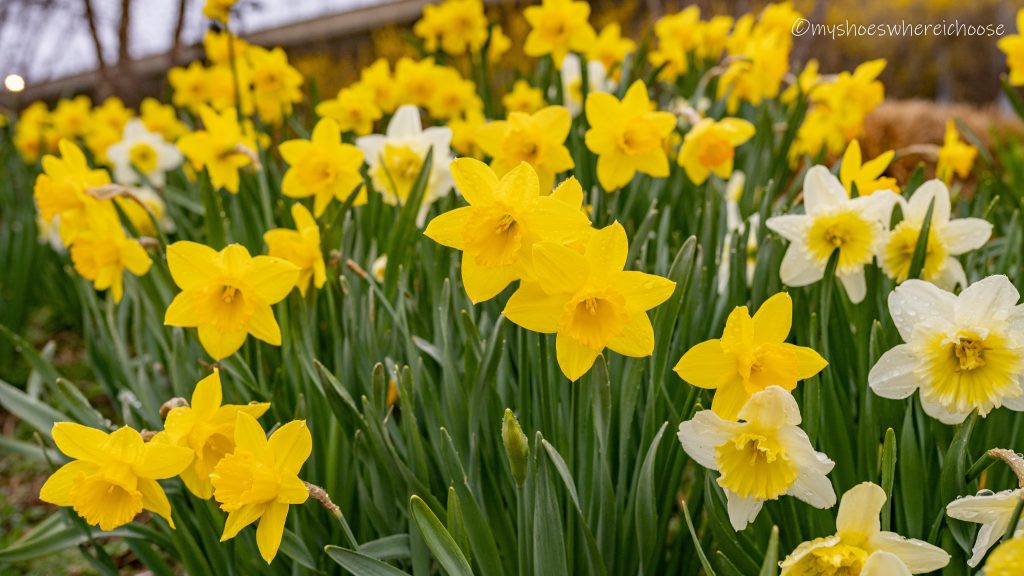 Peak Spring on Charles Esplanade

Love for warmth and colors!
You might like: Photography Gear: What's in my Travel Camera Bag?
I hope these pictures (and the warmer temps) inspire you to go outdoors and take some time to enjoy nature! And if you've seen daffodils in other places in Boston, leave a comment below to let us all know 🙂
Also read:
Guide to Magnolias & Cherry Blossoms in Boston
6 Tips for your Spring Blossom Photoshoot