Sure, NYC might be just a 4 hour drive from here, but it's hard not to be impressed by Boston's skyline views, right? The Boston skyline is uniquely identifiable, and there are some amazing spots all around town with vastly different views of it. I'd love to go running along some – if only I can leave my camera behind!
Let's take a look at some of my favorite spots to see some Boston skyline views, shall we? 🙂
Boston Skyline Views: The Best Spots
Memorial Drive
Memorial Drive runs along the Charles River on the Cambridge side, and is a great spot to view the skyline – especially with the sunrise behind it!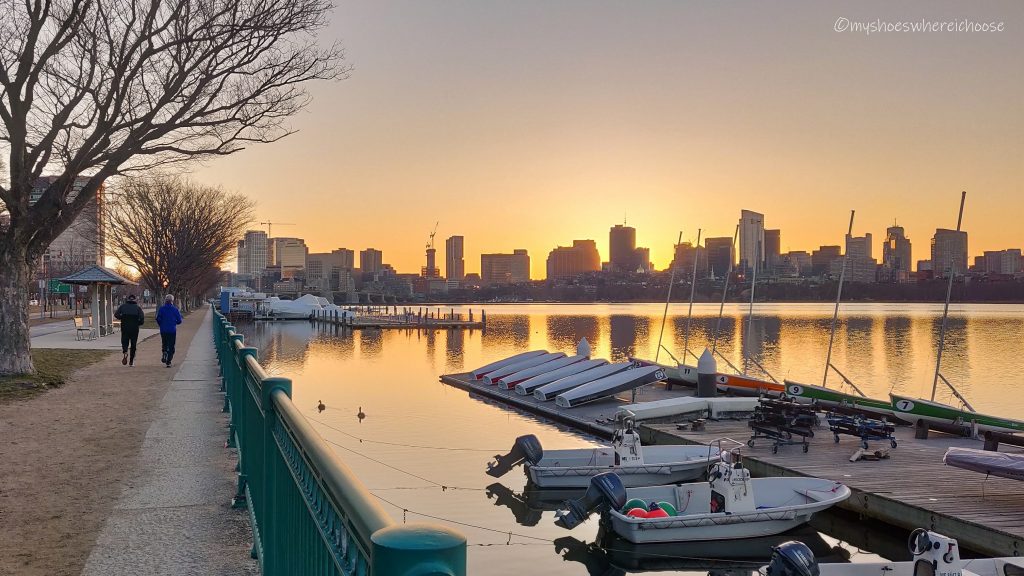 With the MIT campus on the left, the Charles and Boston's skyline views on the right, and the Longfellow bridge a few steps ahead, this is one of my favorite places to walk around!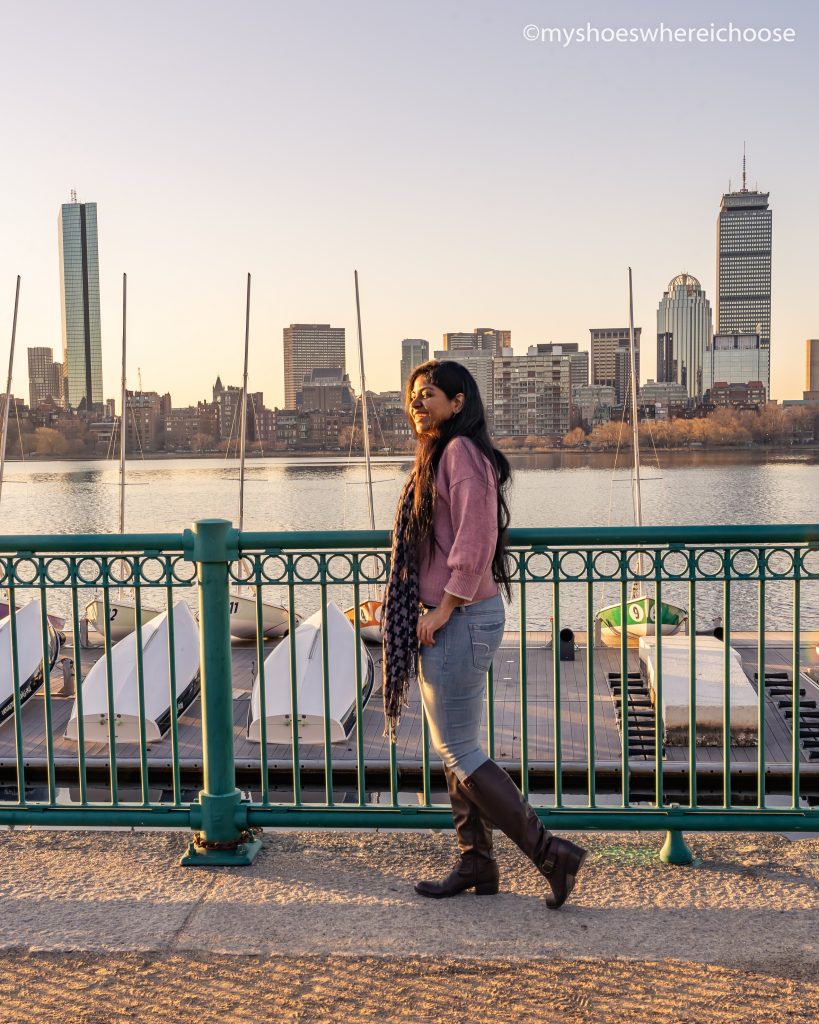 Did you know that 111 Huntington Ave, the skyscraper beside the Prudential Tower is also part of the Prudential Complex?
Also read: New England Fall Road Trip – The Ultimate Guide
Fan Pier Park: Seaport District
If I were to order this list by preference, this spot would have been first! No, we don't see the Prudential Tower here. But this iconic view of the Boston Skyline makes me fall in love with the city a little more each time I visit!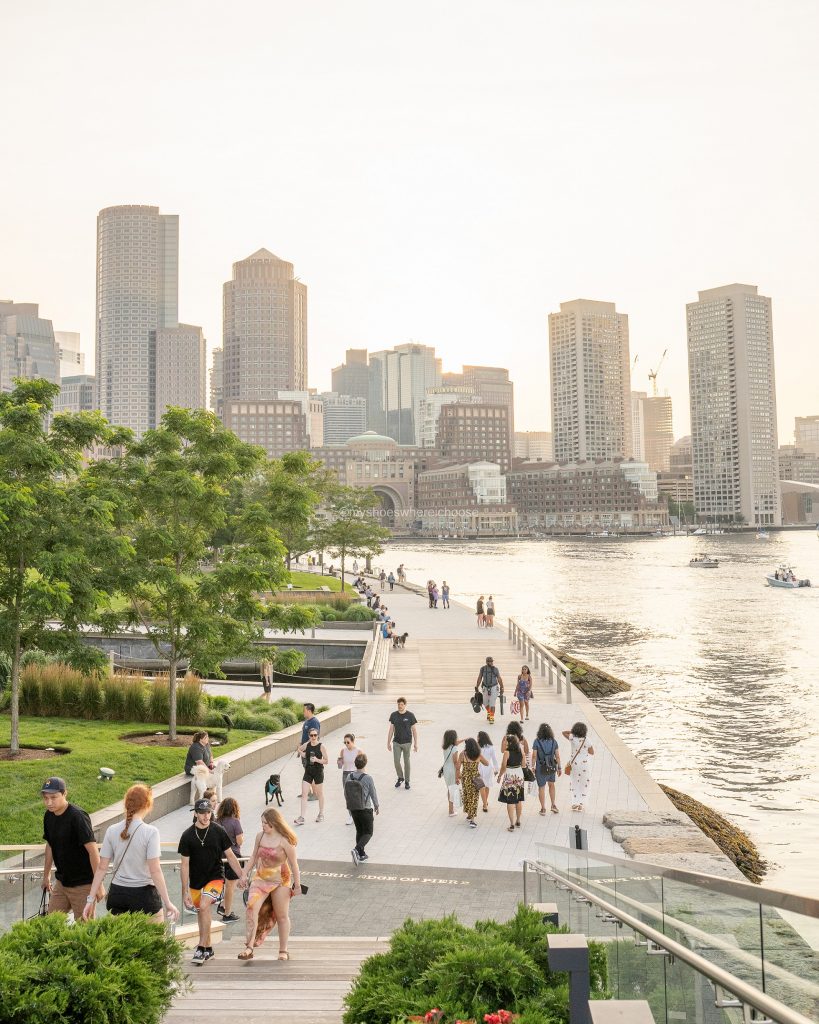 Pro Tip: Go to Fan Pier Park an hour before sunrise and stay until it gets dark!
Christian Science Center
This private property in the Fenway neighborhood houses a church, library, and the mapparium. With a reflecting pool perfectly reflecting the Pru on a less windy day, this is a fun place to put your "puddlegram" skills to use!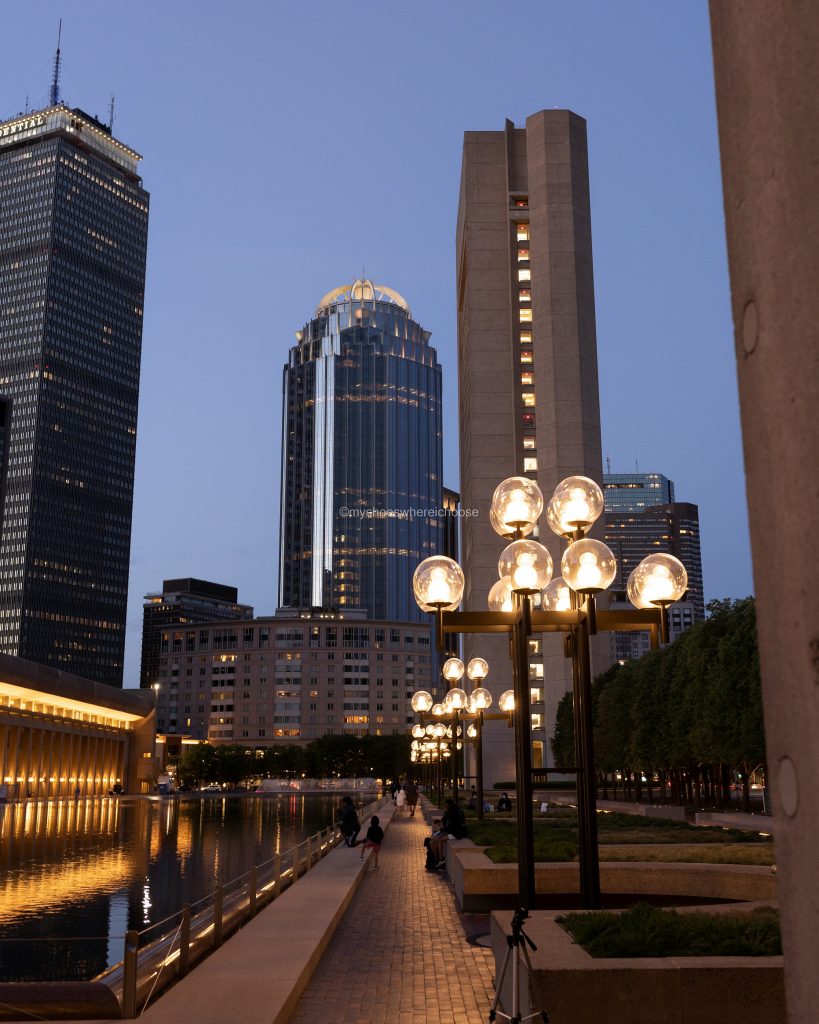 Pro Tip: Since everything is close by, taking pictures here can get tricky. To capture the entire scene, make sure you carry a wide-angle lens, or use the 0.5 setting on your phone!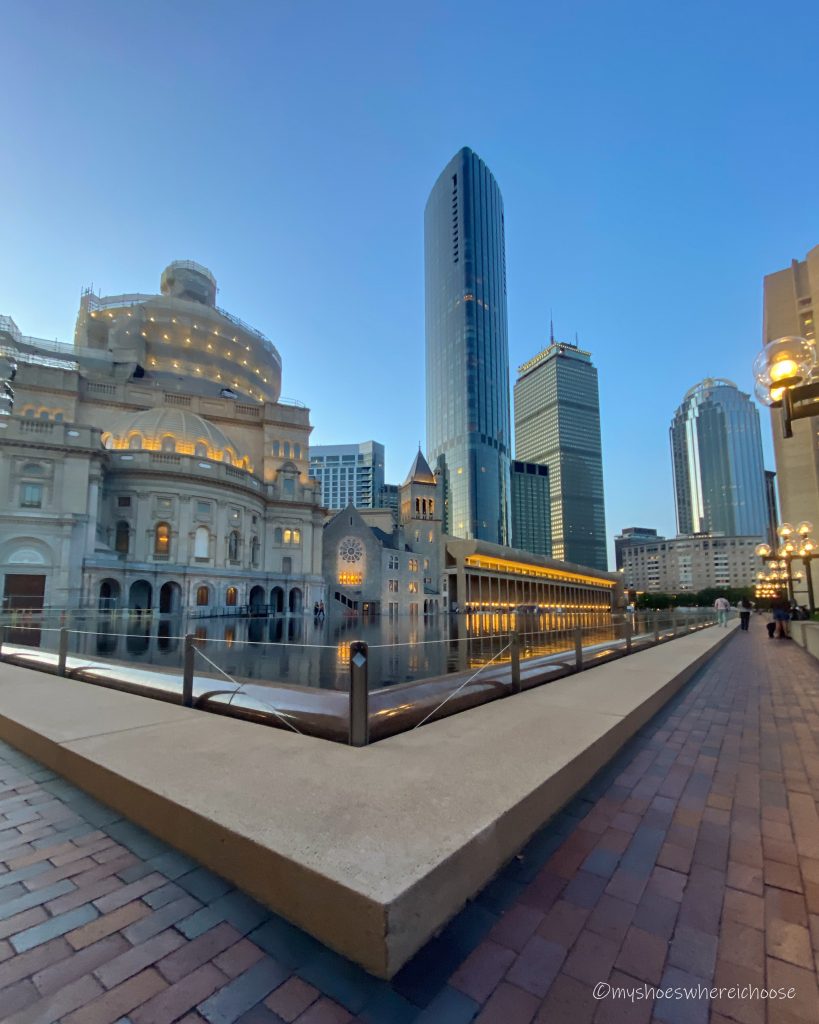 Castle Island
Swim or kitesurf at the beach, take a tour of Fort Independence, get your steps in for the day, or grab an ice cream instead. But no matter what you do at Castle Island, don't forget to take a look at the Boston skyline from here!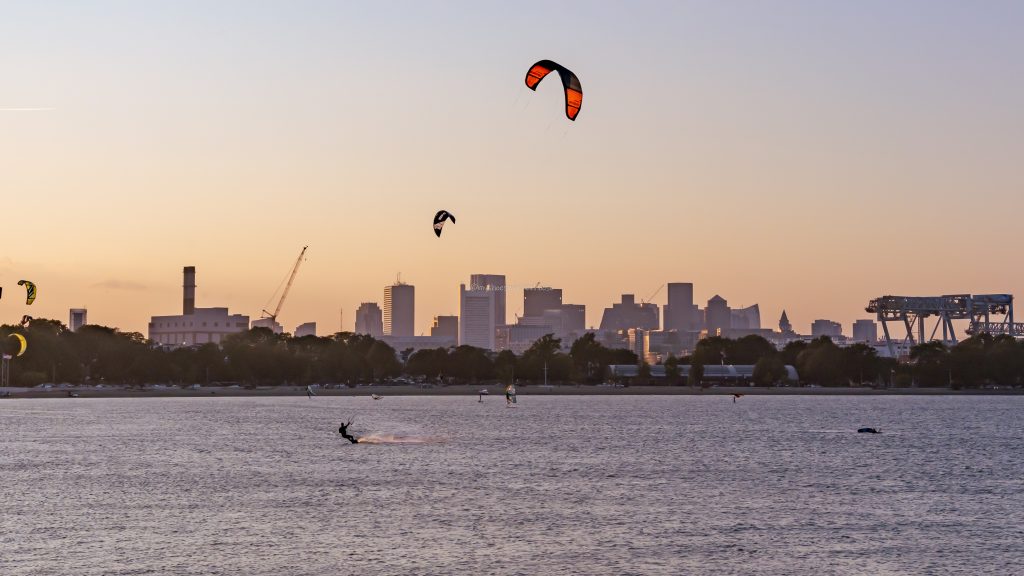 Pro Tip: Enjoy watching planes take off from the Boston Logan airport while at Castle Island.
Soldiers Home
Most other spots on this list are places where you can catchup with friends, picnic with family, run or row, or people watch and enjoy a quiet cup of coffee with a view of Boston's skyline.
The Soldiers Home spot is different, though! Hidden behind a building that's currently under construction, you'll find yourself standing on a small patch of grass with your back to a fence.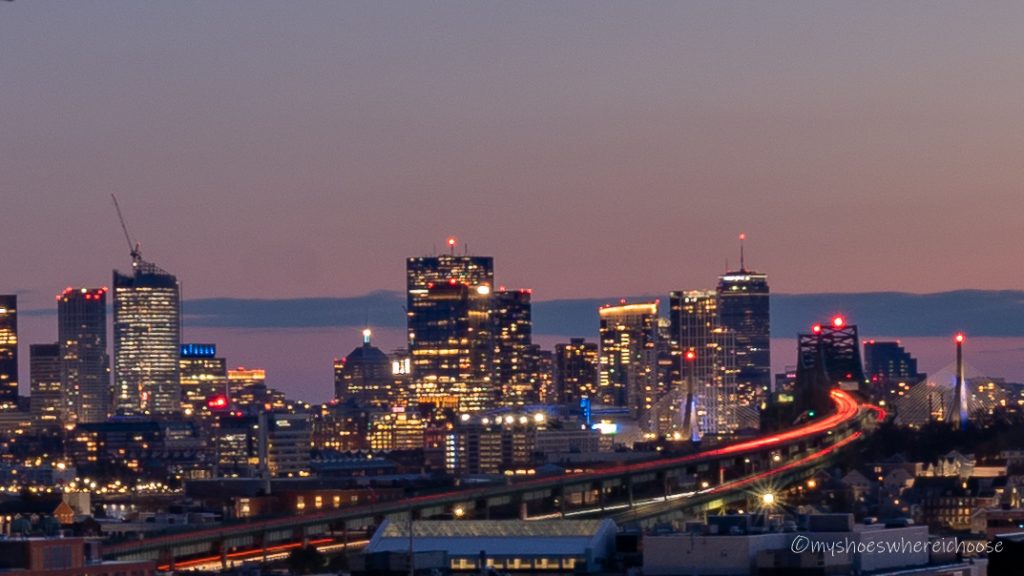 Popular spot among photographers, this spot offers one of the best of the Boston skyline views!
Pro Tip: Take a zoom lens such as the Tamron 28-200 f/2.8 with you for this one. The actual view is quite far away and my 35mm prime lens couldn't do it justice!
Also read:
Complete list of my travel photography gear
The ultimate guide to murals in Boston
East Boston
So many great spots along East Boston to capture some Boston skyline views. This one is from a festive Boat Club I was at to checkout the SeaWalls murals there – a must do if you're around this neighborhood!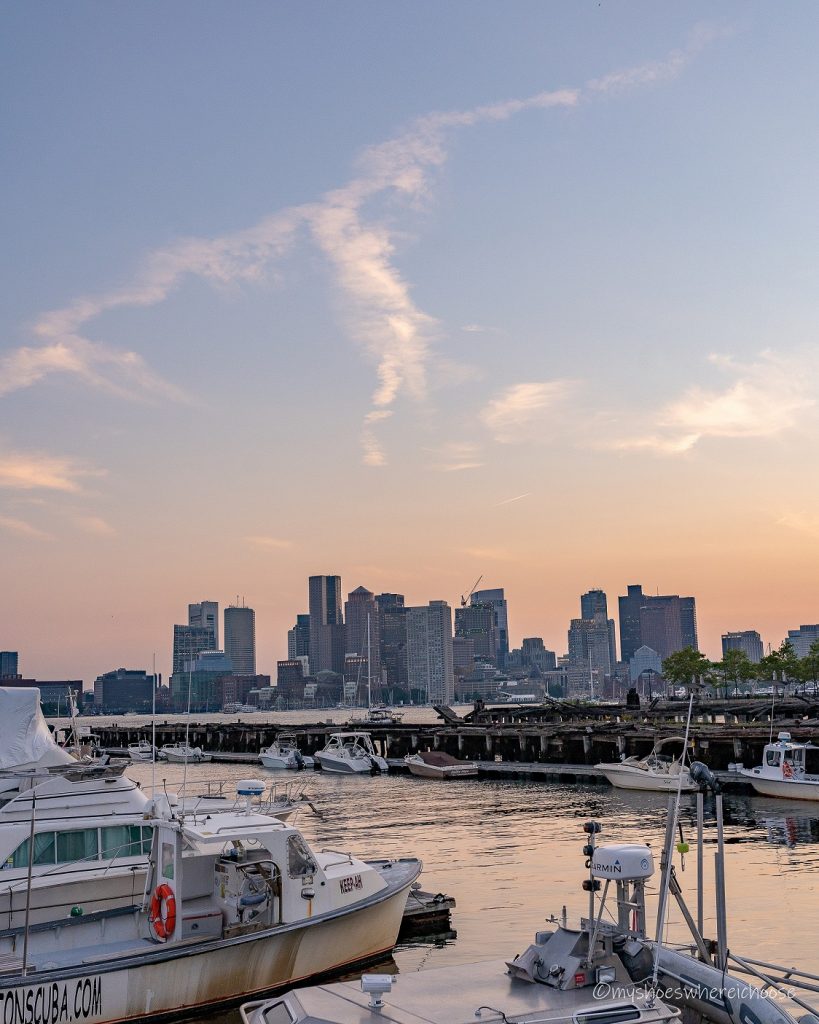 Since we're looking at the city from the east, the sky behind the skyline lights up in brilliant colors during sunset!
Boat/Kayak on Charles River
Whether you're a local or a tourist, this amazing rowing experience on the Charles river between Boston and Cambridge, with iconic views of the Boston skyline and other landmarks isn't one to be missed!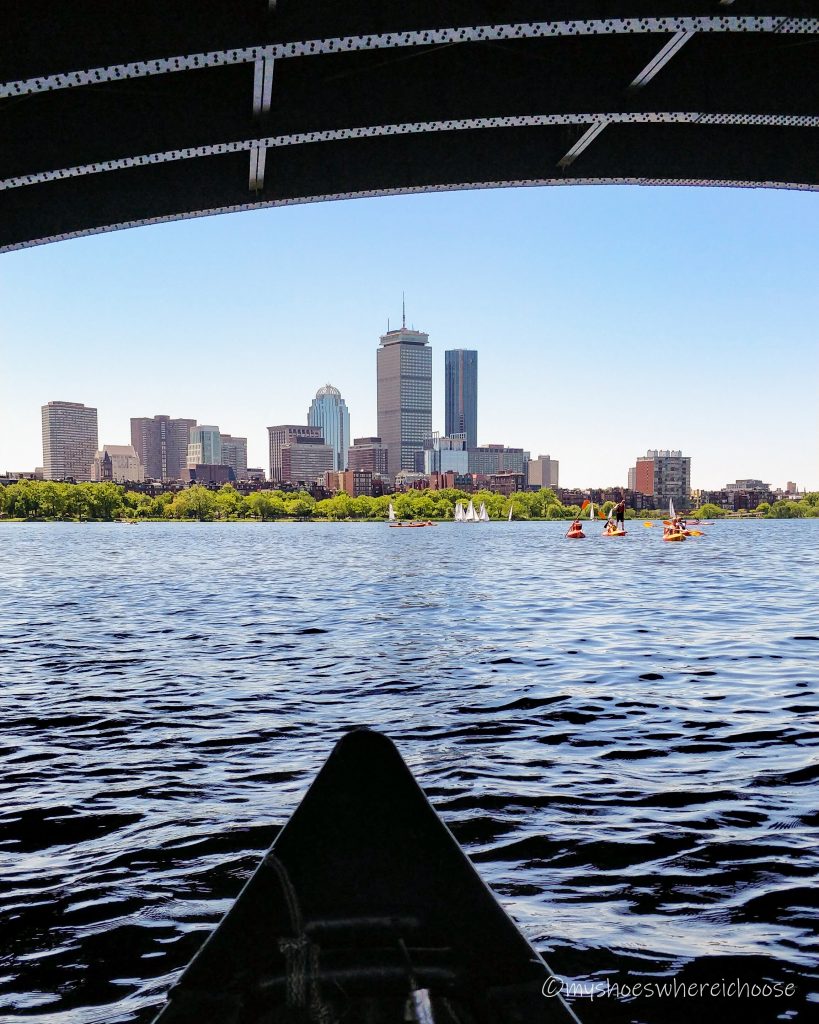 Pro Tip: Watch out for bigger boats and be careful with your camera/phone when on the water!
Charles River Esplanade
Bordering the side of the Charles river opposite to Memorial Drive is the Charles River Esplanade. Running along the Storrow Drive in Boston, the Esplanade is a fantastic spot to view the skyline on both the Boston as well as Cambridge side.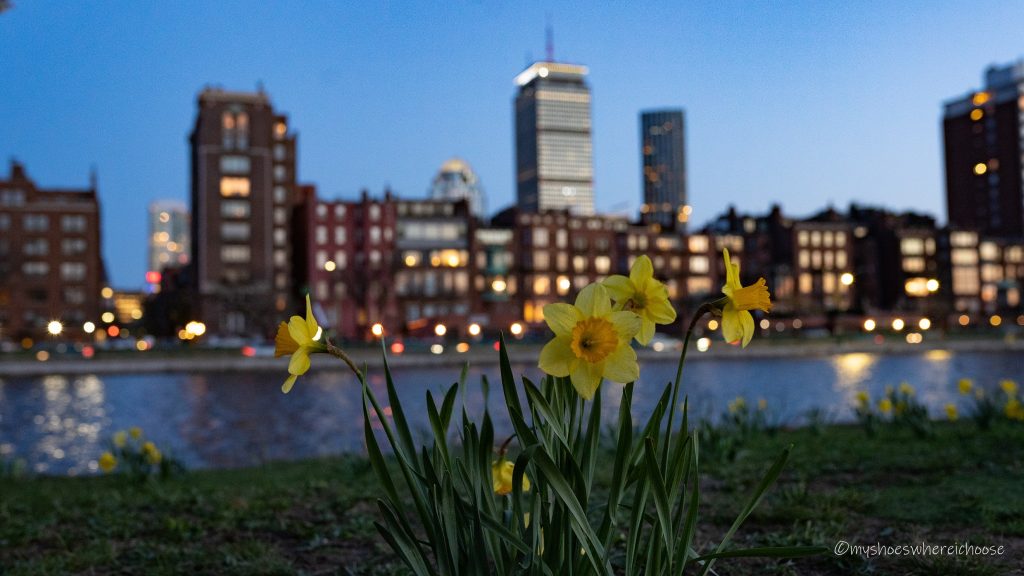 Pro Tip: It can get very windy on the esplanade. Be careful with your belongings. Also bring a scarf or jacket that can keep you warm in the cooler months!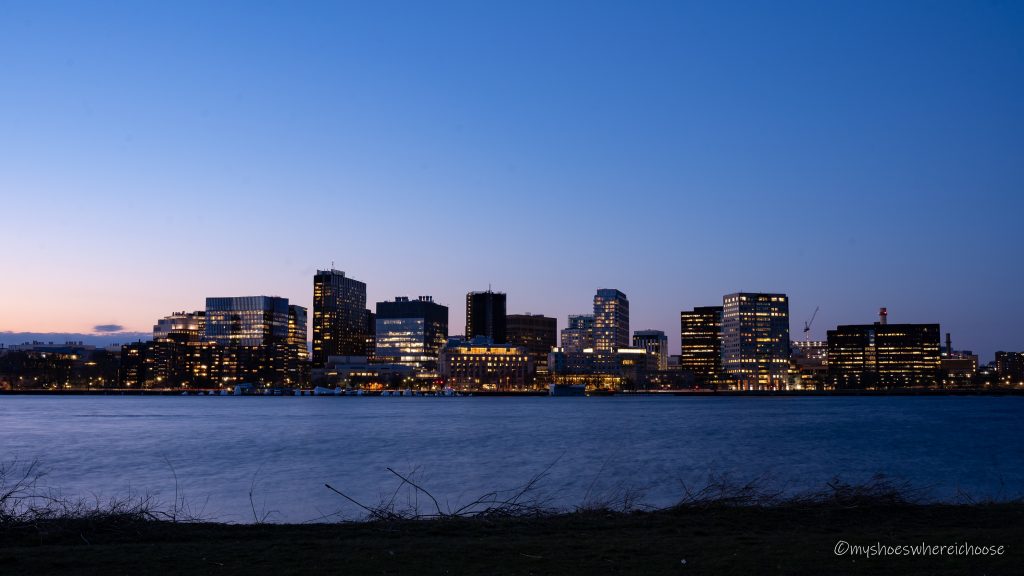 I hope this list has got you planning your visit to see and photograph some iconic Boston views! If you have any questions about finding these spots or how to find parking, leave a comment or find me on my Instagram!
Also read: New England Fall Road Trip – The Ultimate Guide
Pin This Post
Other Posts You Might Like
Latest posts on myshoeswhereichoose