Did you know that tulips were used as a form of currency during the 17th century? At one point, they were possibly worth more than gold, making bulb traders giant profits. Centuries later, we get to enjoy them all around Boston for free! How lucky for us, right? Popular as symbols of deep, unconditional love, Tulips have found themselves a home in Boston and the minds of its people!
Tulip breeding and colors
Centuries of selective breeding and natural genetic variation have enabled breeders to create tulips in a large number of colors. The three base colors of tulips – red, white, yellow – can produce 4 other hybrid colors (pink, orange, purple, black). That's not all! They're even able to create tulips with patterns such as flame-like streaks. However, despite a lot of research, breeders haven't been able to produce a blue tulip so far!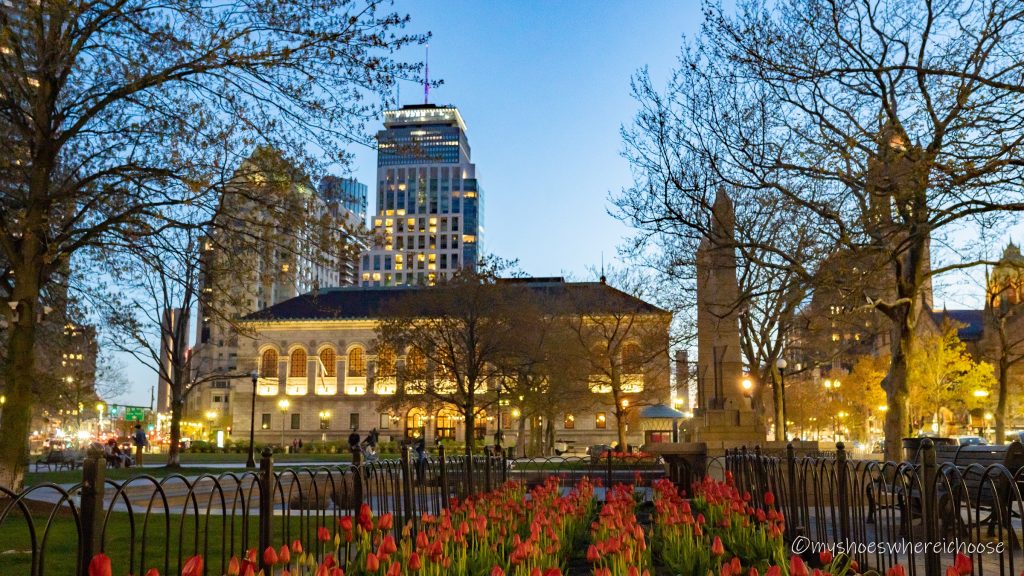 Where to find Tulips in Boston
Tulips begin to replace the fading magnolias, stealing our attention away from the brick-red facades and history of this wonderful city! It isn't uncommon to find them even if you aren't looking for them. But there are some special spots where you can find the best tulips of various colors in Boston – and I'm here to tell you all about them!
Psst: Stay till the end for the two best spots!
Christopher Columbus Waterfront Park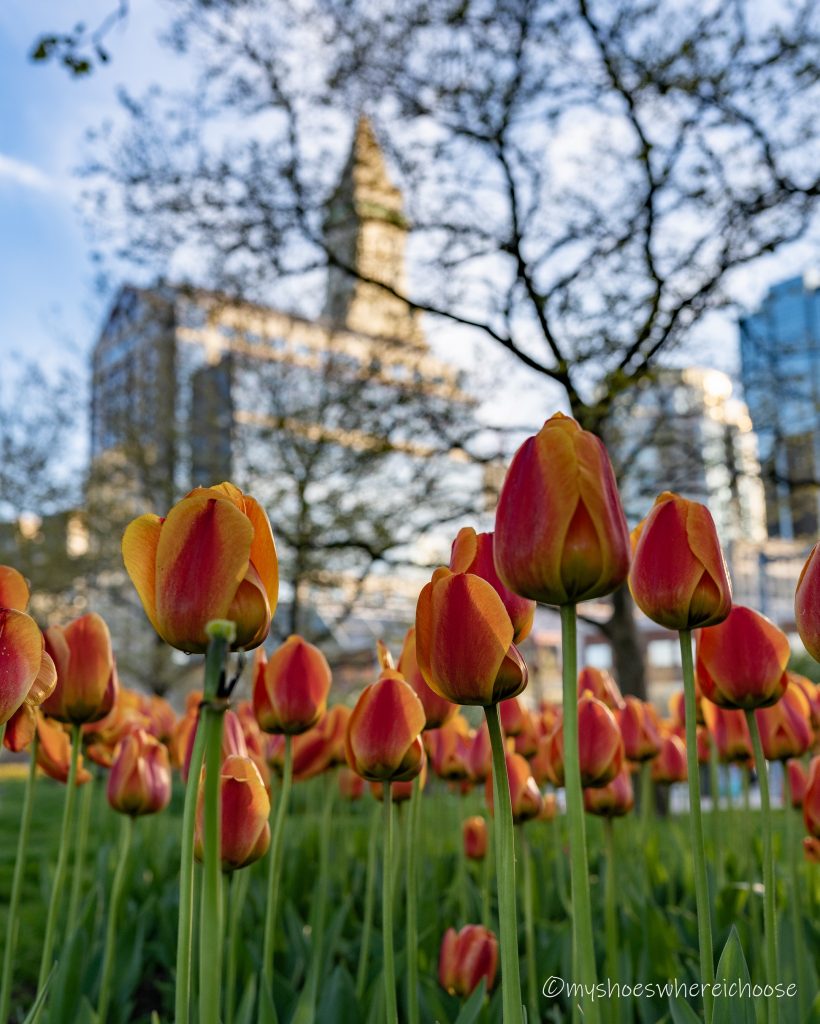 This one's a bit of a hidden gem. In all the times that I've gone to see the tulips here, I've hardly ever seen a crowd! A view of the Custom House, the fun Greenway Carousel right across the street, and various colors of tulips quietly waiting for you to discover them. Could we ask for a more perfect evening?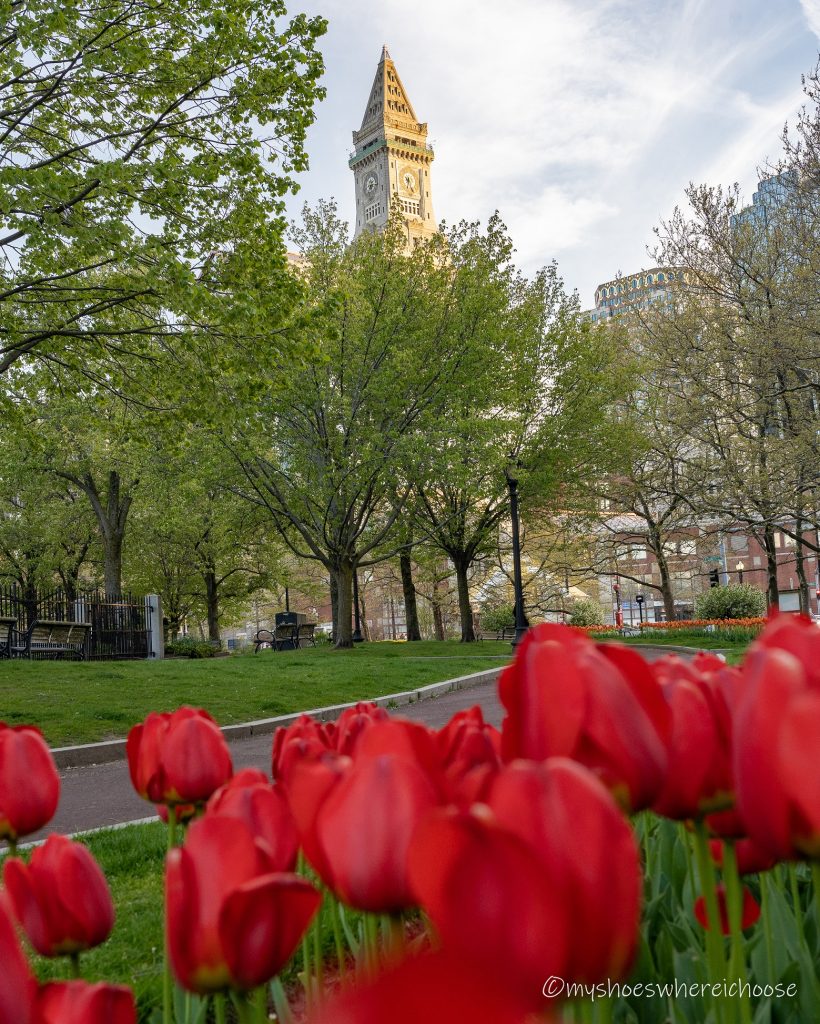 Also read: Tech essentials – of all my favorite travel photography gear!
Peace Garden, North End
No matter what season, North End is a must-visit for anyone who loves Italian food! As you're taking a walk around the neighborhood to burn some of those extra calories you inevitably got from the delicious cannolis, make sure to check out this beautiful garden.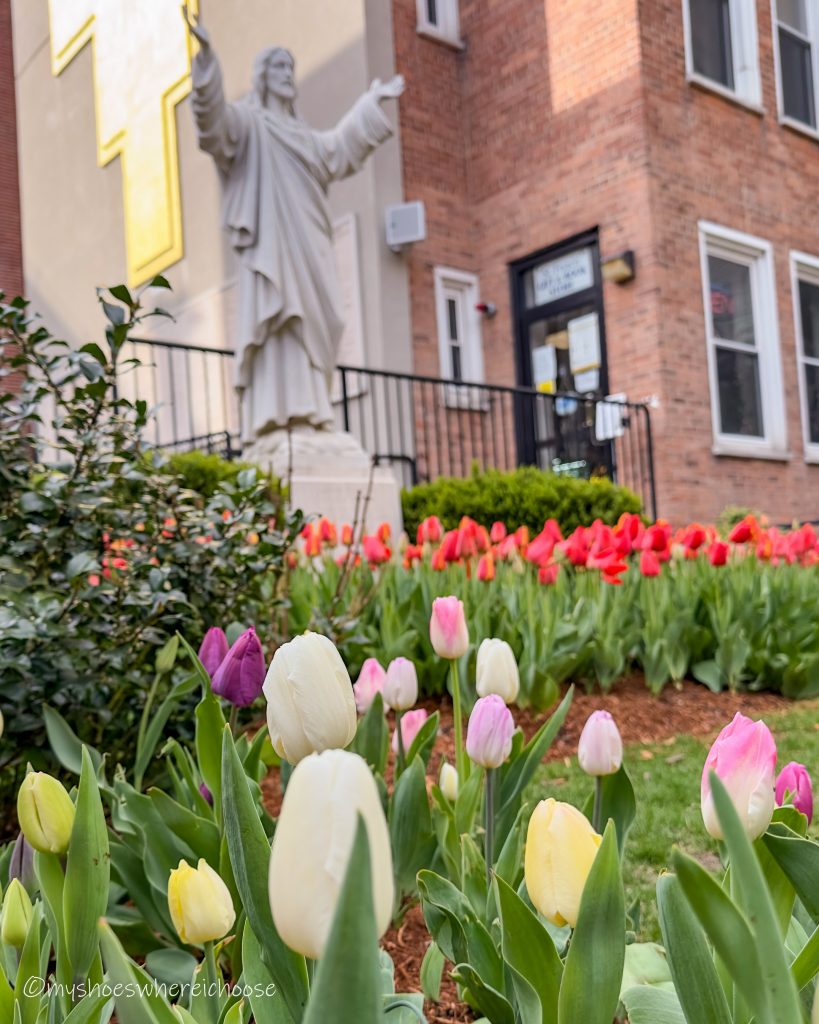 Dewey Square
Is it any surprise that you'll find tulips along the Greenway in Boston? Not at all – in fact, you'll find them at multiple spots along the way! But my favorite spot is at Dewey Square. Here, you can see the giant mural, the majestic-looking South Station, and of course, the lovely tulips!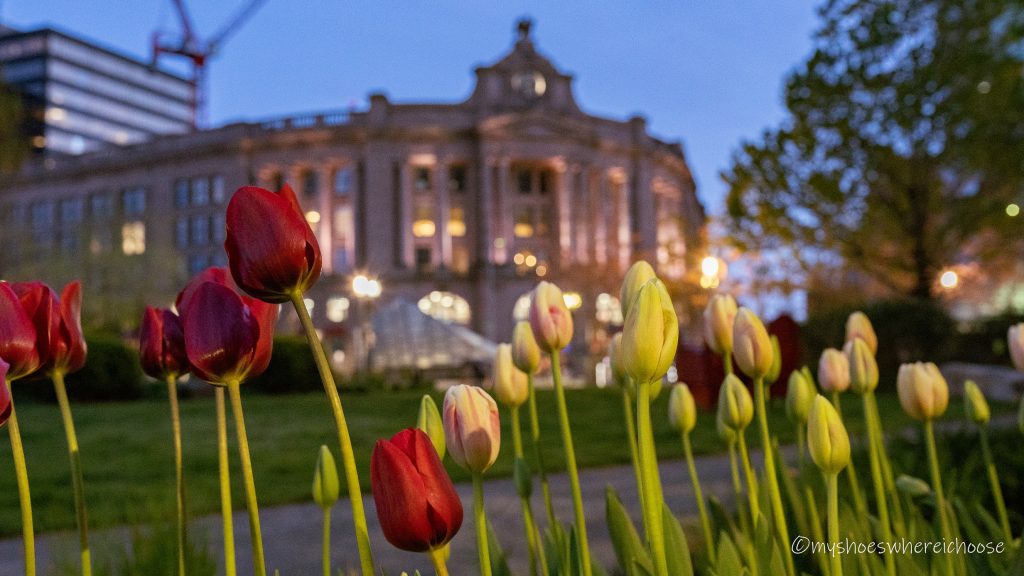 Also Read:
Guide to Spring Blossoms in Boston
5 Places for Magnolia and Cherry Blossoms in Boston
Daffodils in Boston
6 Tips for your Spring Blossom Photoshoot
Old State House
This carefully planted bed of Tulips is so easy to miss as we hurry towards the touristy Faneuil Hall or the attractive Greenway that are just few steps ahead. Take a few moments to notice the tulips sway in a gentle breeze that somehow makes its way through the all the tall buildings around. You'll be glad you did! 😊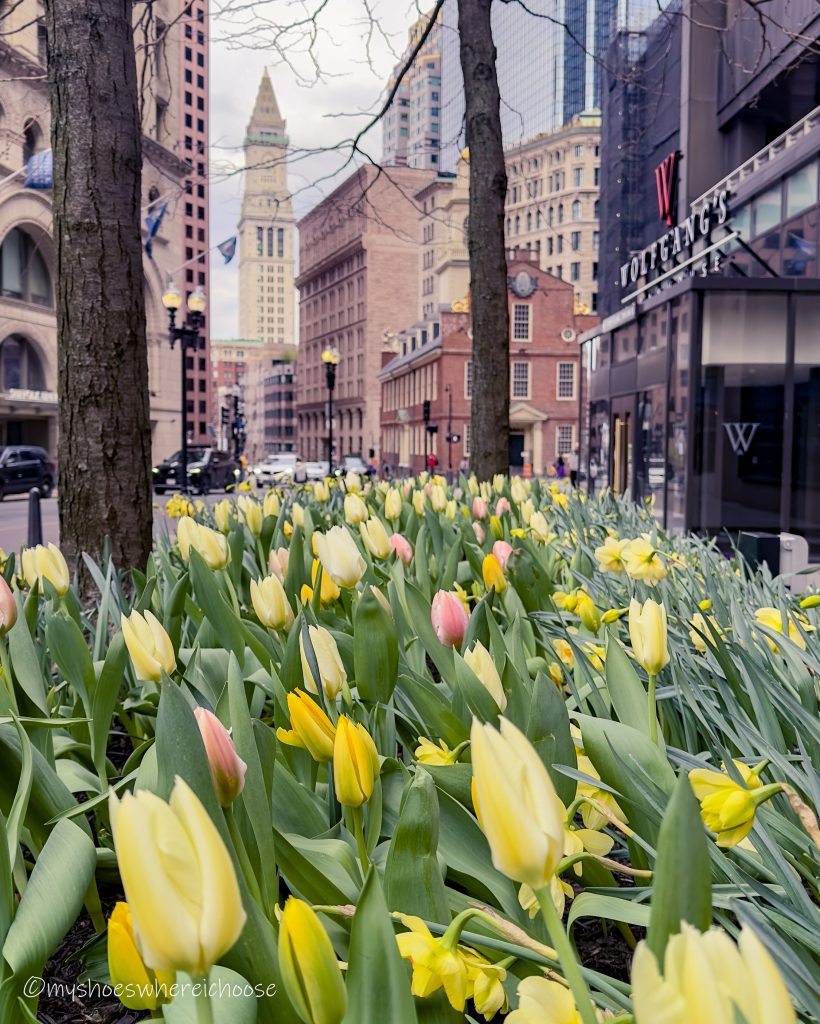 Streets of Back Bay
I can't tell you how many times I've walked along Comm Ave during spring. Especially compared to how little I go there through the rest of the year. Can you blame me, though? From the daffodils in March, to the prettiest magnolia trees in April, all the way to crabapples and tulips in May, the Commonwealth Avenue has it all! And see it, we all must!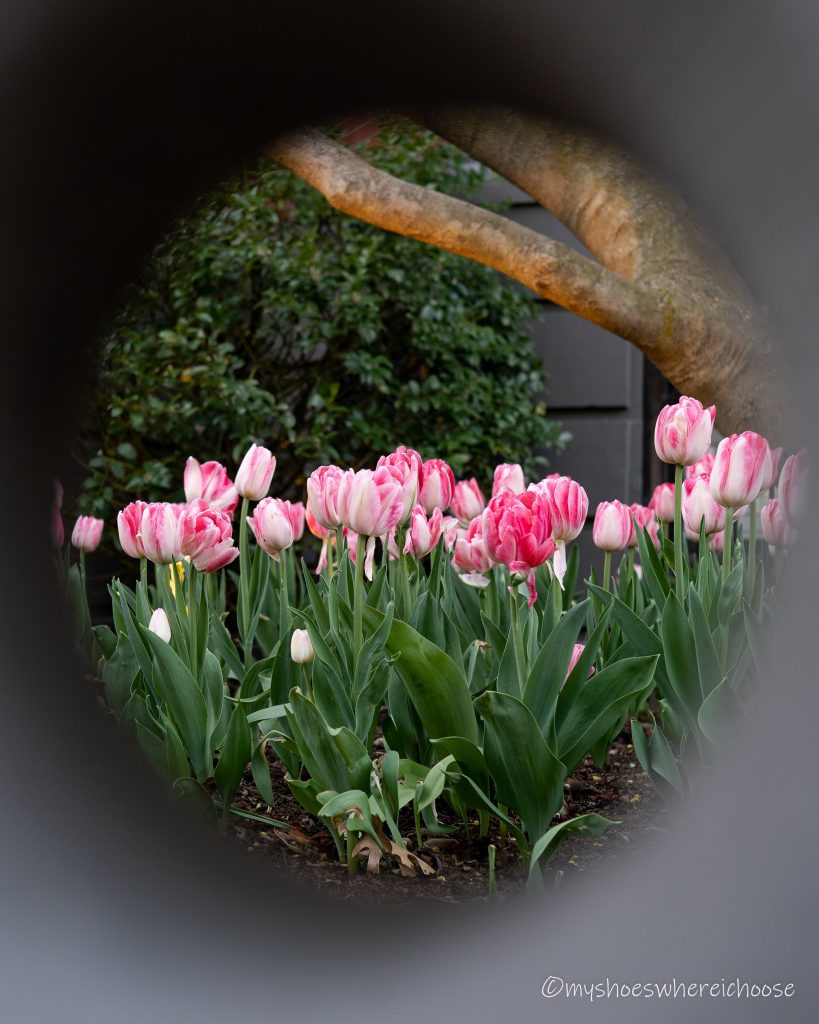 Also Read:
Guide to Spring Blossoms in Boston
What's in Nam's camera bag?
6 Tips for your Spring Blossom Photoshoot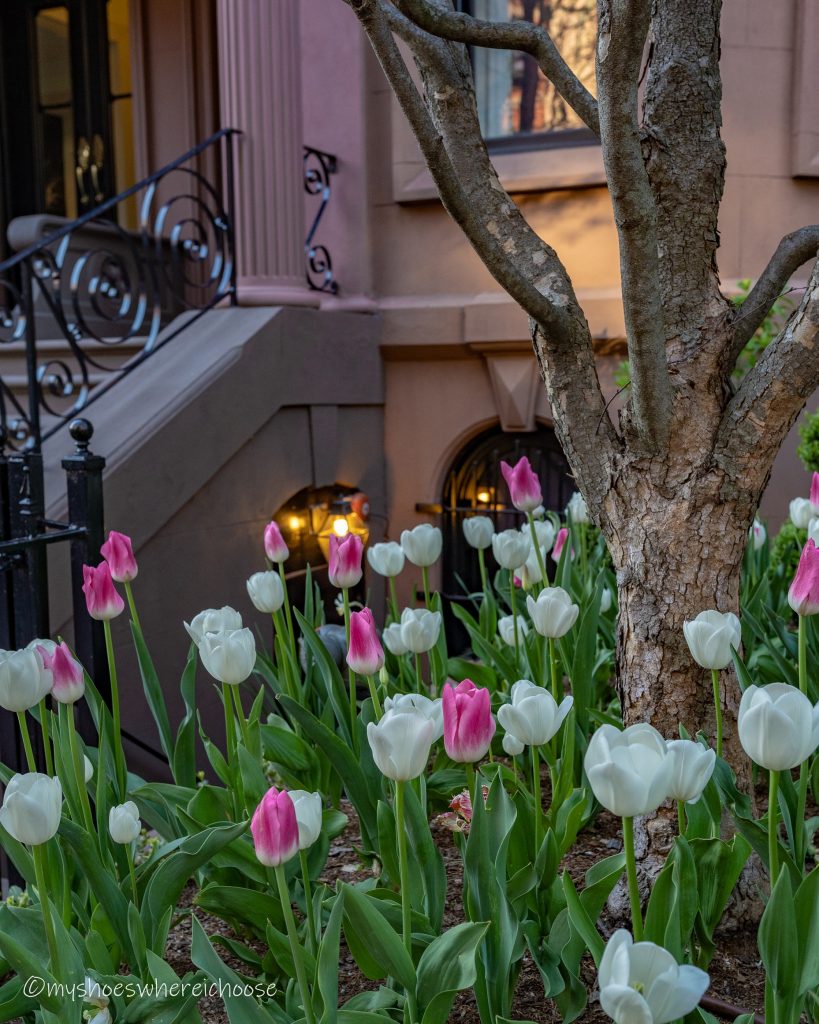 Titus Park, South End
South End doesn't get enough love from me. I've only ever driven through this neighborhood, and maybe parked and walked here like once! So no, I don't have my own picture of the Titus park. I've seen pictures shared by others though, and believe me – it's worth a visit! And I plan to make one soon!
Copley Square
In regular, non-pandemic years, you might find yourself at the Copley Square to participate in the Boston Marathon fan fest. Or brave the road closures to come cheer for the runners on marathon day. Or even run the marathon yourself!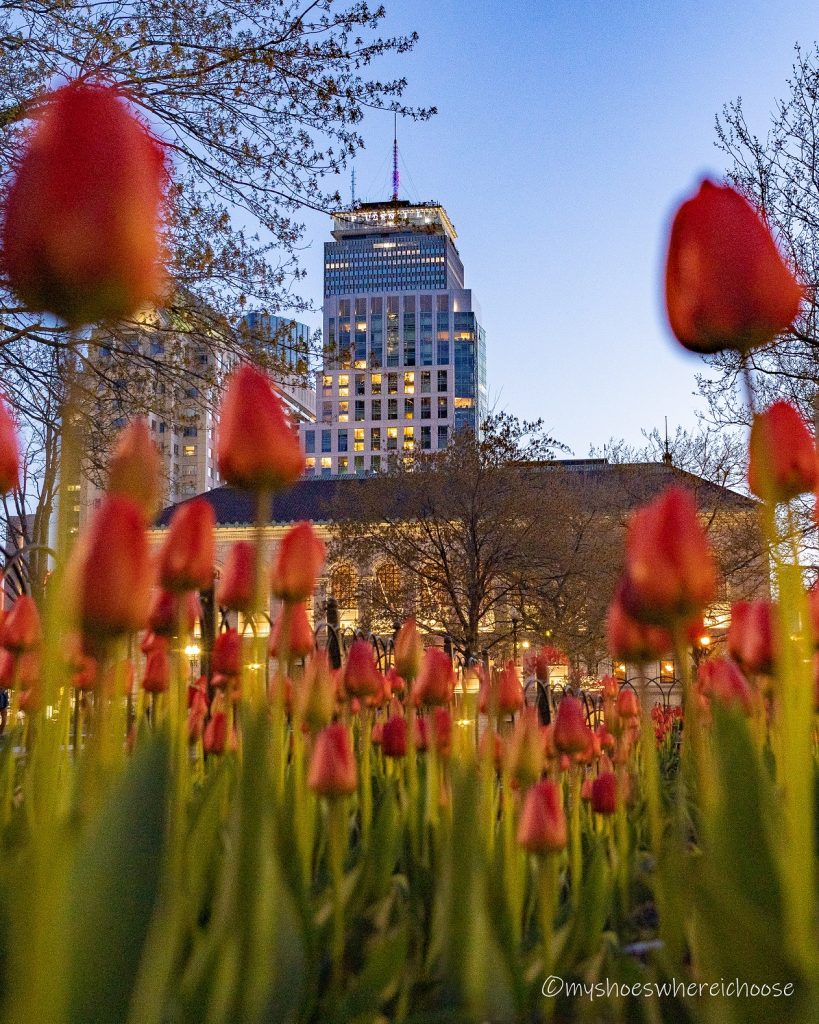 Another attraction in close proximity (both in space and time) are the tulips at Copley Square. Come watch as people practice their skateboarding at this beautiful square that have yellow and red tulips enhancing the scene during spring!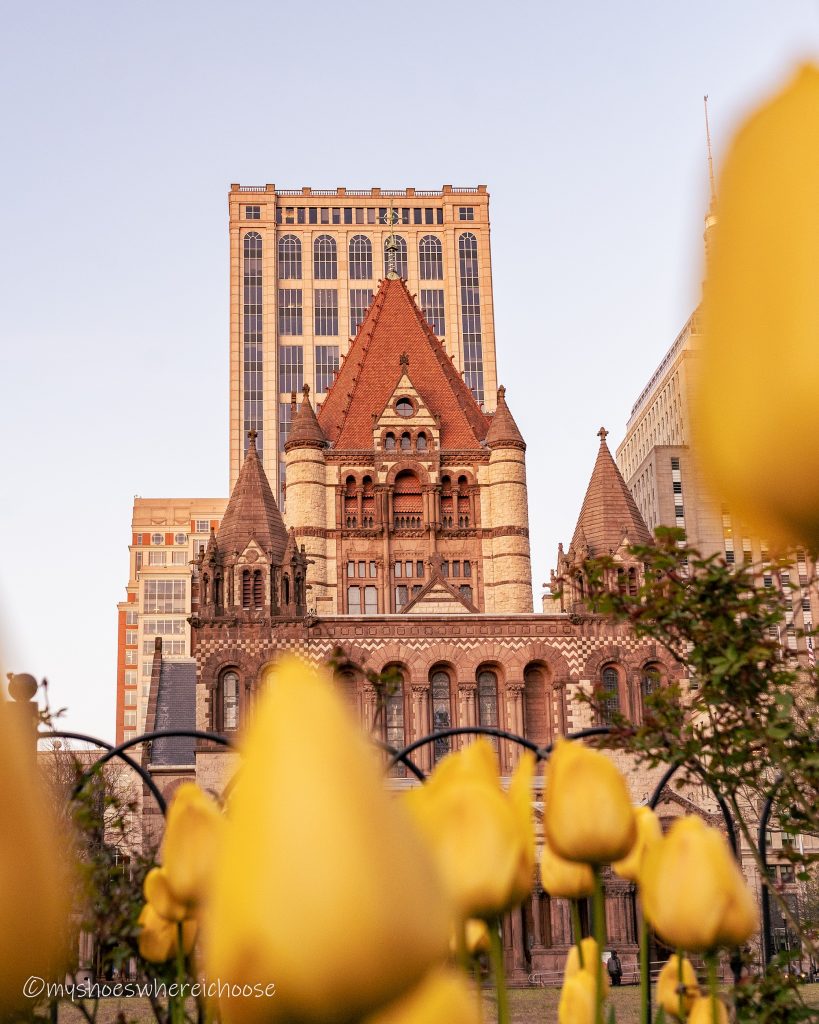 Also read:
Magnolia and Cherry Blossoms in Boston
Daffodils in Boston
Boston Public Garden
This is the queen of all Tulip spots in Boston, where you'll find tulip beds of every possible color! Visiting the Boston Public Garden tulips is an absolute delight; an experience you wouldn't want to miss! Plan a visit to this garden to enjoy the tulips, some live music on the bridge, and a pleasant sail on the swan boats!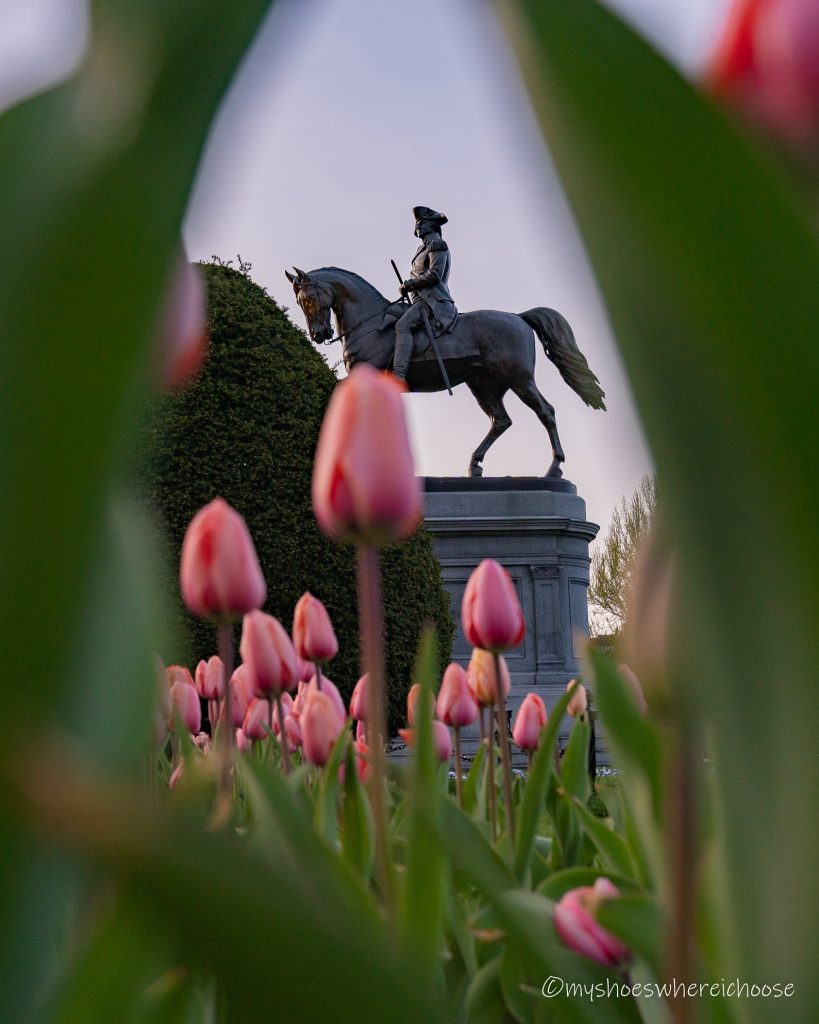 If there's one experience that can instantly make you fall in love with Boston, it's experiencing the tulips in the Boston Public Garden! You can thank me later 😉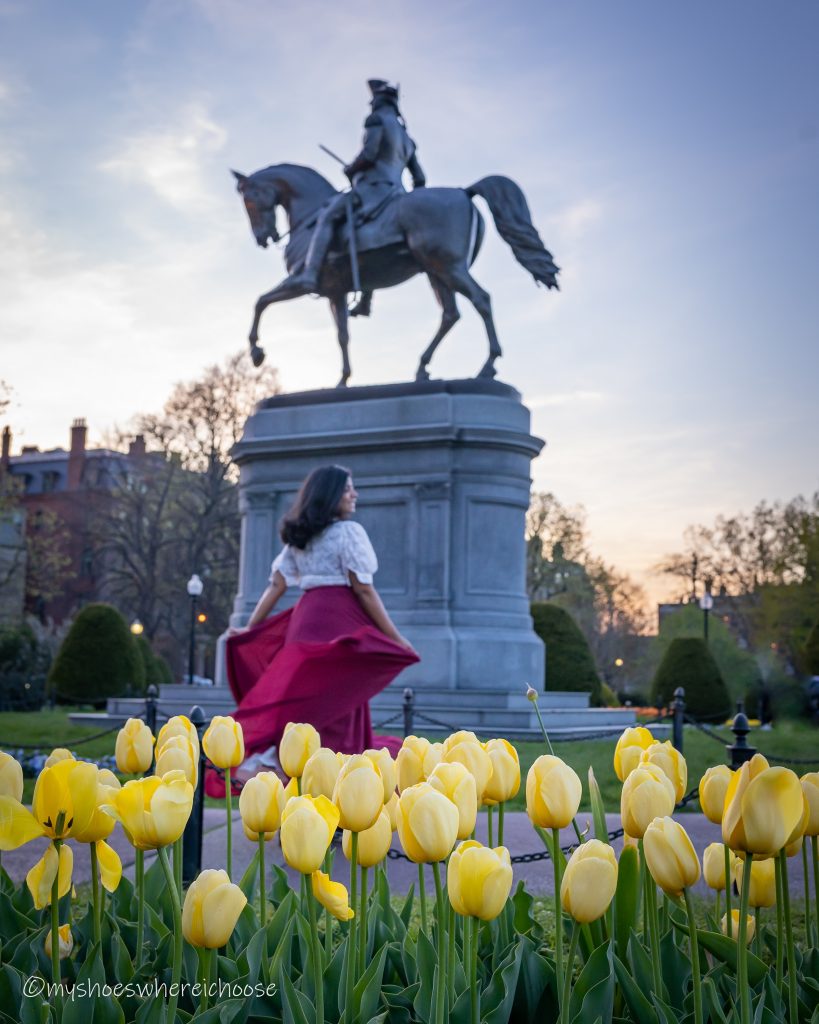 So what are you waiting for? Go enjoy the tulips in Boston while they're around. And do leave a comment if you come across another amazing spot that I've missed out here so others can enjoy it too!
Join me on Instagram to see more Boston content!
Until next time,
Nam 😊
Pin This Post
Other posts you might like
Guide to Spring Blossoms in Boston
Magnolia and Cherry Blossoms in Boston
Daffodils in Boston
6 Tips for your Spring Blossom Photoshoot
Tech essentials – of all my favorite travel photography gear!
Latest Posts on myshoeswhereichoose