The most vibrant of all seasons, and easily my favorite of all is Fall! For the last 9 years, I've watched the colors turn in complete awe – each time feeling just as fascinated as I did the first year! Speaking of firsts, 2021 was the first year when I decided to commit to my love for the season, and took a week-long fall road trip across New England. And I'm here to share everything with you – what I did, places I loved, and things I wanted to do but didn't have time for.
New England fall foliage update for 2022:
Climate change, at least in the Boston area, has been conspicuous this year – from the frost-bitten magnolia blossoms in April, the heat waves in July and August, and more recently, leaves turning yellow/red as early as mid-August! While the drought may affect colors in general, reports predict typical foliage in northern New England. Also, reds are said to be brighter in drought years – so that's something we can look forward to!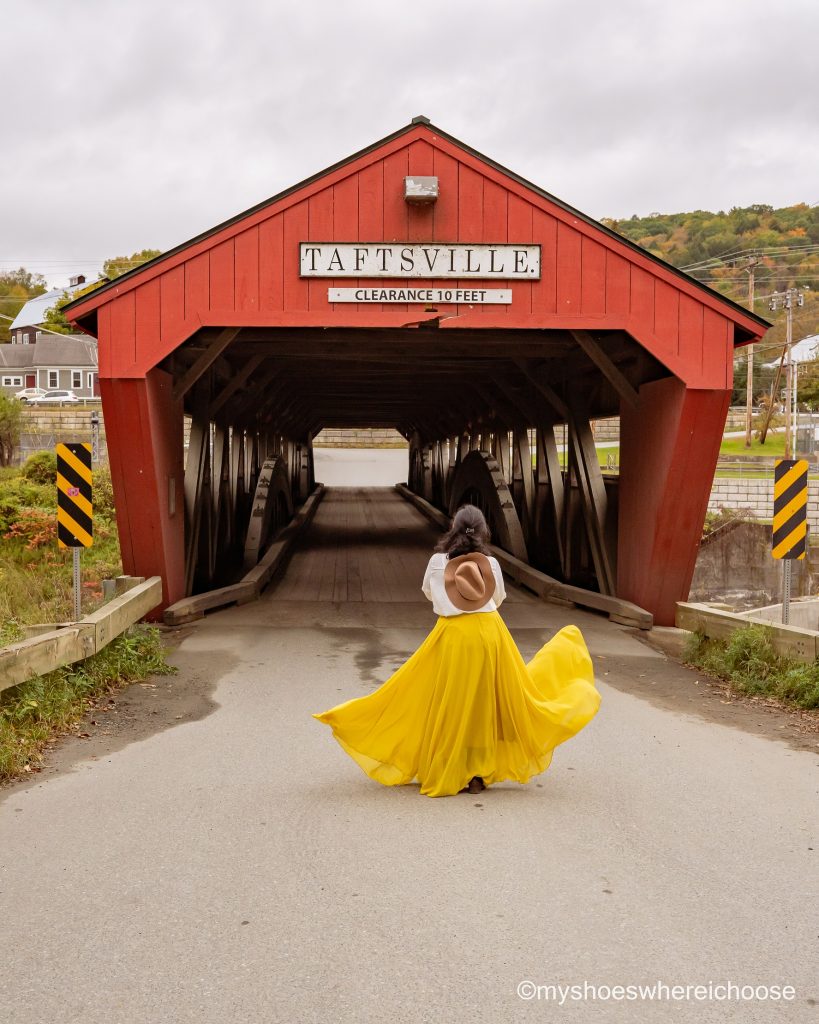 How to plan your New England Fall Road Trip
Timing your New England fall road trip
With the peak fall foliage time changing every year, and the high demand for accommodations during the season, it can get a bit overwhelming to plan a New England fall road trip. Here's a strategy I recommend
Book accommodations that can be canceled/rescheduled either for free or at a small cost
Consistently check these weekly foliage reports (these are more accurate than the foliage tracker maps that are generally based on past averages)
Err on the side of slightly early rather than slightly late, so that you can can

extend your trip or revisit if you choose to do so (better than having to wait a whole year)
edit colors in your pictures during post processing (easier than having to photoshop leaves onto trees)
Staying true to my strategy, I was in Vermont and New Hampshire at least one week before peak colors this year, but I still had a fantastic time!
Planning the route for your New England fall road trip
Although I wouldn't rely on this New England foliage tracker map for the exact dates, I found it extremely helpful to estimate when and how to plan my fall road trip.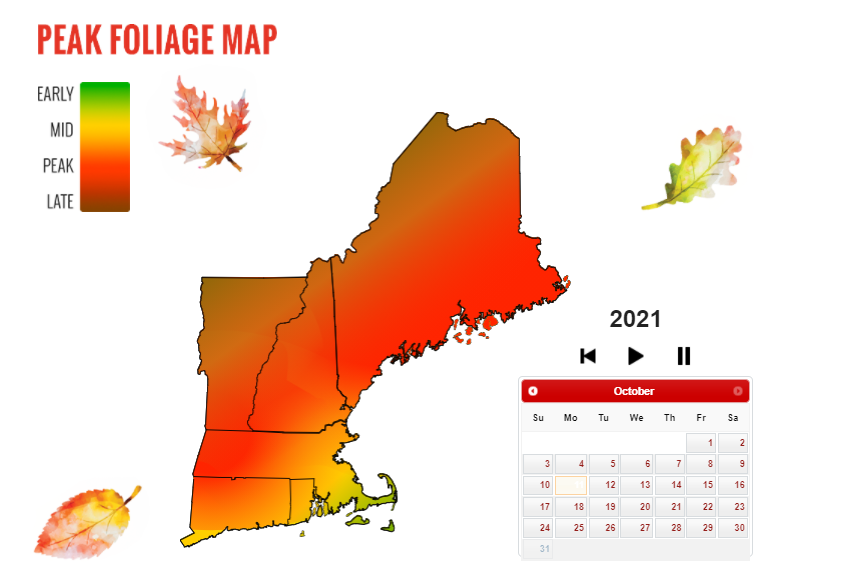 As you can tell from the image above, the colors start to show from north-west to south-east, gradually changing from mid September to end of October.
So, if you're chasing peak foliage across New England, your best bet is to
Start at the northern parts of Vermont around Stowe
Then move east to the White Mountain region in New Hampshire
Travel south towards the Monadnock region in New Hampshire
Then back into southern Vermont (Woodstock) and western Massachusetts (Berkshires)
If you have some extra time, you could also consider visiting Acadia National Park in Maine. Although, if it were up to me, I'd just spend more time in Vermont!
What to pack for your New England Fall Road Trip
With the end of summer, we typically see a lot of rain and chilly nights during the weeks of September rolling into October. That means you'll want to pack your
rain jackets
umbrellas
warm socks
boots
sweaters
trench coats
scarves
That said, you should look to dress in layers so you're prepared for variations in temperature as well as variations in your physical activity through the day.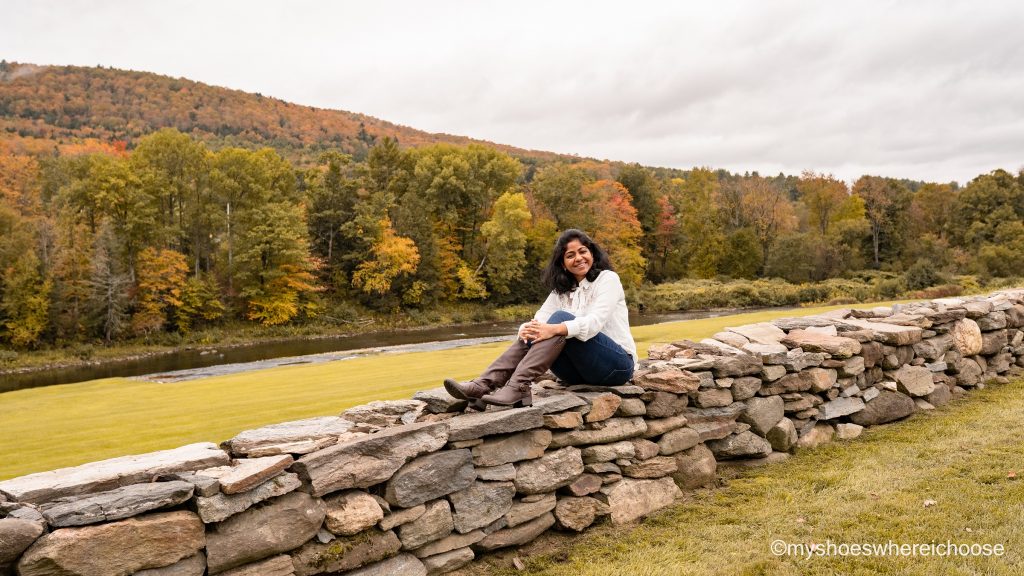 Other absolute musts:
snacks and water – what's a road trip without snacks?
a camera (or phone) and some extra batteries/charger

come prepared with an external hard disk to back up & clear your camera memory if you plan to capture a lot of photos/videos – you'll most definitely want to!

a fun playlist, audiobooks, or stories for the journey
New England Fall Road Trip Itinerary
If you're not from New England, Boston is the recommended airport to fly into before setting off on the drive. Being from Boston, I obviously started my journey from Boston as well!
Also read:
10 Most Instagram-worthy places in Boston
List of my favorite cameras and camera accessories
Day 1 – Boston, MA to Stowe, VT
Montpellier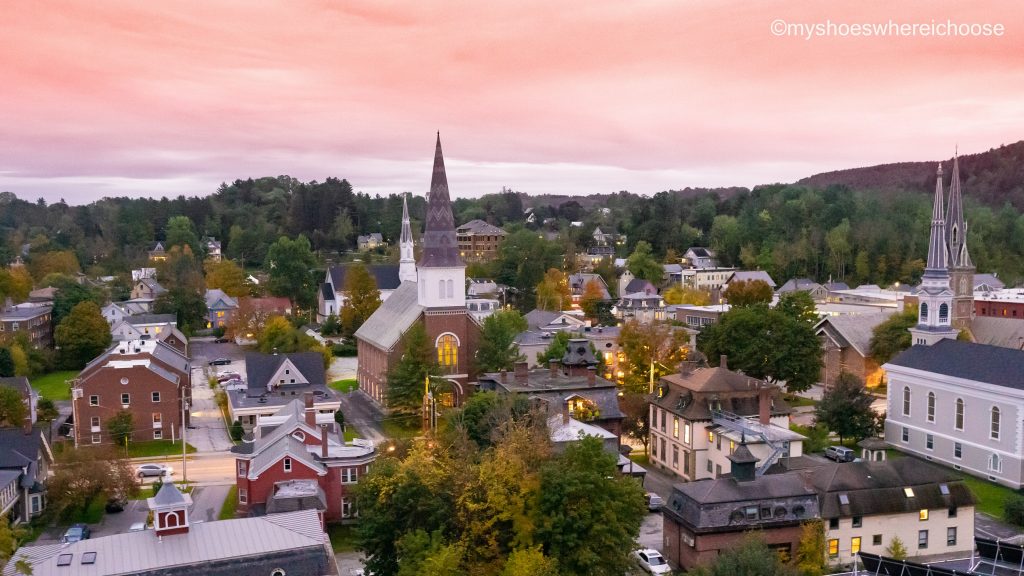 Start early, and drive 3 hours to Montpellier – the capital of Vermont. I made a quick stop here, to check out the skyline of Montpellier, and Vermont State House.
Other things to do at Montpellier:
Visit Bragg Farm Sugar House & Gift Shop
Check out the Coburn covered bridge
Waterbury
Home to one of Vermont's most popular tourist sites – the Ben & Jerry's Factory – Waterbury is a fun stop to make for a couple of hours. Things to do in Waterbury include
Visit Ben & Jerry's Factory (scoop shop open, but tours closed in 2021)
Have a coffee and buy chocolates at Lake Champlain Chocolates
Check out Ziemke Glassblowing Studio
Buy Maple Candy and Cider at Cold Hollow Cider Mill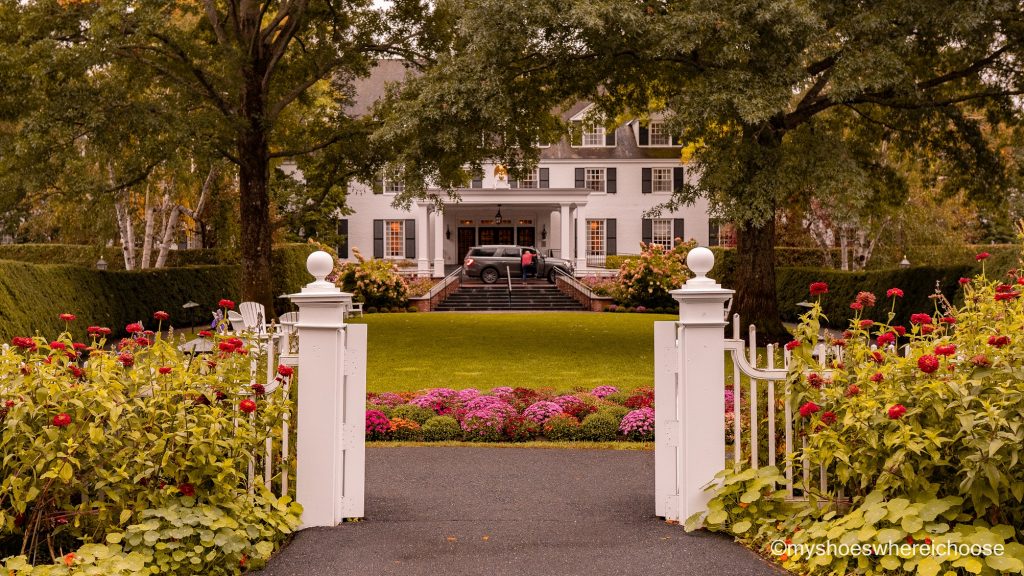 Drive to Stowe along Scenic Route 100
Also known as the Green Mountain Byway or Vermont's Main Street, you'll already be on this byway as you're stopping by all the spots to check out in Waterbury. This is one of New England's most scenic routes!
Arrive at Stowe
Depending on how you feel, you can drive along one of Stowe's scenic drives, or relax for the evening with a beer from The Alchemist.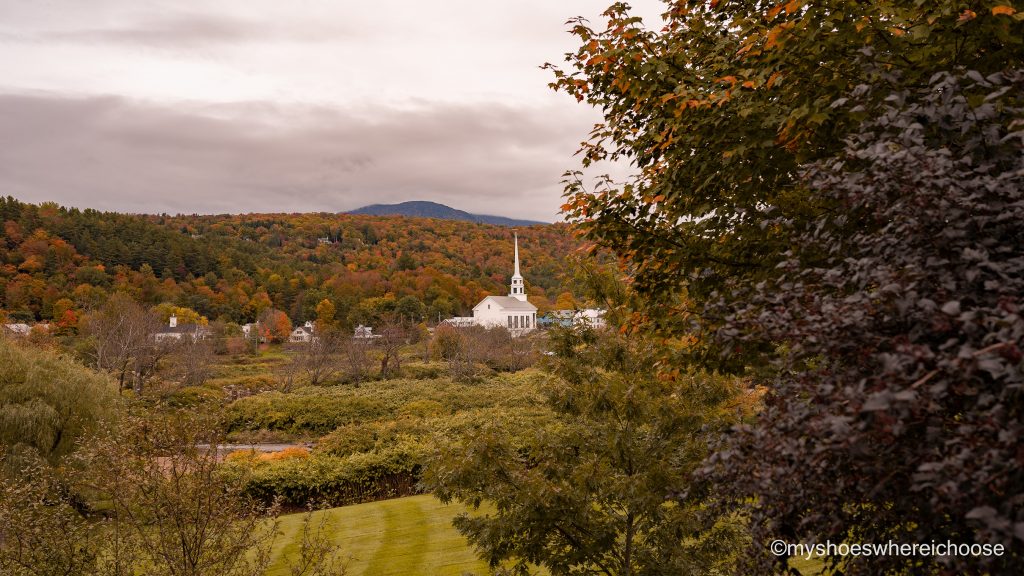 Day 2 – Stowe, Vermont
Gondola Skyride
Start the day with the Scenic Gondola Skyride up Mt. Mansfield to get an elevated view of all the beautiful and vibrant foliage colors!
Hike to Bingham Falls
Hike the easy-to-moderate Bingham Falls trail. Note: although the trail is short and shouldn't take more than 30 minutes round-trip, be prepared for a bit of a steep climb down towards the view-point.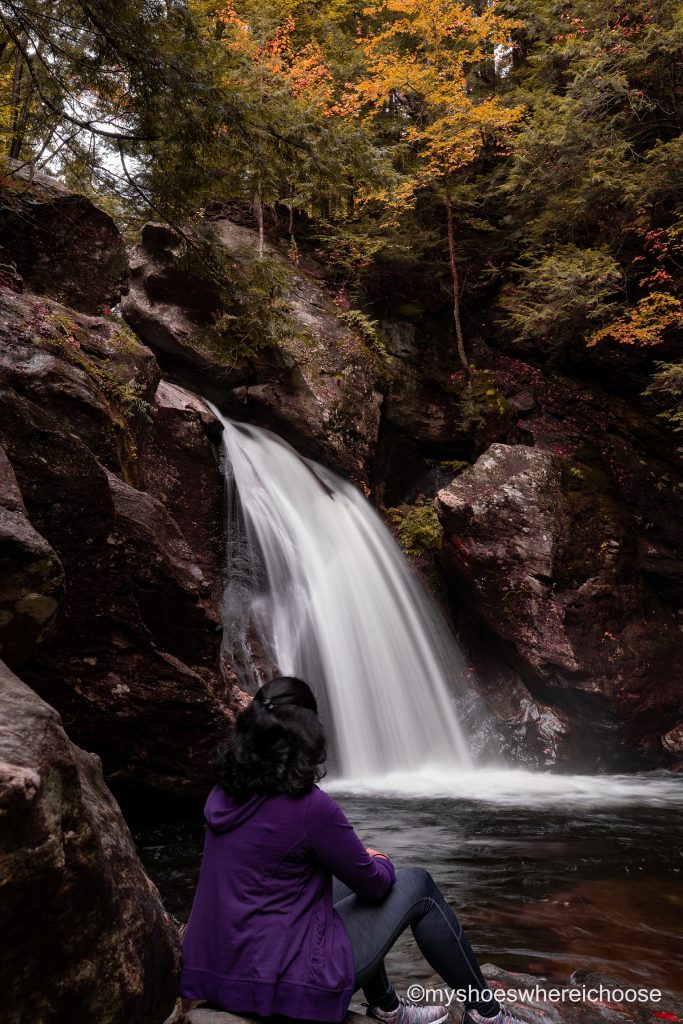 Also read: Complete list of my travel photography gear
Downtown Stowe
Check out downtown Stowe. My favorite spots here are
Laughing Moon Chocolates
Mac's Market – where you can load-up on

local cheese – I recommend trying the Cabot cheese Pepper Jack)
local Vermont wines – I bought the 2016 Frontenac Gris from Fresh Tracks Farm, an old favorite of mine

Salon Salon parking lot for a view of Stowe Community Church – one of New England's most photographed church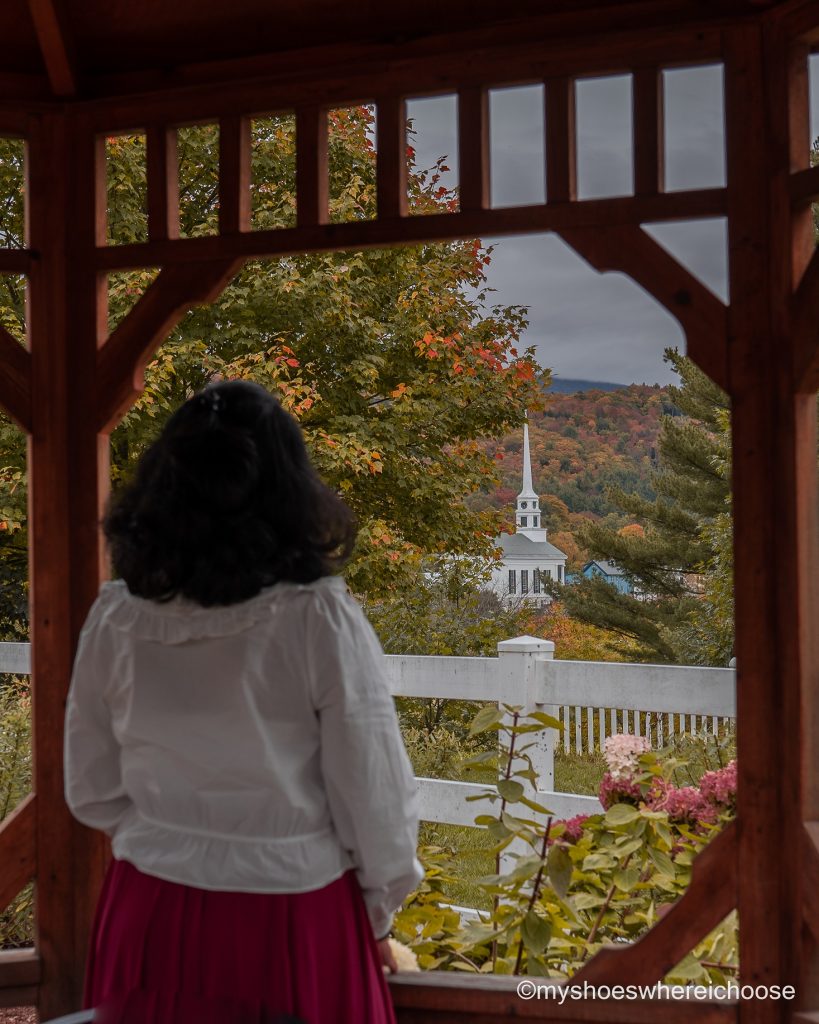 Hike to Moss Glen Falls
That's right! Two waterfall hikes in one day!
Go on another easy hike to Moss Glen Falls. Well-maintained and mostly flat with a short climb up to the view-point, this trail felt a lot easier than the Bingham Falls trail. However, if you only have time for one of the two, I recommend picking Bingham Falls.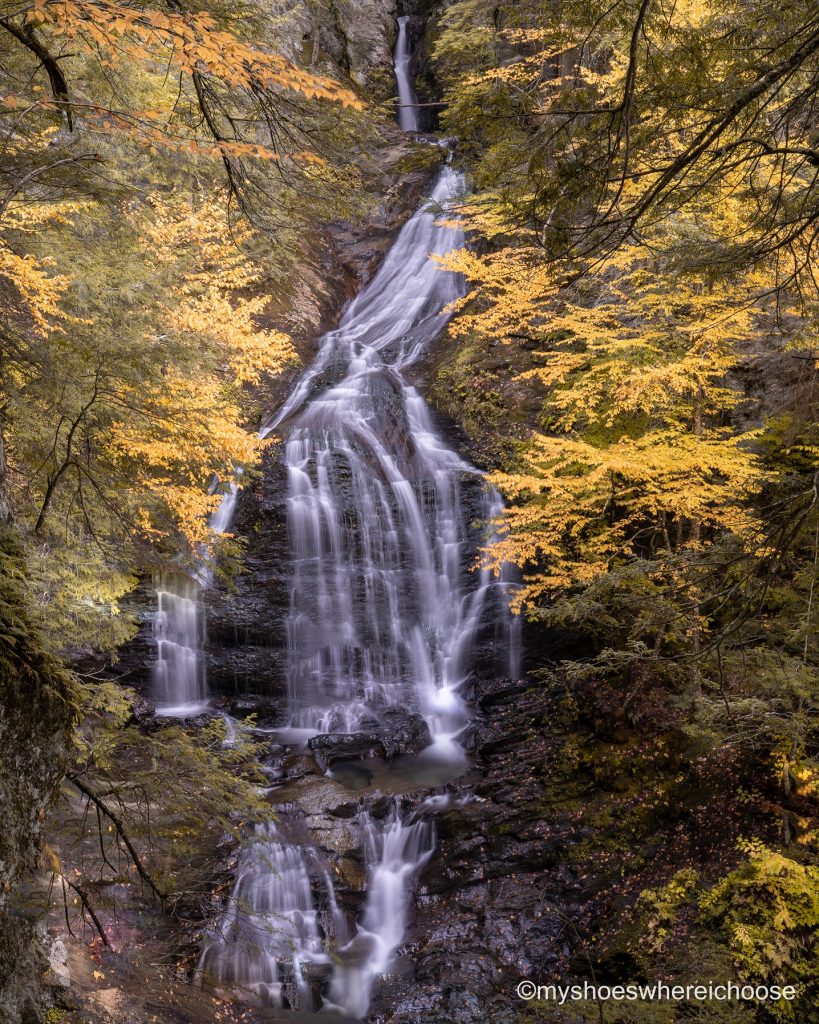 Day 3 – Stowe, VT to Franconia, NH
Smugglers' Notch
Drive along the curved roads of Smugglers' Notch for the best views of foliage cover along the streets. Going here early in the morning will make it easier to find spots to park off the driving lane and shoot on the street without too many interruptions from other vehicles or leaf peepers.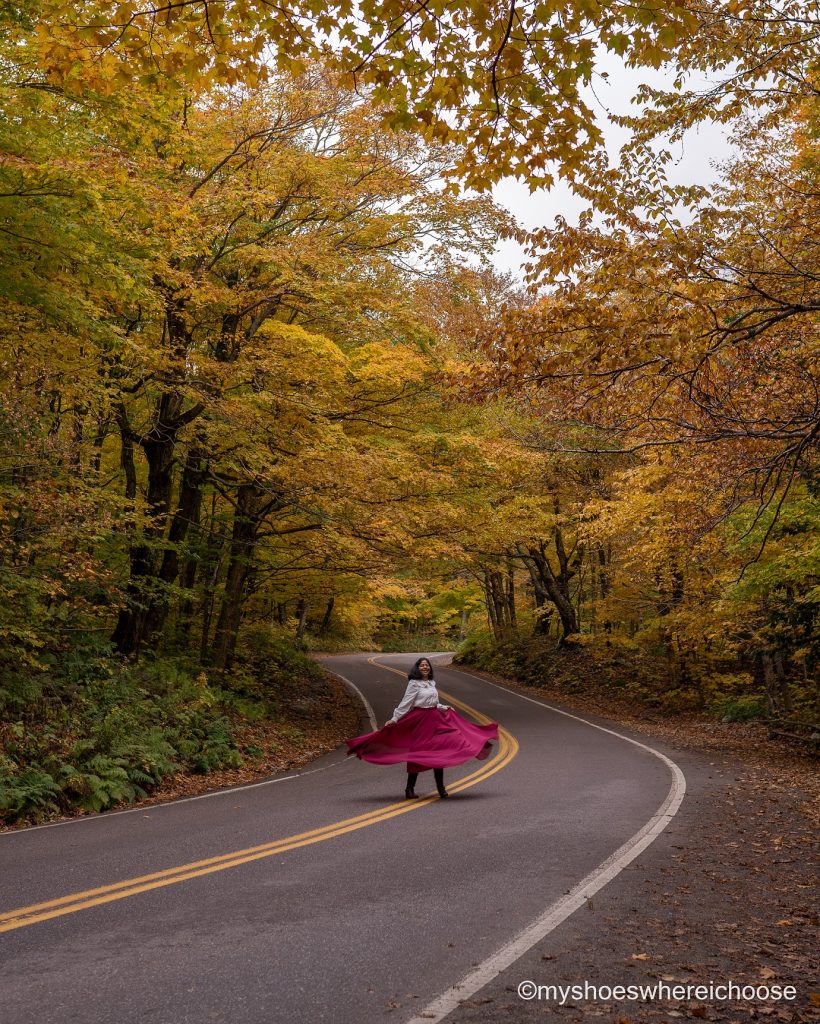 Pro tip: There are sharp (blind) curves along the road with some steep inclines and narrow patches – so, be alert while driving through Smugglers' Notch!
Zip Line
Do a zip line tour with either Ziptour Adventure (open June – October and touted to be the most exhilarating zip line) or Arbortrek Canopy Adventures (rated among best 10 zip lines in USA, open all year round).
I did the Arbortrek zip line tour, a 2.5 hour guided tour with 8 zip lines and 2 rappels. This was my first zip lining experience and it was nothing short of amazing, thanks to guides Cora & Kris!
Hike Owls Head Trail – Groton State Forest
Start your ~2 hour eastward drive towards New Hampshire, but stop on the way at Groton State Forest to hike up Owls Head Mountain for a sunset view of the foliage and Kettle Pond from an elevation. This is a 3.2 mile hike (roundtrip) and is rated as moderate.
I unfortunately had to cancel this hike last week as I had a sore shoulder and wanted to quickly finish my drive up to Franconia, NH so I could check-in to my next accommodation and get some rest.
Arrive at Franconia, New Hampshire
I drew up a lovely warm bath in a jet tub and relaxed with some cheese, wine and chocolates that I bought at Stowe. The warm water and some sleep thankfully helped me feel better soon enough!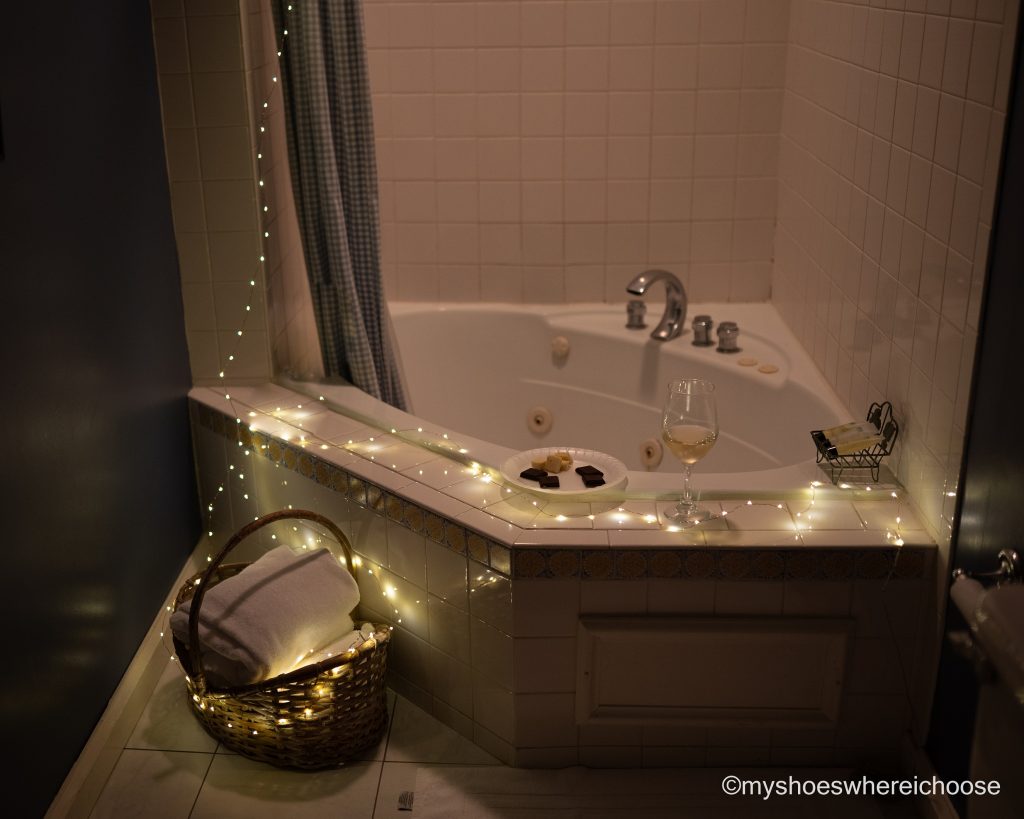 Also read: Best Fall Photoshoot Locations
Day 4 – Franconia, New Hampshire
Artists Bluff
The Artists Bluff trail starts opposite the Echo Lake Beach parking lot, and is a short but steep hike.
The view? One of the best I've ever seen! You'll get to see Echo lake surrounded by peaks and valleys full of vibrant colors! On a day when it's not windy, you'll also see crisp reflections of the mountain in the lake, and maybe even the early morning fog.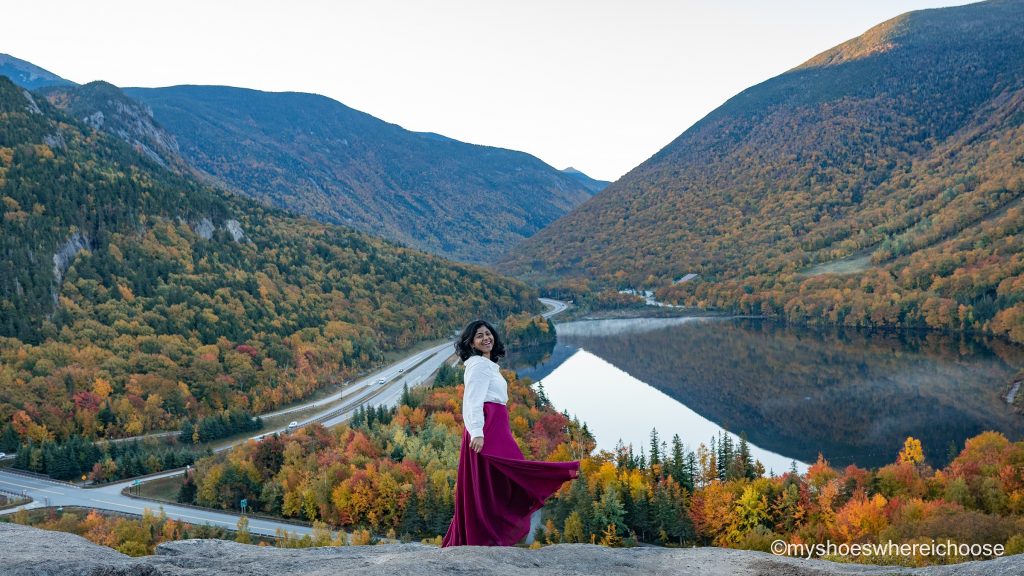 Aside: I've got a lot of questions about this skirt on Instagram, and decided to link it here for you in case you're interested too!
Although many people complain about the highway you see along the lake, I think it adds to the view – telling the story of human interaction with nature, the story of the ancient meeting the modern. And the fact that I have to take that highway back to Boston gives me the warm feeling of looking at my way back home!
I recommend going here early in the morning so the sunlight isn't too harsh on the face of the mountains. This place is popular during sunset and can get very crowded, especially during summer and fall seasons.
Flume Gorge Trail
The Flume Gorge trail is perfect for people of all ages. With covered bridges, natural rock formations, waterfalls, and colorful foliage all around, this well-maintained trail is great to walk around for a couple of hours.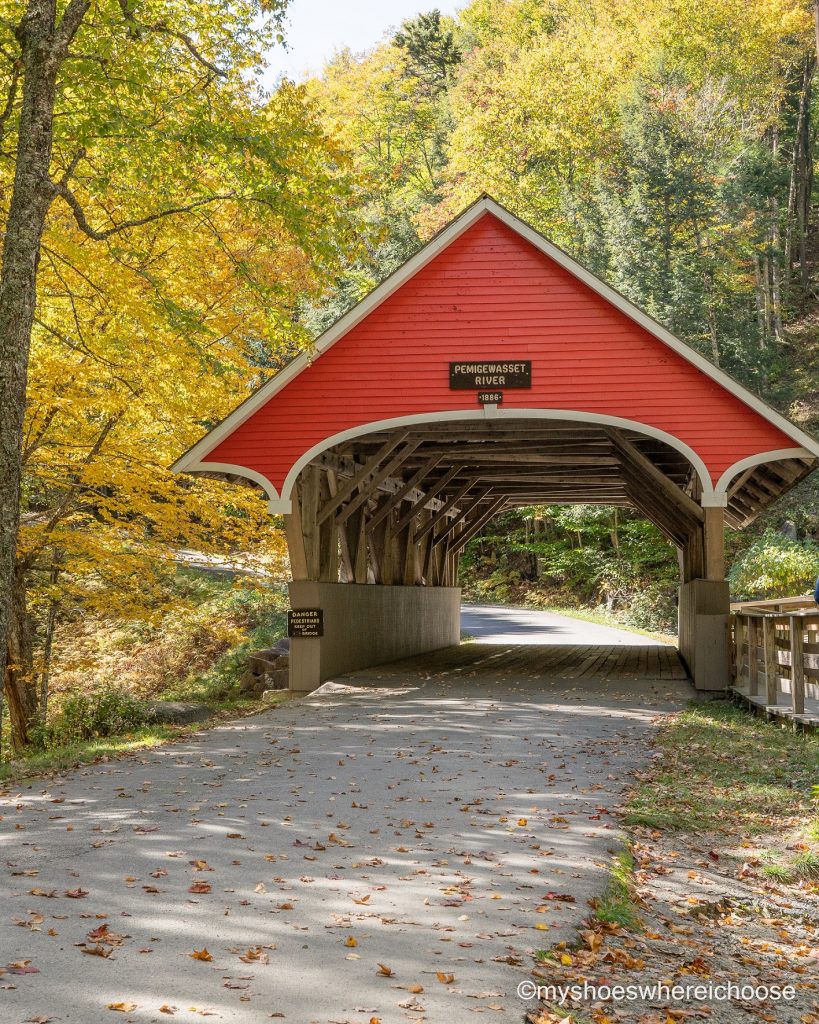 Come prepared to share stories with your group as you walk, admire the works of nature, and stop for photo-ops along the way!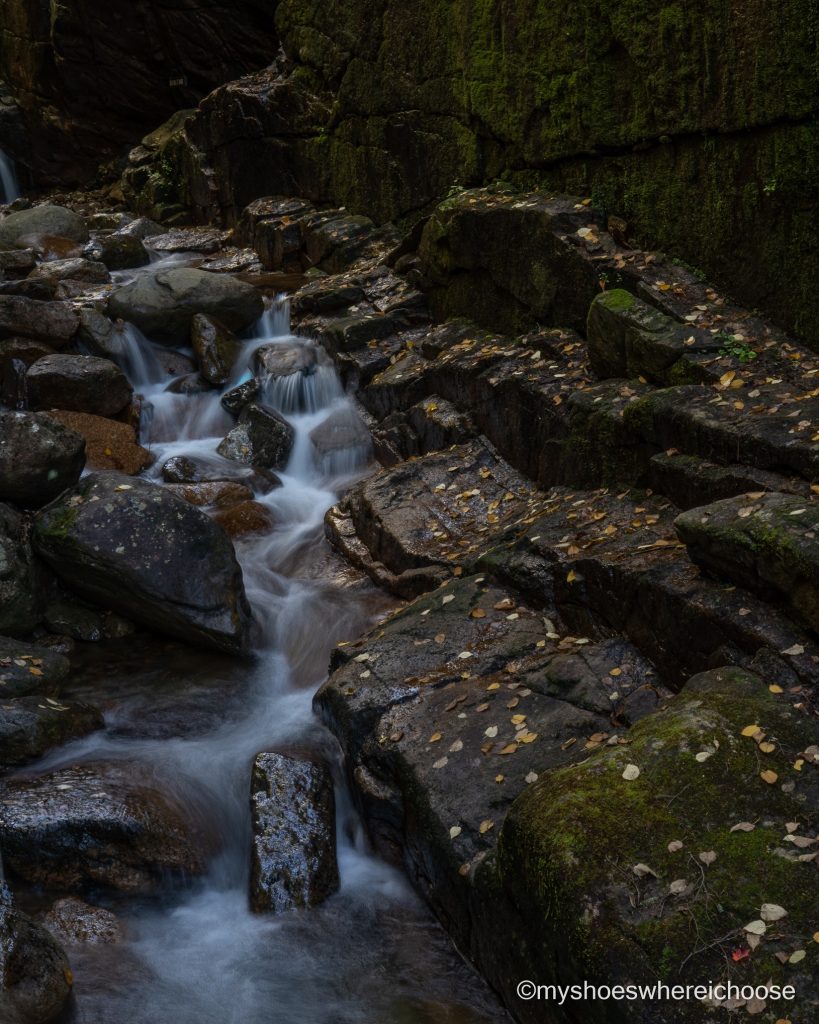 Day 5 – Franconia, NH to Woodstock, VT
All About Trains
Depending on your interest in photographing railroads and trains or taking a scenic ride on one, here are some options for you to consider: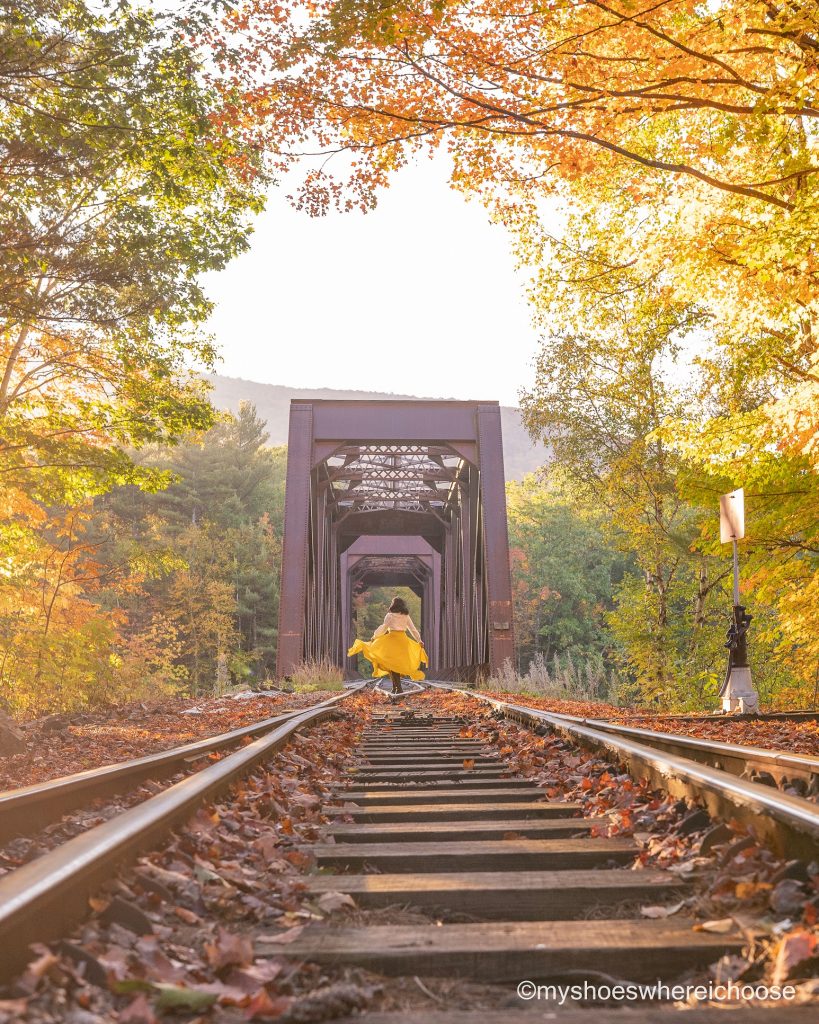 Pro Tip: If you're planning a photoshoot at these railroads, make sure to check the links above for schedules before you set out – some of these trains are super infrequent!
Also read:
Best Fall Photoshoot Locations
Complete list of my travel photography gear
After a day of train adventures, drive back to Vermont into the Woodstock region for some barn and farm fun!
Day 6 & 7- Woodstock & Killington, Vermont
I probably felt this way each day at every single place, but let me tell you that the Woodstock region is one of the best places to be when on a leaf peeping adventure. This is where you'll find the cutest rural vibes – quiet towns, little roads connecting them, covered bridges, farms, and best of all, farm animals!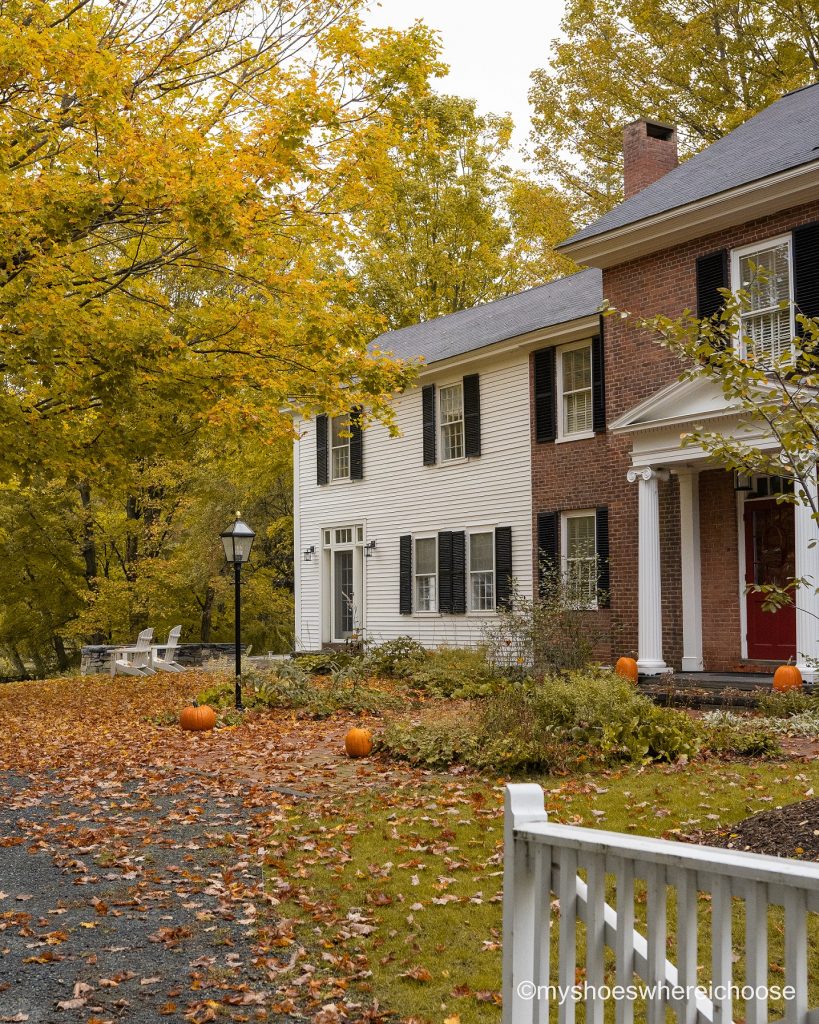 The browns and reds of the bridges and farms go so perfectly with the theme of autumn, making the entire place come alive with just the colors we're looking for!
Walking around the Woodstock village will give you plenty of opportunity to enjoy the fall foliage set against homes decorated for the season. If you're like me and like having a list of places to guide you through your exploring, I've got just what you need below.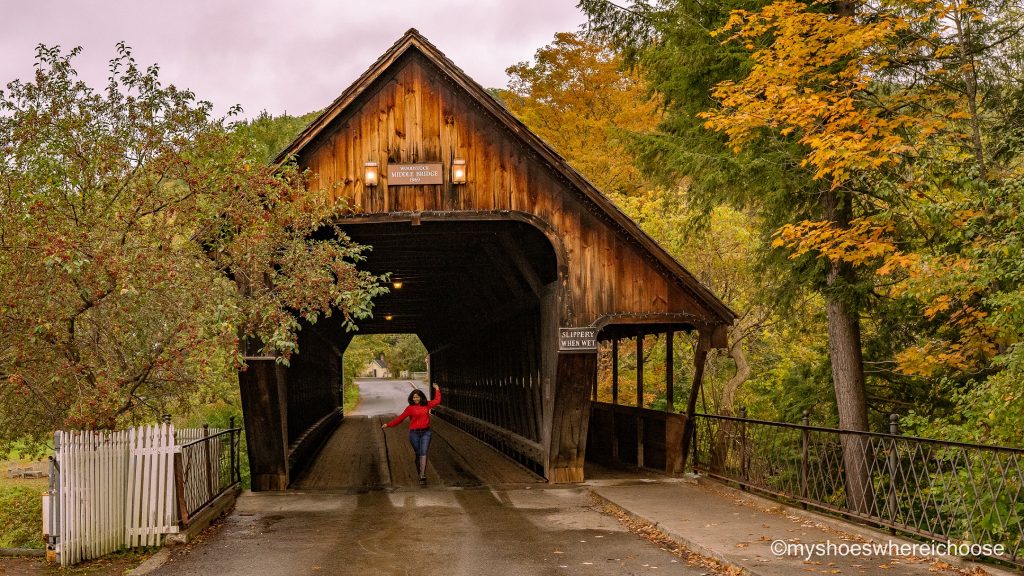 Woodstock region
Quechee Covered Bridge (also check out Simon Pearce glassblowing while here)
Taftsville Covered Bridge
Sugarbush Farm (gorgeous elevated view of foliage)
Maple Grove Farm
Sleepy Hollow Farm (expect some crowds here, thanks to this farm's star status on Instagram!)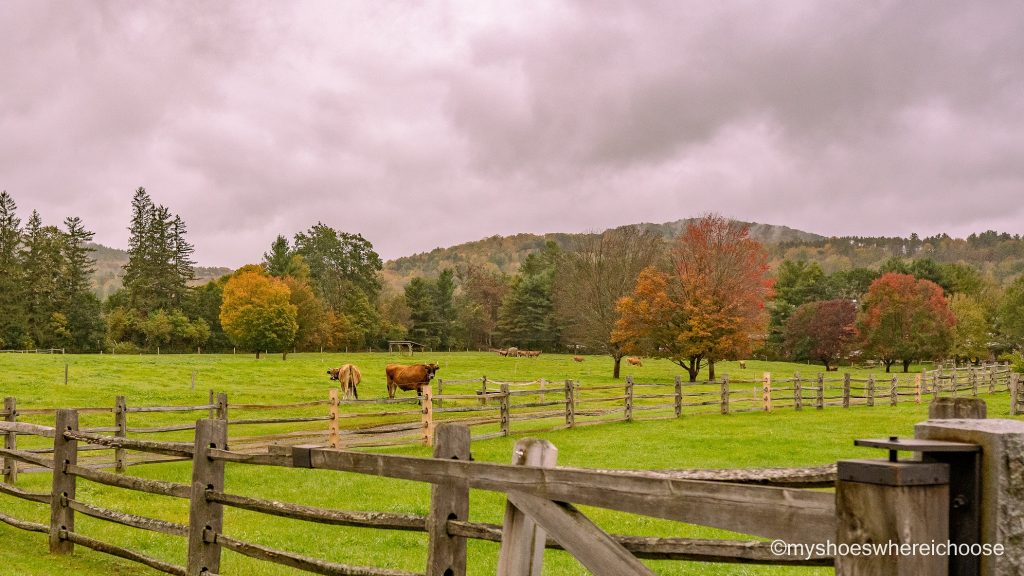 Middle Covered Bridge
Woodstock Inn & Resort
Billings Farm & Museum
Jenne Road Farm
Also read: Best Fall Photoshoot Locations
Killington Region
Thundering Brook Falls Trail
Kent Pond
Texas Falls
Winslow Farms
I didn't spend more than a day in this area. However, I did feel that two days here would be perfect to really cover all these places at a good pace without feeling rushed!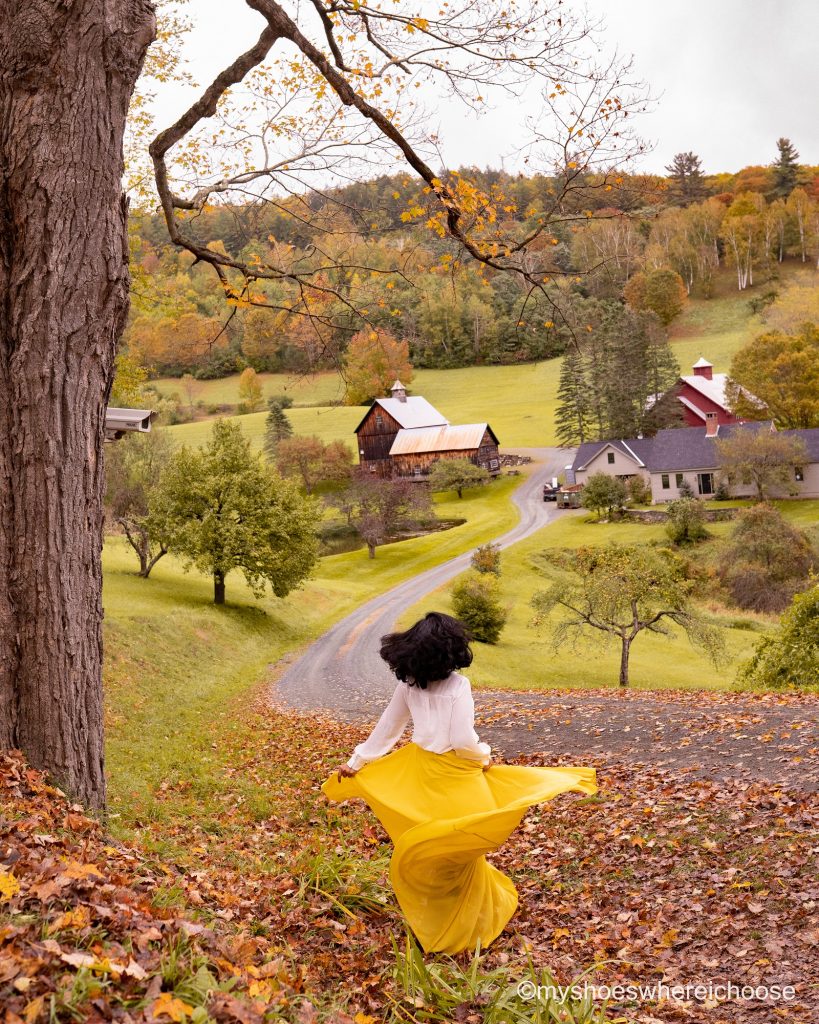 Aside: I've got a lot of questions about this skirt on Instagram, and decided to link it here for you in case you're interested too!
Drive back to Boston
You might think the trip is over, but it actually isn't! I have three more stops for you that are kind of on the way back to Boston. In my opinion, the views at these sports are totally worth the small, if at all, detour!
Weston, VT – The Old Mill Museum
Bennington, VT – Old First Church
Sudbury, MA – Wayside Inn Grist Mill
Also read:
Most instagrammable cafes in Boston
Complete list of my travel photography gear
That wraps up my epic New England Fall Road Trip itinerary. If you live in the New England area and don't want to take time off of work, consider making two shorter trips during weekends based on the foliage tracker (mentioned above).
I hope this helps you plan trip – I'd love to hear from you if you found it helpful! If you have any questions, feel free to DM me on Instagram.
What are you most excited to see this Fall? Let me know in the comments below 🙂
Pin This Post
Other Posts You Might Like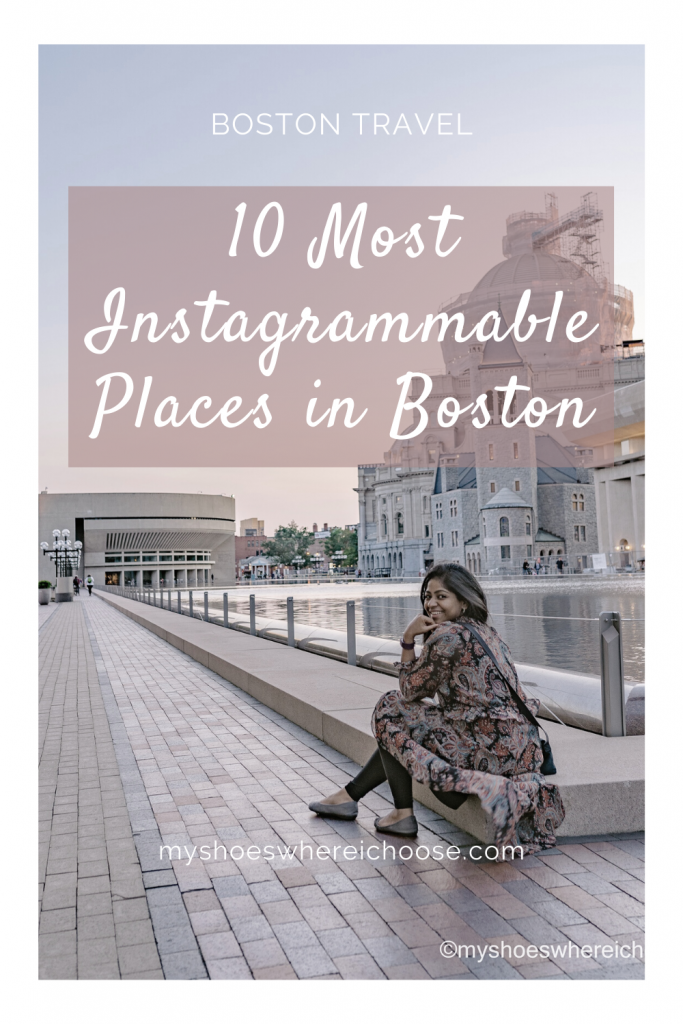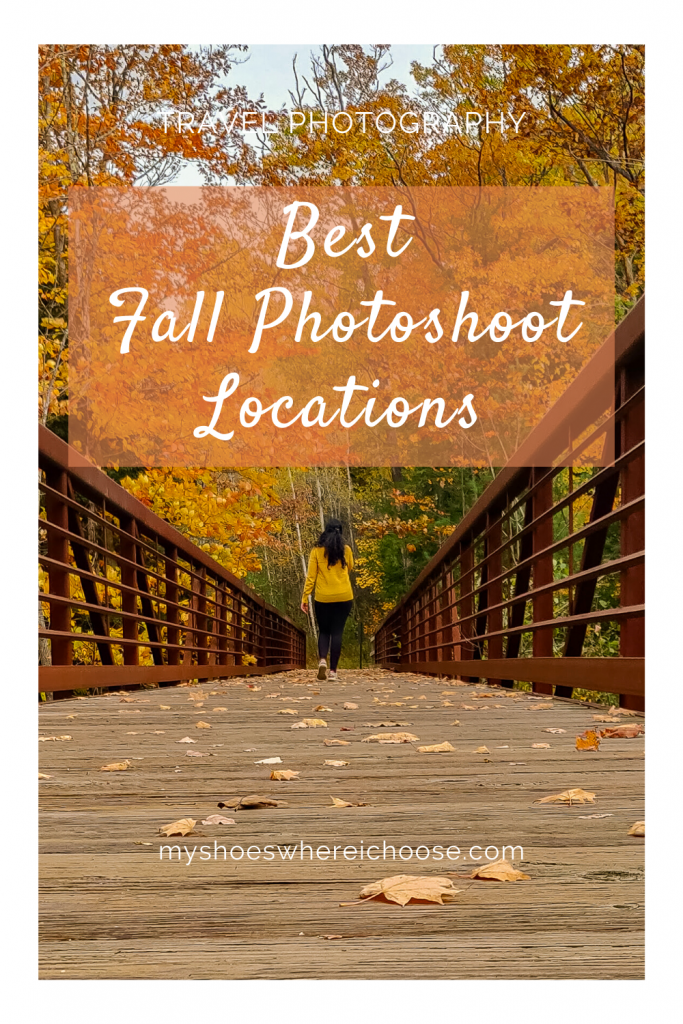 Latest posts on myshoeswhereichoose