Being a photographer, I've always been drawn to vibrant colors. Spotting a rainbow in the sky as heavy clouds part way to let the sun smile through is a joy that I'm sure most of us have experienced! While we don't always see rainbows in the sky, I've had so much fun finding rainbow color spots in Boston!
Rainbow Dance
One of the first events in school I remember participating in was a rainbow dance. Us 4 year-olds assigned a color and organized in 7 rows, each row representing a different color of the rainbow. I was dressed in an Indigo shirt-and-shorts set, doing the wave with my friends, secretly wishing I were Green instead (my favorite color).
With Pride month upon us, I'm here to acknowledge fellow humans who also aren't happy with labels assigned to them – labels that stretch way beyond a 3 minute school dance. I'm here to cheer on those who stand up for what they want, showing the world that secretly wishing for something is no longer an option! And I'm here to celebrate the idea of living authentically, of being proud of exactly who we are, of accepting others for who they want to be!
In celebration of pride month, I will be exploring Boston this month with a focus on supporting the LGBTQ+ community. And, staying on brand, I'm sharing some amazing spots in Boston – in rainbow colors!
Where to find rainbow color spots in Boston
JOY Mural
If you know me, you know this is one of my favorite spots in Boston! The JOY mural is beautiful, portraying a sense of freedom!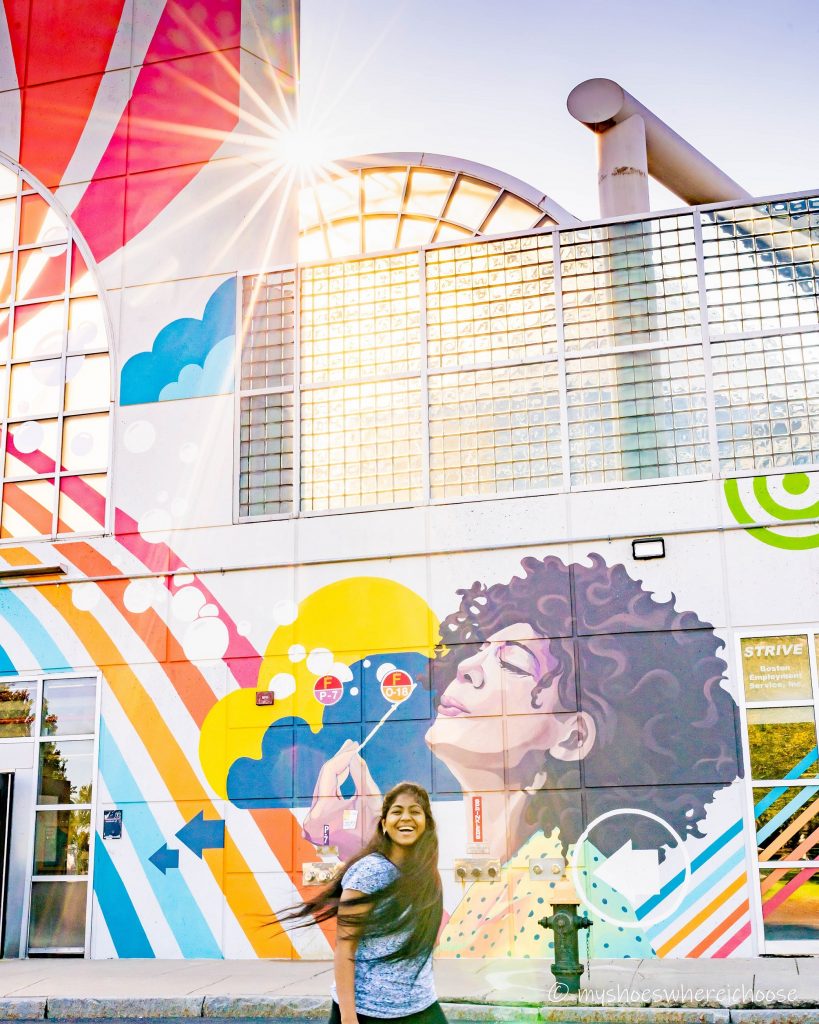 When here, you'll find that the whole place comes alive in color with the wall along Ruggles station painted in interesting patterns! If you're a fan of murals like me, you should check out my Boston's guide to murals in the link below!
Also Read:
Ultimate guide to Boston murals
Complete list of my travel photography gear
Gemini by Quintessenz
Another rainbow color spot in Boston, just steps away from the JOY mural, is the Gemini installation by Quintessenz!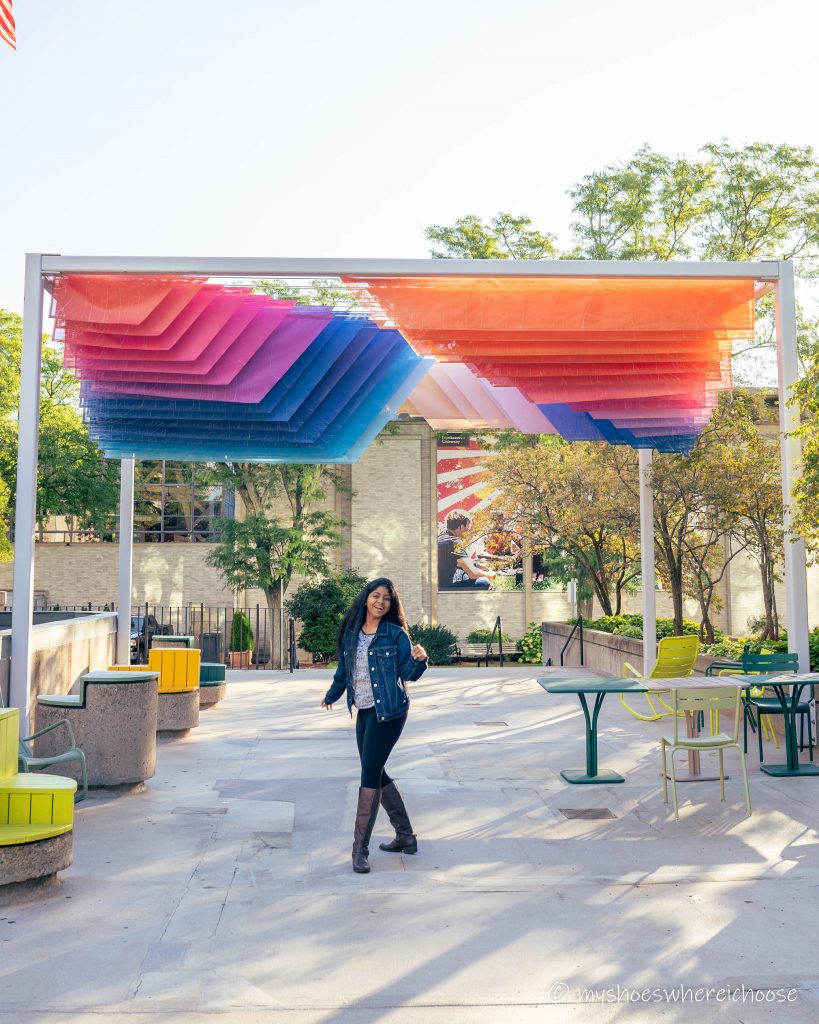 This spot also photographs beautifully from the street on the other side with stairs leading up to the installation!
Also read: Spots for Valentine's Day themed photoshoot in Boston
Rings Fountain
During the day, the Rings Fountain looks like just another fountain to cool off during the hot summer. At night, however, it transforms into one of the most colorful places in Boston!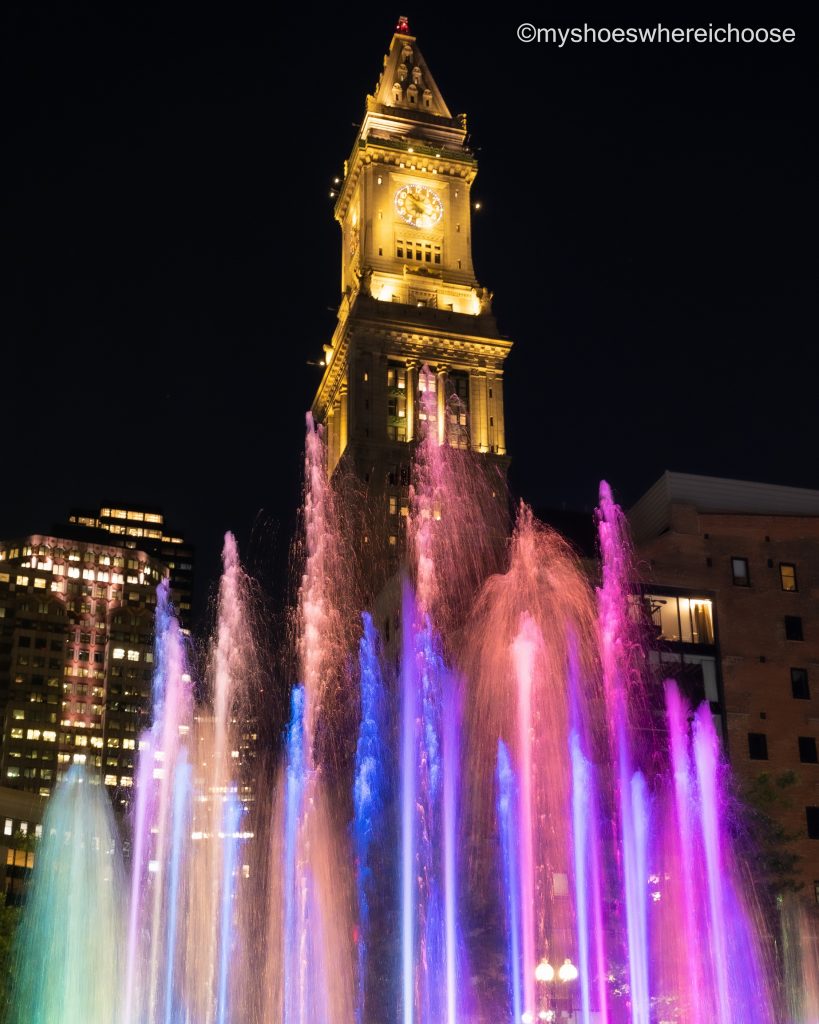 Watching the water dance in rainbow colored lights, and listening to squeals of delight under the fountain from kids and adults alike, this fountain is guaranteed to bring a smile to your face!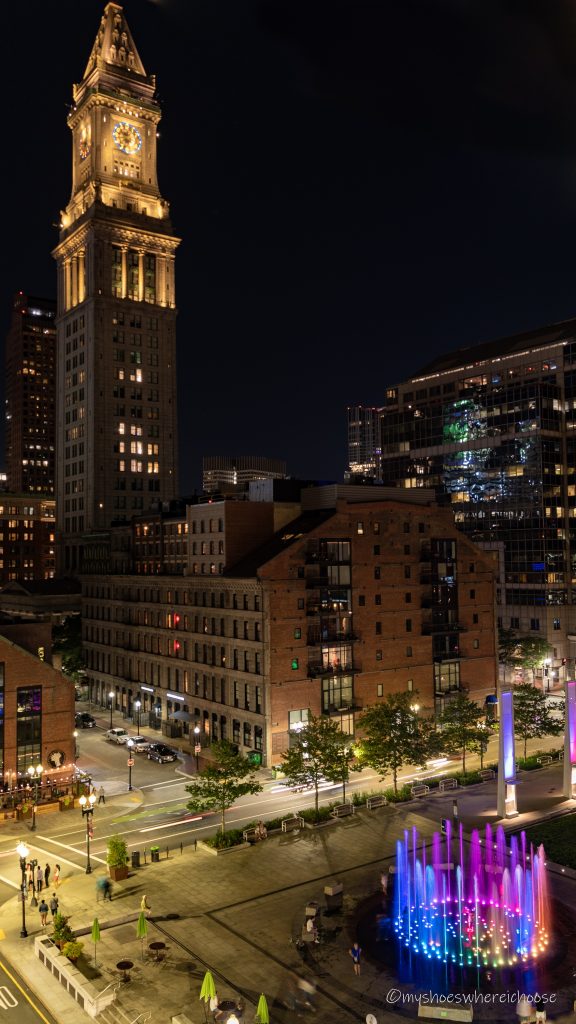 Harbor Fog Sculpture
As the name suggests, fog (mist) is the specialty of this installation! Late in the day, this turns into a lovely rainbow color spot in Boston, changing colors as it lets out some fog.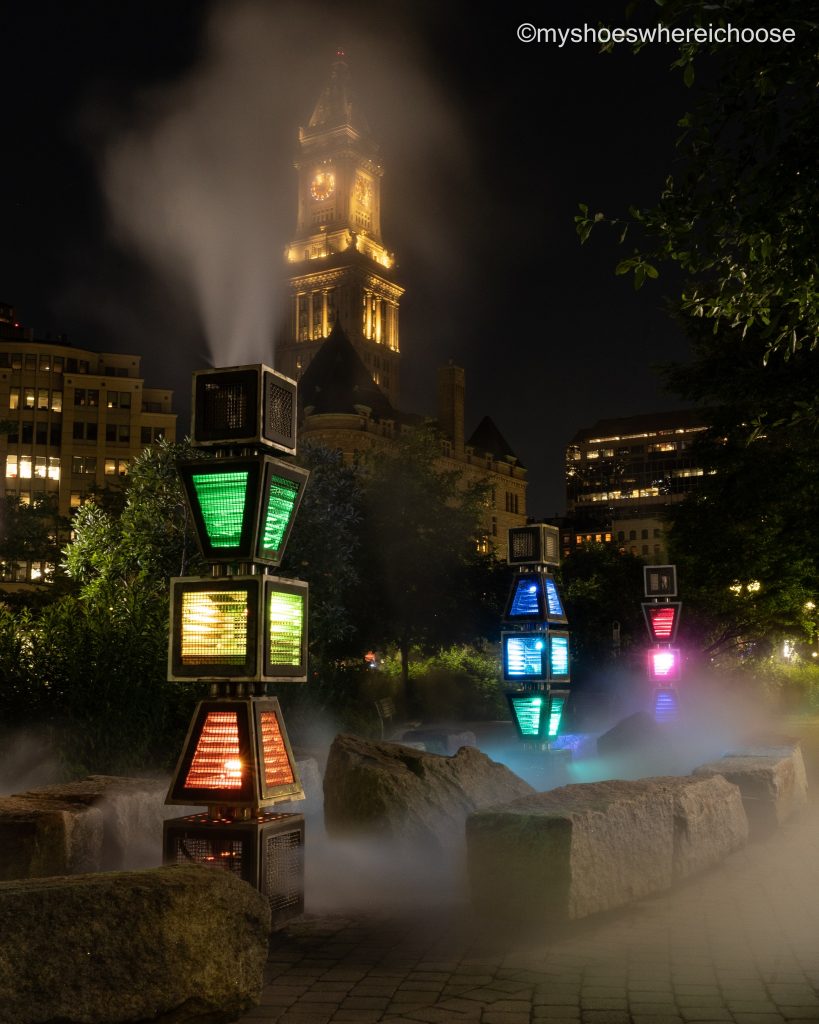 The harbor fog is supposed to be an interactive sculpture that activates when it detects motion. However, I ended up burning many a calorie by jogging around, climbing up and down those rocks. I even danced in front of the installation for several minutes with no luck whatsoever 😂. It just seemed to have a mind of its own and activated the fog a few minutes later!
Seaport Boulevard
Depicting life, coexistence, and environment, spotting all of Okuda's Air Sea Land art sculptures is a fun activity as you walk along Seaport Boulevard.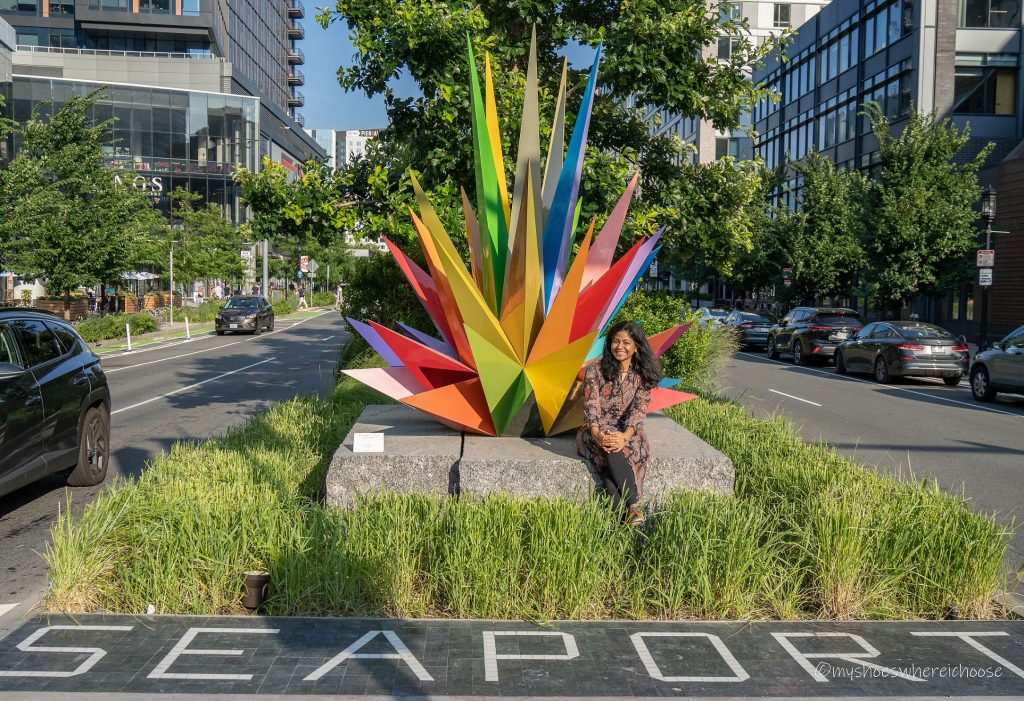 These sculptures can be tricky to photograph at the right angles due to traffic. However, visiting early morning or on a cold day can give you better results. They certainly turn the Seaport vibe up a notch!
Also read: What's in my camera bag? Complete list of my travel photography gear
Rainbow Color spots in Boston – Pride Month Specials
Boston Public Library
Through the month of June, Progress Pride Flags are in display at the Boston Public Library. What I love about this flag is that it not only has the rainbow colors, but also includes the trans flag, and represents people of color.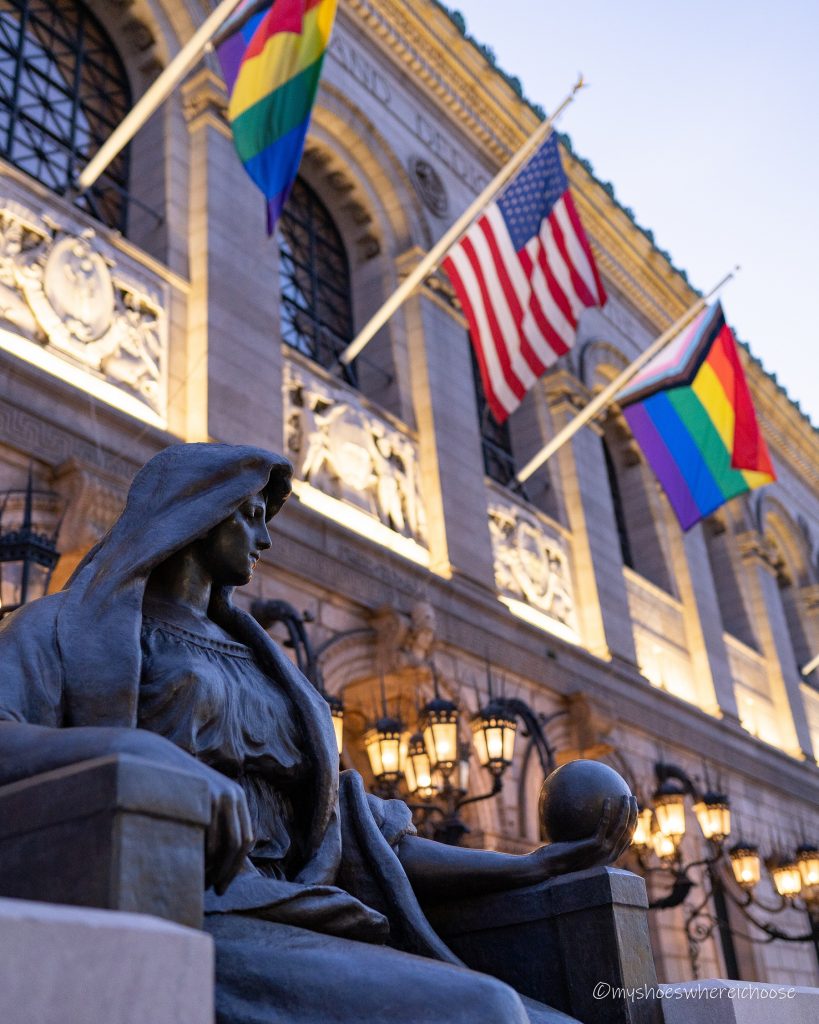 Boston Public Library is one of my favorite places in Boston, and I love having yet another reason to visit in June!
Leave a comment if you found this useful – it'll give me the motivation to check out more places to add to this list!
Join me on Instagram for more photos & videos!
Other Posts You Might Like
Latest posts on myshoeswhereichoose