As soon as the warmth of summer hit Massachusetts, my social media feed was flooded with posts from Cape Cod, Martha's Vineyard, and Nantucket. Do I enjoy a good beach vacation? Of course! But with "revenge travel" being the key phrase of every travel headline this summer, I knew I wanted to try something different. So, while the cars all lined up bumper-to-bumper on I-90 East, I decided to drive in the opposite direction to explore the Berkshires in the summer!
Where is/are the Berkshires located?
The Berkshires, or Berkshire County, is on the western edge of Massachusetts. It is bordered by 3 states – Vermont on the north, New York on the west, and Connecticut on the south.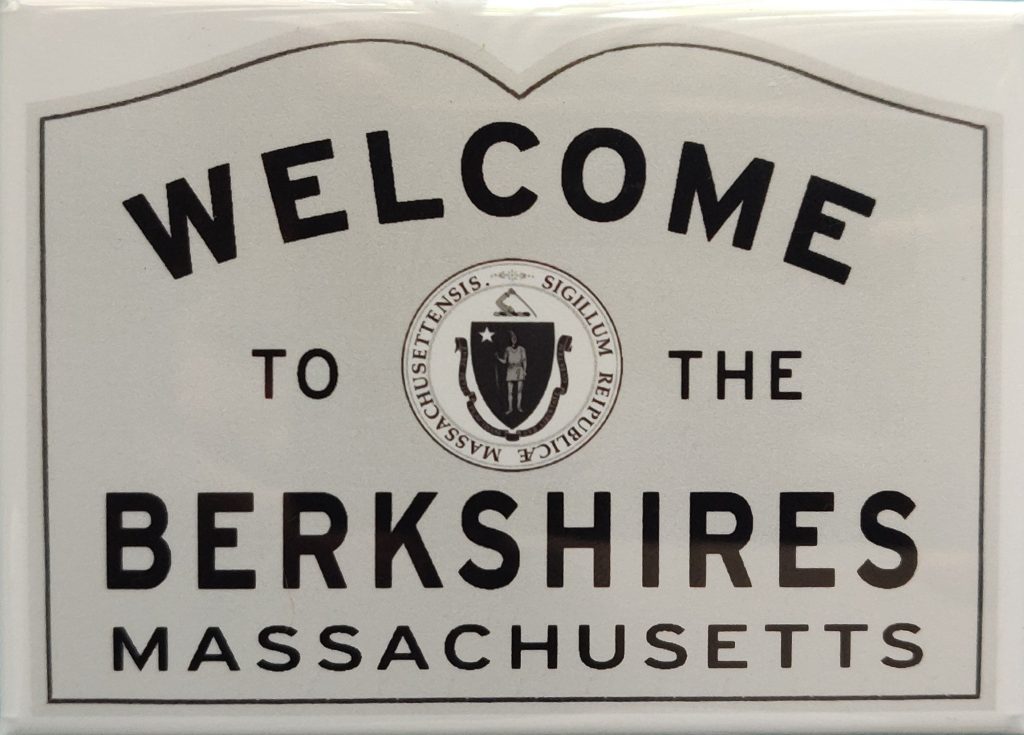 How to get to the Berkshires
By car: It takes a little over 2 hours to drive along I-90 W to the Berkshires from Boston, and a little under 3 hours from New York City. Driving is currently the best way to get to and explore the Berkshires.
By flight: The nearest airports to fly into to visit the Berkshires are:
Bradley International Airport (41.3 miles | 1h drive)
Albany International Airport (58.3 miles | 1h drive)
Boston Logan International Airport (132 miles | 2.5h drive)
By train: Amtrak is piloting the Berkshire Flyer beginning summer 2022 between New York City and Pittsfield, MA. This Berkshire Flyer currently operates on the weekends (NYC -> Berkshires on Friday, Berkshires -> NYC on Sunday).
Pro Tip: The best way to get around once at the Berkshires is by car.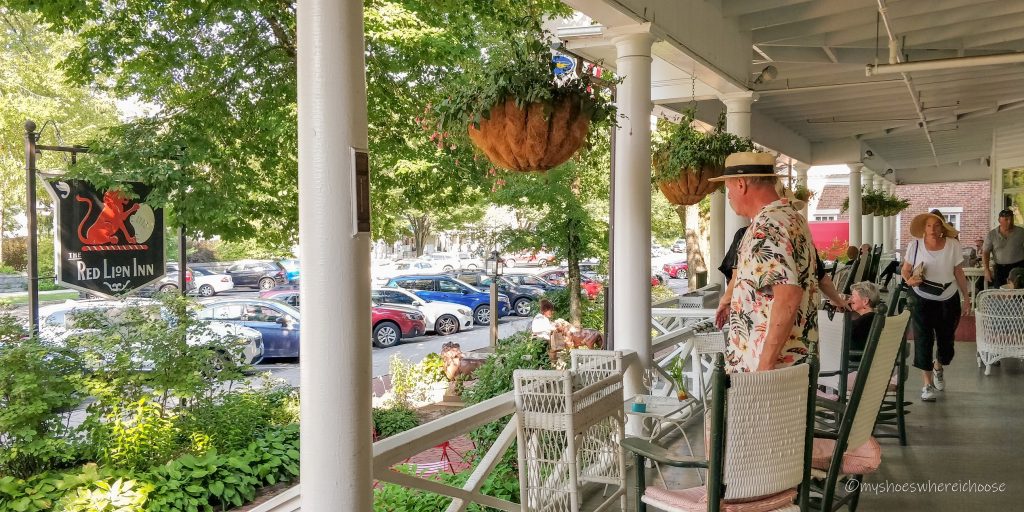 Also read: What's in my travel camera bag?
History of the Berkshires
Why is it called the Berkshires?
You'll find a lot of places in the US (particularly the New England region) named after places in England. New Hampshire, New York, Cambridge, and Plymouth, to name a few. You can find a more detailed list here if you're interested.
The governor of Massachusetts in 1760s (pre-independence), Sir Francis Bernard, named the Berkshires county after his home county in England. The Berkshires in US is almost twice as big as its namesake, and is made up of twice as many towns.
Originally the home of the Mohicans, who are now based in Wisconsin, the Berkshires continues to have sites that honor the community – including the Mohican Monument Trail and Peeskawso Peak (meaning: "virtuous woman") at the Monument Mountain.
What to do in the Berkshires in summer
I had the opportunity to visit the Berkshires for two days this summer on a hosted trip by 1Berkshire. There's so much to see and do here that two days just aren't enough!
Art and culture at the Berkshires in summer
Tanglewood:
The music venue of Boston Symphony Orchestra in Lenox/Stockbridge. Tour the grounds, bring a picnic, or watch a concert. The grounds are open to the public for tours all year round. You can find more information on the tours here.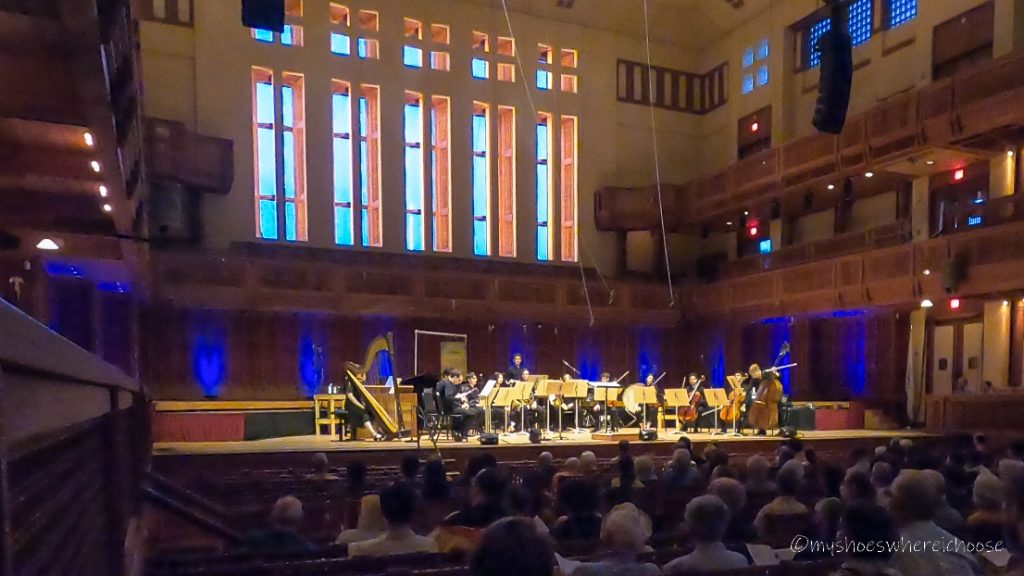 Norman Rockwell Museum:
Norman Rockwell, popular for his Four Freedoms paintings, spent the last 25 years of his life at the Berkshires. The museum features many of Rockwell's original artwork, as well as his personal items such as photographs and letters. In addition, you can take a scenic walk at the site to find Rockwell's studio and outdoor sculptures by Peter, his son.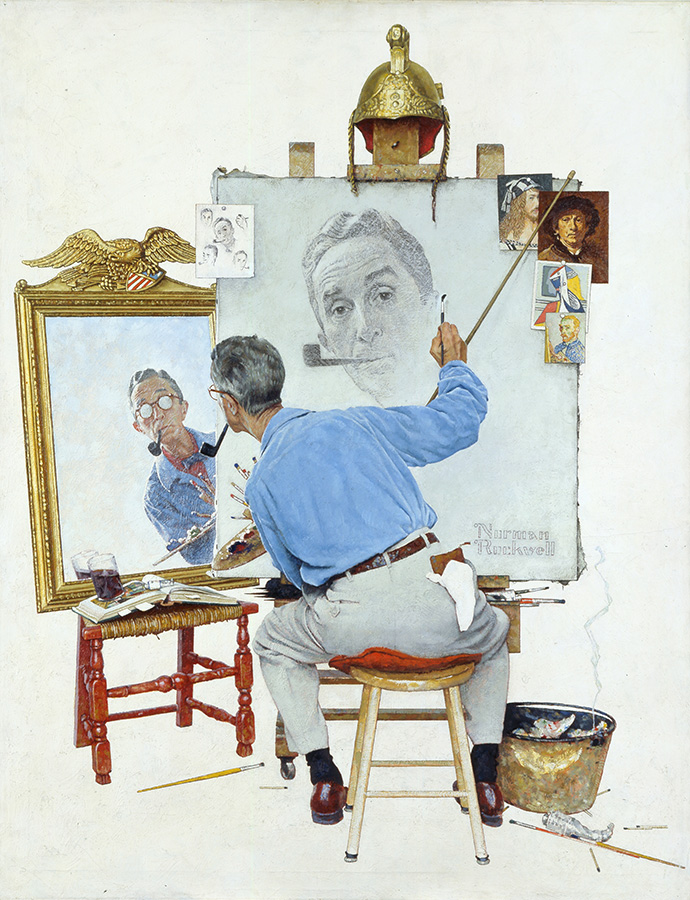 Shakespeare & Company:
Are you a fan of Shakespeare, theater, or both? You must check out Shakespeare & Company at Lenox – you can find schedule and ticket information here.
Berkshire Botanical Garden:
Open all year round, the Berkshire Botanical Garden is a 24 acre site houses a beautiful collection of herbs, vines, trees, vegetable beds, and ponds. They also have an outdoor sculptures exhibit, and a lovely store where you can purchase quality seeds for your own garden. You can find more information about tours, gardens, and exhibits here.
Also read: New England Fall Road Trip – The Ultimate Guide
The Mount:
This French and Italian inspired, beautifully designed mansion was the home of Edith Wharton – author of over 40 books on travel, architecture, and interior design. Wharton was also the first woman to win the Pulitzer for her novel The Age of Innocence. Take tour of the house and grounds, visit the bookstore, or enjoy a quick bite at the Terrace Café.
Great Barrington Main Street Car Show:
This is an event by the Great Barrington Fire Department. I believe this event happens on the first Thursday of August each year. Spectators can walk along Main Street admiring vintage cars that are creatively painted and decorated by their proud owners.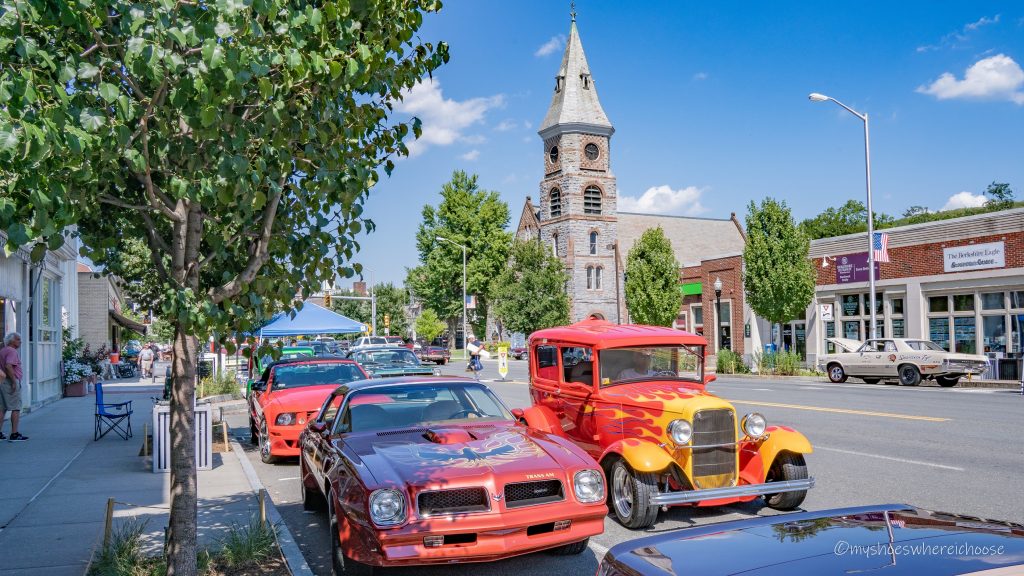 Adventure activities at the Berkshires in summer
There's something for everyone in the Berkshires and if you love adventure, here are some activities that might be of interest to you:
Ziplining: The Berkshires are home to USA's longest zipline – the Catamonster – at the Catamount Mountain Resort. The zipline is 5523 feet long, drops 1000 feet down the mountain, and is 250 feet above ground at its highest point. Don't let the numbers scare you, though. Soaring through the wind across state borders, taking in the beautiful mountain views, and looking at your tiny shadow moving on the ground – this is perhaps as close to flying as we can get!
What I found unique about this experience was the ability to control my speed on the zipline, so I could slow down to enjoy my ride.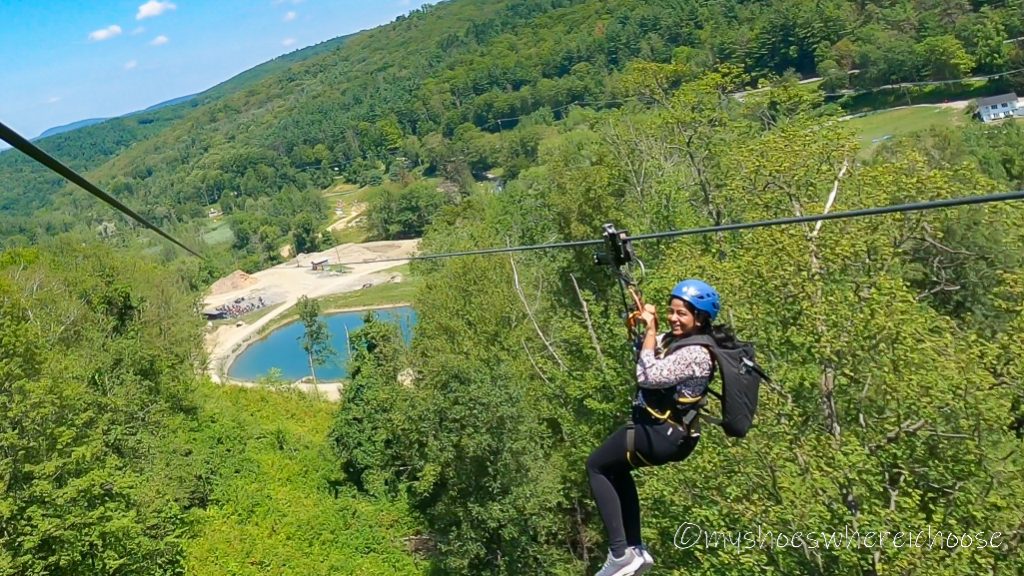 Even if you're not too comfortable with heights, the friendly staff at Catamount will work with you to ensure that you have a great time.
The Catamount Resort also offers skiing lessons during the winter starting from bunny slopes and moving up to higher levels of difficulty – something I'd love to try!
Hot air balloon flight: Operated by Spirit Ballooning, this would be a wonderful way to get a birds-eye view of the Berkshires!
Whitewater Rafting: Go rafting or kayaking on the Deerfield River with Crab Apple. The best part – they have mild, intermediate, and advanced rapids – so you can choose based on your comfort!
Hiking trails and nature at the Berkshires in summer
One of the best things about visiting the Berkshires in summer is having the perfect opportunity to pick and choose from numerous hiking trails! Here are some popular hiking trails you can add to your list of things to do.
Bish Bash Falls: As the highest waterfall in Massachusetts, this is also one of the most popular waterfalls in MA – expect to see a lot of people along this hike. Check for trail closures (or partial closures) before planning this hike. The hike from the New York parking lot is longer, but less strenuous than the hike from the Massachusetts parking lot.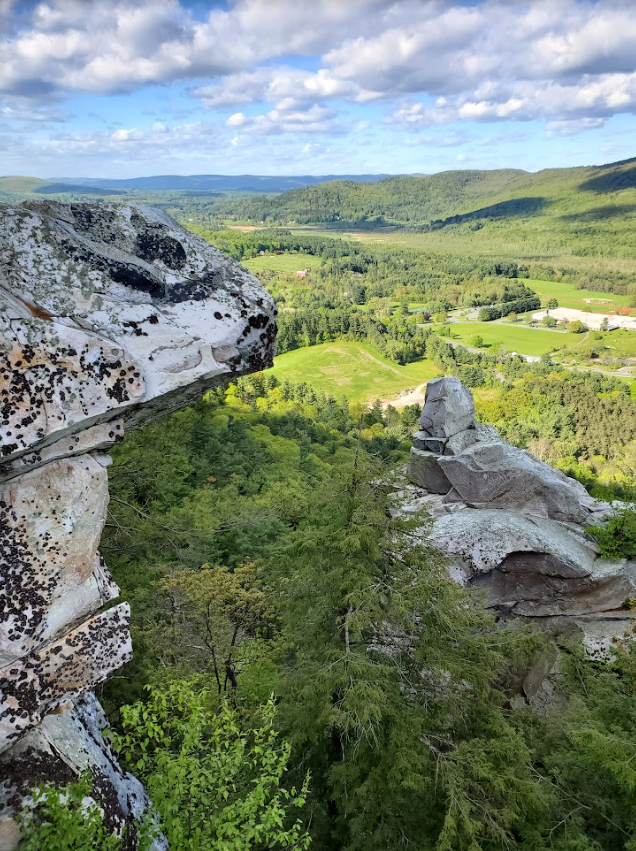 Monument Mountain: The Monument Mountain, long known for being the site of motivation for future works of Nathaniel Hawthorne and Herman Melville (author of Moby Dick), has a deeper history dating back to pre-colonial times, when the Mohicans called this place their home.
This place is sacred to the Mohican people, and recent name changes to the Indian Monument Trail (to Mohican Monument Trail) and Squae Peak (to Peeskawso Peak) have been attempts to reframe the narrative of this site.
On these trails, you will find views of Mt Greylock, Catskills, and pass remains of Native American trails, and might even spot a bald eagle soaring above.
Other trails:
Goodrich Park Trails (Stockbridge)
Olivia's Overlook (Lenox)
Pleasant Valley Sanctuary (Lenox)
Housatonic river walk (Great Barrington)
Where to stay at the Berkshires
This was our first visit to the Berkshires, and we had a comfortable stay at the Gateways Inn at Lenox. Gateways Inn is one of five inns that make up the Berkshire Elegant County Inns.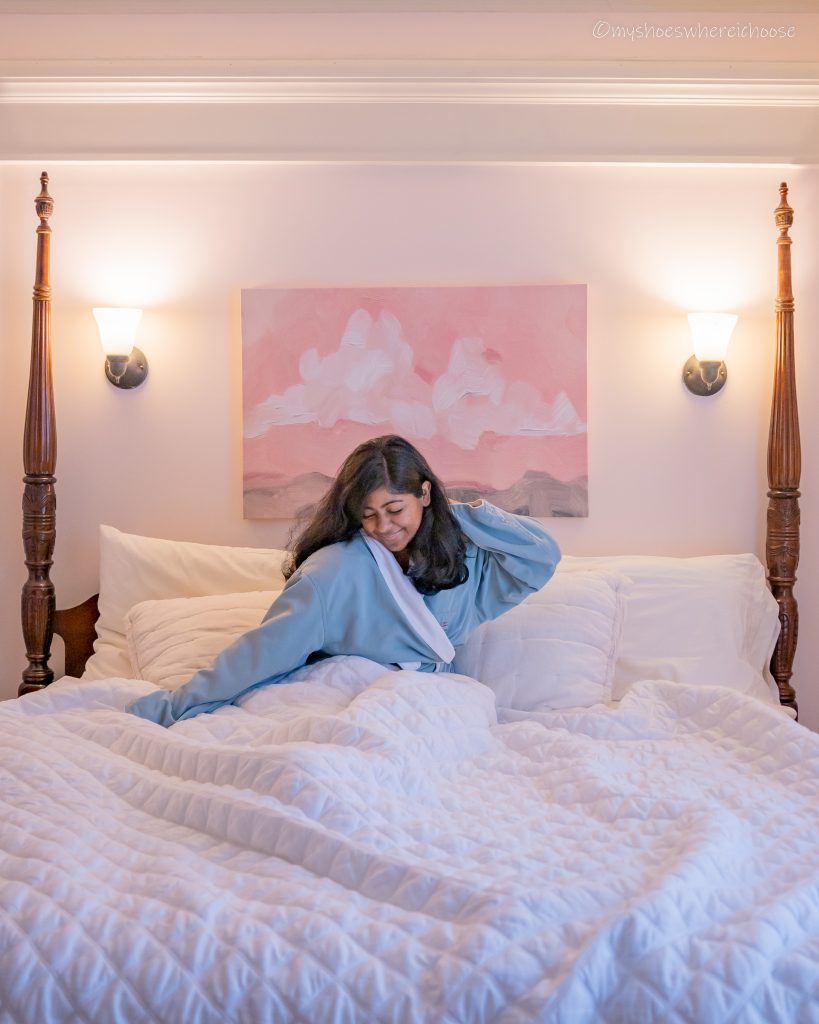 The inn is conveniently located in close proximity to popular sites such as the Berkshire Botanical Garden and Tanglewood, and also has many amazing restaurants and cafes within a 5 minute walking radius.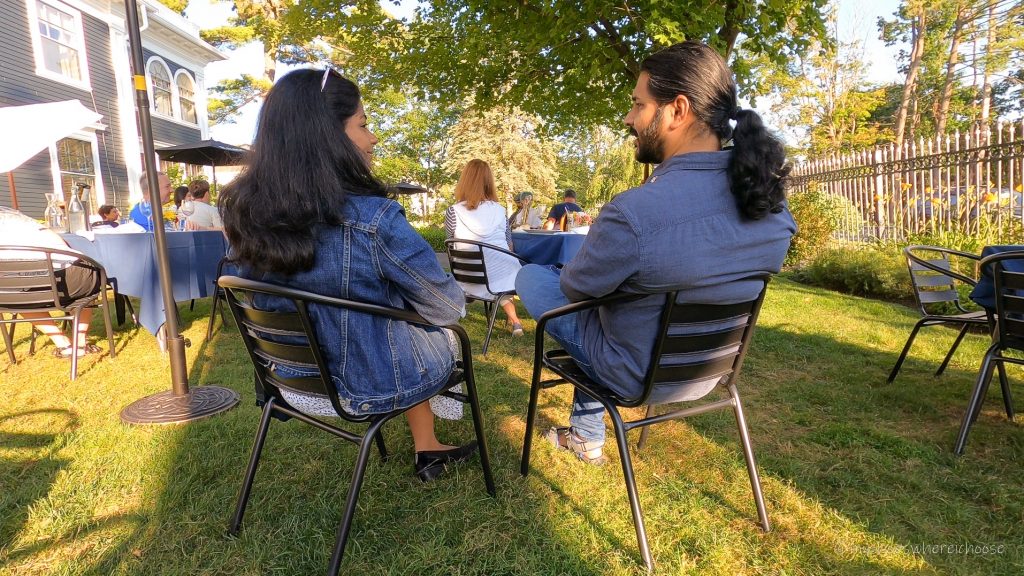 Their breakfast is customizable and delicious! The highlight of our stay at the Gateways Inn was the dinnertime live jazz performances by The Lucky 5 and Don Mikkelsen Quartet.
Also read: Complete list of my travel photography gear
Where to eat at the Berkshires in summer
Just like everything else, there are so many amazing places to choose from to eat at the Berkshires! I had my 4 big meals at these places:
Boema Pizzeria
Located 5 minutes from where we were staying, Boema Pizzeria was not just a convenient place to dine in, but also had the cutest décor! Their friendly staff patiently put up with my shenanigans as I hopped 3 tables to find one that had the right lighting for my photographs.
Highlights:
Indoor, barn, and outdoor seating
Vegan menu
Décor
Must try: Woodfired Focaccia Bread
Mint Indian Lakeside Dining
As the cliché goes, you can take me out of India, but…you got the rest!
Naturally, dining at Mint was on my agenda. Not only did we have a delicious Indian meal there, we also got to meet the owner Pramod, who happens to be a treasure trove of information about the Berkshires!
Pramod very kindly took time out of his busy day to give us suggestions of the best restaurants, things to do, and scenic routes to drive along.
Highlights:
Lakeside Dining
Spicy and delicious Indian food
Bollywood music
Must try: Palak Kofta
Pro tip: order mild/medium spice if you don't want your food too spicy.
Frankie's Ristorante
At the end of a long day out in the scorching Berkshire summer heat (33°C/91°F), our relaxed dinner at Frankie's was just what we needed. Frankie's Italian Ristorante is adjacent to Boema Pizzeria, and is owned and managed by the same lovely people.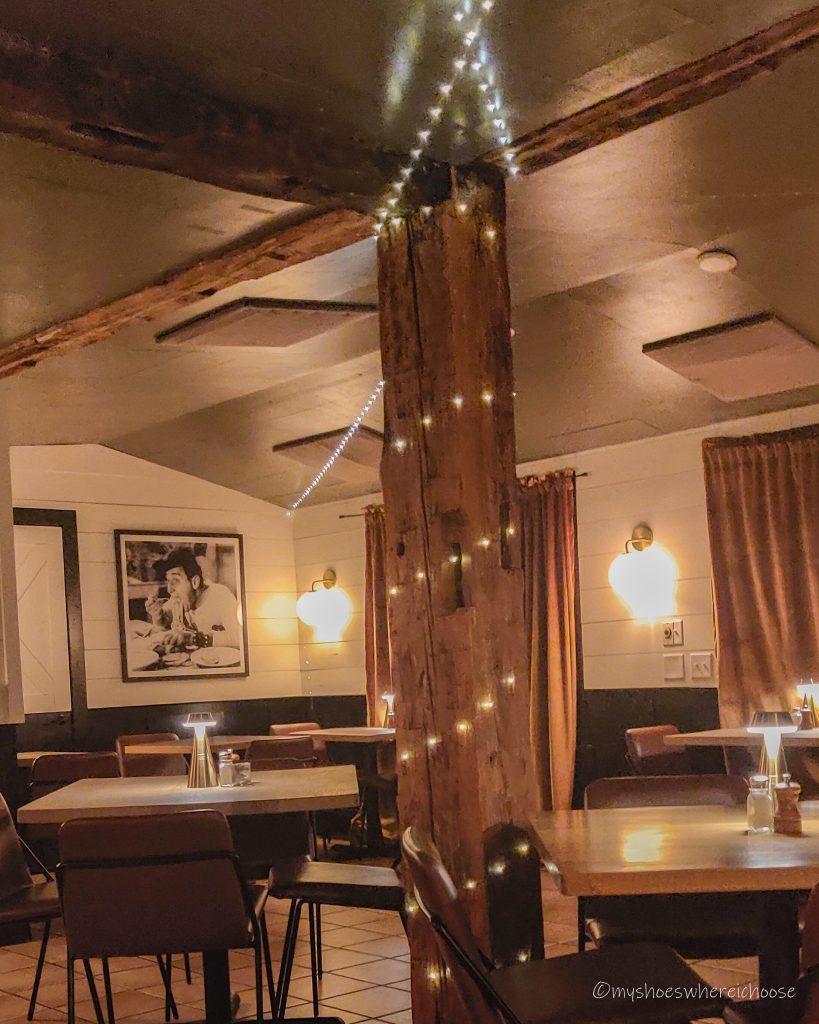 Highlights:
Vegan menu
Cute lighting and art
Customizable menu
Must try: Bruschetta, House Italian Wine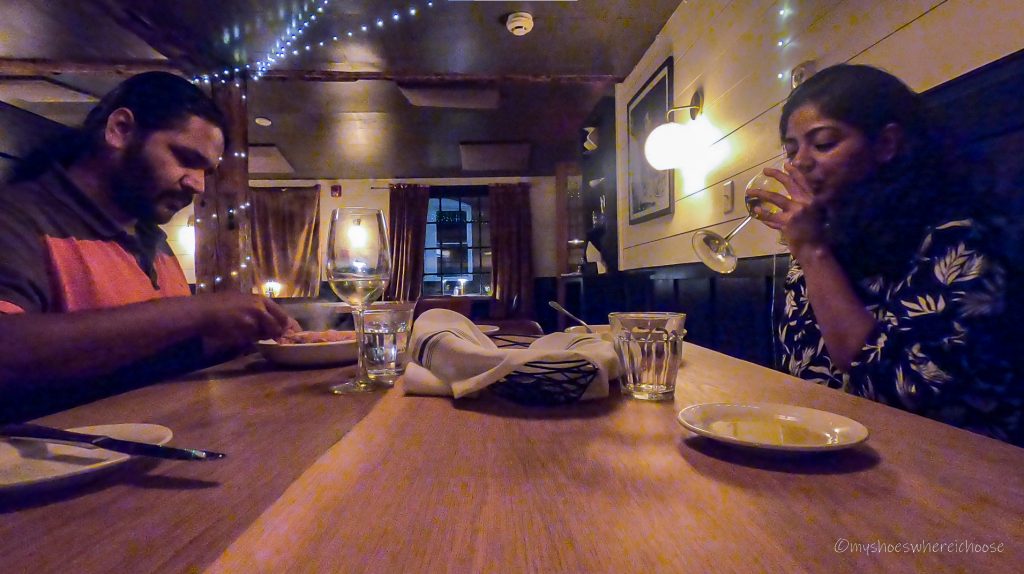 Gateways Inn
The Gateways Inn has a beautiful dining hall, and also offers outdoor seating for dinner. We got to enjoy live jazz music on both evenings of our stay, and some soft jazz playing in the background during breakfast.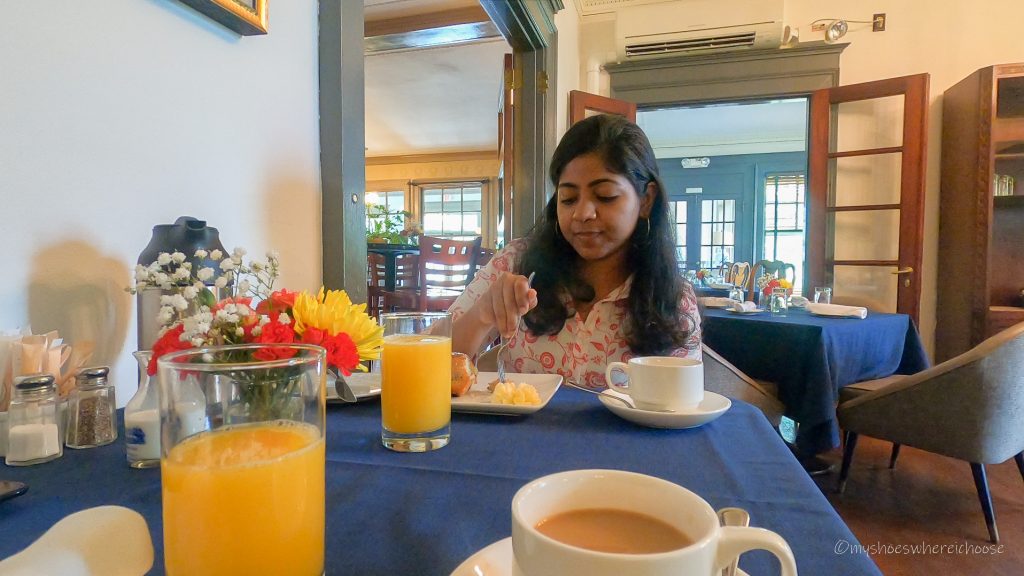 Highlights:
Jazz music
Beautiful dining hall/outdoor seating area
Customizable menu
Delicious pastries and coffee
Must try: Avocado Tartine
Other places to try:
Chocolate Springs Café: Handmade chocolates in Lenox. Try the dark chocolate truffle, and the flourless chocolate cake.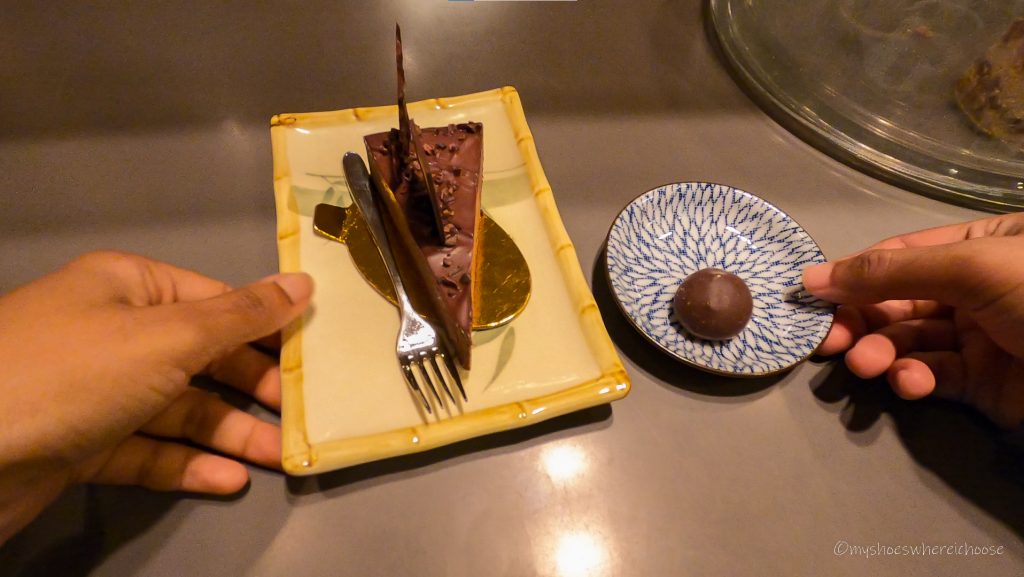 SoCo Creamery: This was our recharge station while we melted in the 33°C/91°F heat – and we're so glad we stopped here! Try the mango sorbet, or one of the Shakespeare Bard-inspired flavors.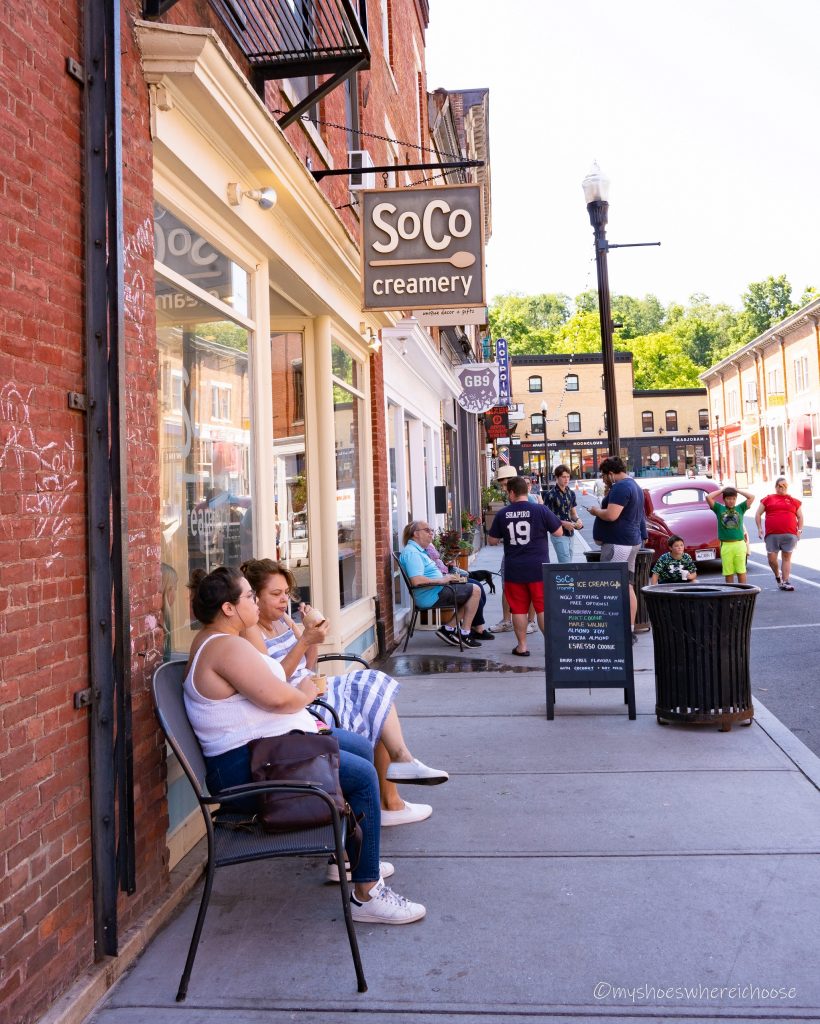 Lenox Coffee: What would have been the living room of a house converted into a quiet little café with lovely outdoor seating. Try the croissants and hot chocolate, and don't forget to enjoy the latte art on your drink.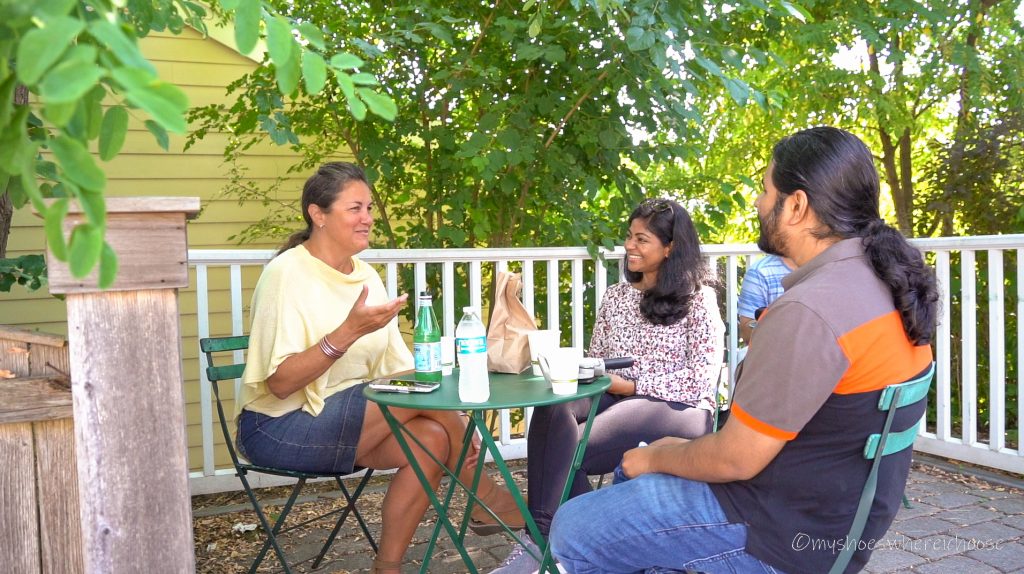 Patisserie Lenox: This place has all the vibes of a Parisian café. Try any of their pastries or macarons, and pose for the gram while you're here!
Will you be planning a summer Berkshires trip?
The Berkshires is a fantastic summer destination; one that's not too crowded, yet lively and vibrant! The experiences I've mentioned here are merely a small glimpse of what the Berkshires has to offer, and I highly recommend checking out the official travel website – berkshires.org – where you can find even more recommendations for places to eat, stay, and have a great time!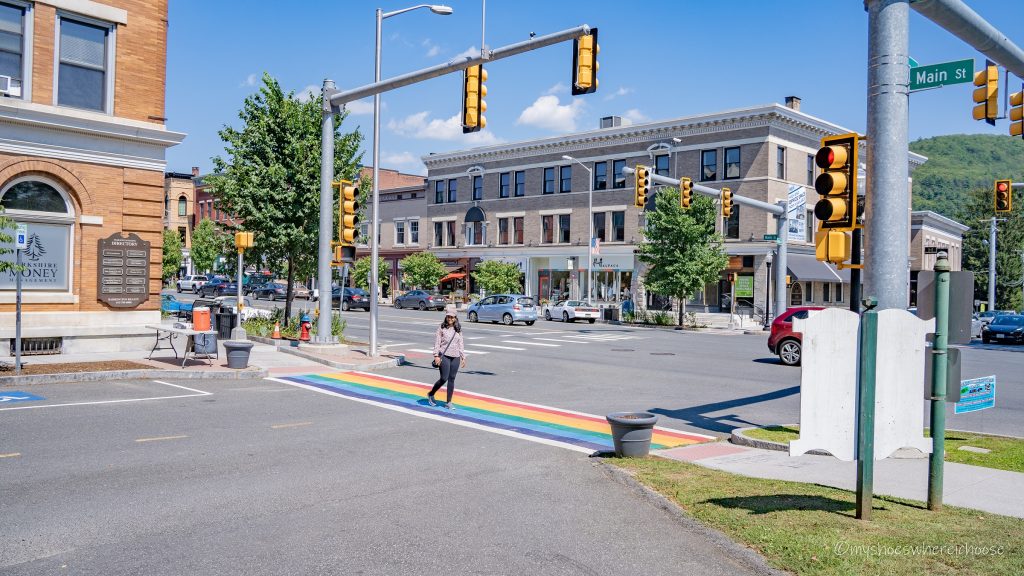 Join me on Instagram for more photos & videos!
Pin This Post
Other Posts You Might Like
Latest posts on myshoeswhereichoose