Montréal was a very special destination for me. As I write this post exactly one year after my trip (don't worry, I've got all my notes & photographs intact), I can't help but marvel at how much my life has changed over the last year.
It was while planning this trip that I started to consider the idea of travel blogging. From knowing nothing about blogging or social media marketing a year ago, I've sure come quite a ways in a year – and I'm so excited to see where this eventually takes me!
So anyway, let's get to the reason why we're here – Montréal! If you're going to Montréal, find out how you can stay there forever here are five things you should definitely experience:
5. Poutine & Bagels
Even though I'm vegetarian and don't often get super exciting local options when I travel, Montréal had something unique and fun to offer.
Poutine
Poutine is the reason why you're told not to judge a book by its cover. As weird as it looks, I've finally come to associate this dish with its wonderful taste! This came very close to the taste of Veg Puffs, if you know what I'm talking about.
Wondering what poutine is? French fries topped with cheese curds and gravy. Just trust me on this one and try it, you won't regret it!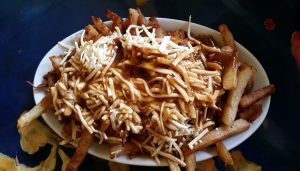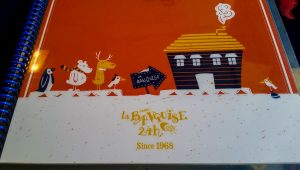 Vegetarians – make sure you ask for the vegetarian/vegan option.
While you get poutine at almost every restaurant, here are some places where it is touted to taste better:
La Banquise (where the picture is from – loved the quirky ambiance!)
Poutineville
Patati Patata
Montréal bagels
Montréal food is full of pleasant surprises. Let me introduce you to Montréal's sweet bagels. You read that right, I said sweet bagels.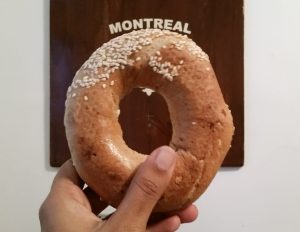 If you're like me, and enjoy your extra spicy Jalapeno bagels with garden veggie cream cheese, you'll probably be as skeptical about trying these as I was. The dough is boiled in honey-sweetened water, and made in a wood-fire oven, making them bagels harder and sweeter than anything I'm used to.
I let go of all doubts, went crazy, and tried all flavors that Fairmont Bagels had. My top picks were the blueberry and chocolate (Jalapenos were conveniently forgotten).
4. Hike up Mont-Royal for Skyline Views
Montréal gets its name from this small mountain. You can drive, or take a bus up to the mountain park, but I prefer hiking up. The ~45 minute easy hike will help burn off some of the poutine and bagels you overate, and bonus – you'll be greeted along the way by the friendliest locals (and their dogs)!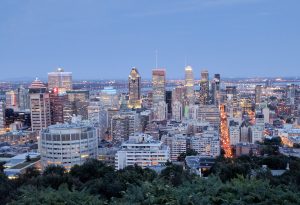 The mountain park gives you an amazing view of the Montréal skyline – sunset time has the best views, but also the most crowds! Time yourself based on your preferences.
3. Old Montréal
The European vibes of Old Montréal is probably the biggest reason you're planning your trip. You can easily spend a whole day or more here and still want to go back – such is the charm! Cobblestone streets you can skip your way through, horse-drawn carriages alongside cars – blurring the boundaries of time, street performances that leave you mesmerized, beautiful restaurants, mind-blowing architecture, all in one place.
While wandering around Old Montréal, keep an eye out for the following:
Place D'Armes
I spent a good chunk of my afternoon soaking in the experience of this square – the street performances, and watching the tourists line up to enter Notre-Dame.
Notre-Dame Basilica at Place D'Armes
Interestingly, the scenes on the stained glass at the basilica depict Montréal's religious history, and not traditional biblical scenes.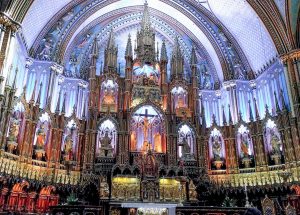 Place Jacques Cartier
This place will bring alive the tourist in you, with the cute fruit stalls, and the charming restaurants.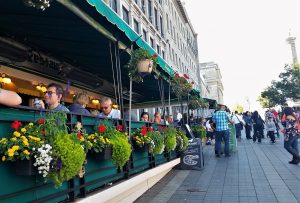 Marché Bonsecours
Marché Bonsecours looks, feels, and is 150 years old. Lined with various shops, I made a quick stop here to purchase souvenirs, and made my way back out into the sunlight.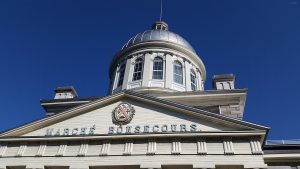 Ice-cream at locally-owned shops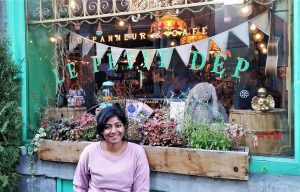 2. French it up
Certified 30% fluent in the French by Duolingo, I obviously couldn't make sense of all the boards in the city. Nonetheless, it certainly helped to know a few basic words. Here are some that can get you by:
Hello / good day = Bonjour
Good evening = Bon soir
Do you speak English? = Parlez-vous anglais?
Please = S'il vous plaît
Thank you = Merci
Thank you very much = Merci beaucoup
You're welcome = De rien
Yes = Oui
No = Non
Bye = Au revoir
Good night = Bonne nuit
And here's a bonus if you want to be sassy: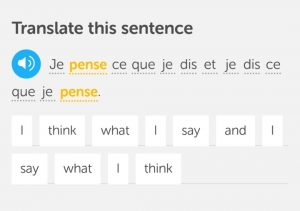 1. Platéau Mont-Royal
Old Montréal is no doubt charming, but Platéau Mont Royal was the place that stole my heart!
I got very lucky choosing to book an Airbnb in this arrondissement before I knew how much I'd fall for this place. Lined with the cutest houses, I was working my camera overtime while biking through these streets.
Here's a list of what you can do at Platéau Mont-Royal (besides drooling and jumping with joy)
Check out the murals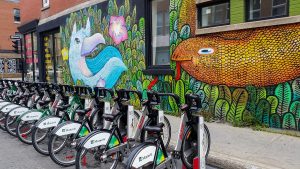 Walk into a café, or ten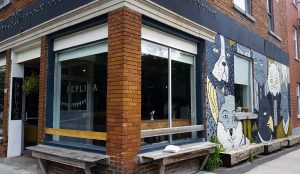 Shop & eat at Mile End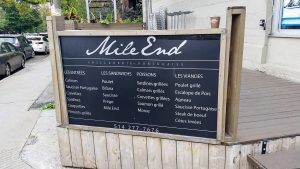 Watch bagel-making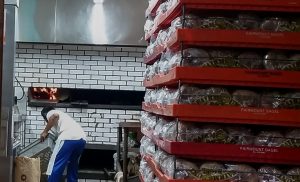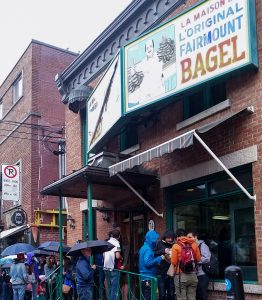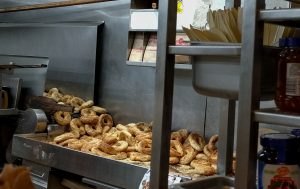 Take pictures of the most Instagrammable streets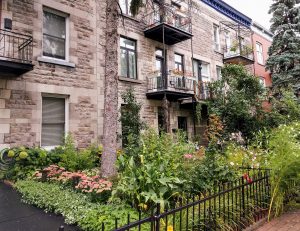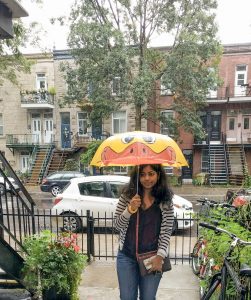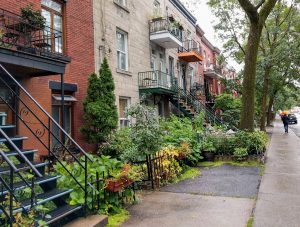 What were your top experiences at Montréal? Let me know!
Cheers
Nam 🙂