Standing next to a tree is pretty basic. It works just fine, but that's also what everybody else will think of doing! If you're looking for a creative level-up, here are 6 tips you'll want to use for your next spring blossom photoshoot.
1. Use the blossoms as foreground
Using any object in the foreground is an easy way to make your pictures more interesting. It adds notion of depth in an otherwise 2D image.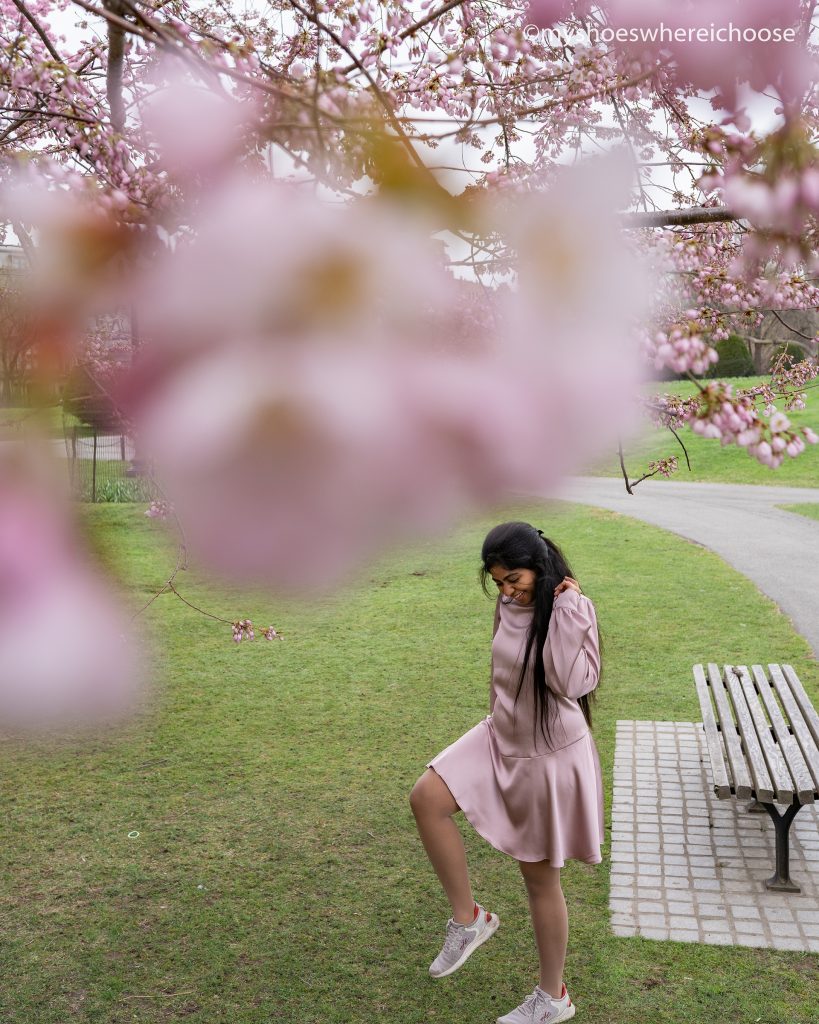 Get close to a tree, and set focus on your subject to get a lovely blurry pink effect.
Also capturing some blossoms behind the subject shows that these spring blossoms can be found everywhere around the person – now, wouldn't you like that?
Also Read:
Daffodils in Boston – where to find them and their significance
Best spots to experience Spring in Boston
2. Experiment With Angles
We're pretty used to seeing everything around us at eye level. That's why it's refreshing and unique to show the subject from a different perspective.
Shoot from above, shoot from below, shoot from behind another object (like a tree or wall). Try angles that you wouldn't usually see the subject from.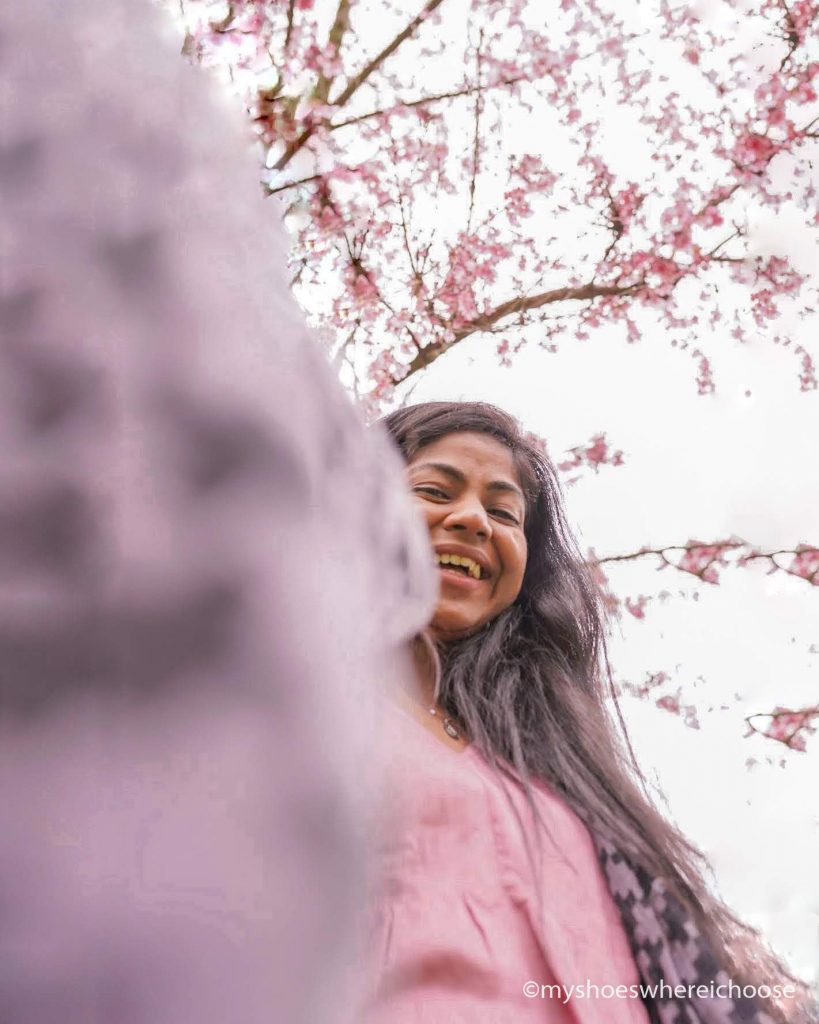 In this picture, I used a 35mm lens placed at knee height so I could use my scarf to add the foreground interest we previously spoke about. When shooting from below, you could also consider using a wide-angle lens or placing the camera at ground level to make the subject appear taller.
3. Frame your picture with the blooms
We all love symmetry – so, finding blossoms that can frame your subject is an opportunity you must make use of!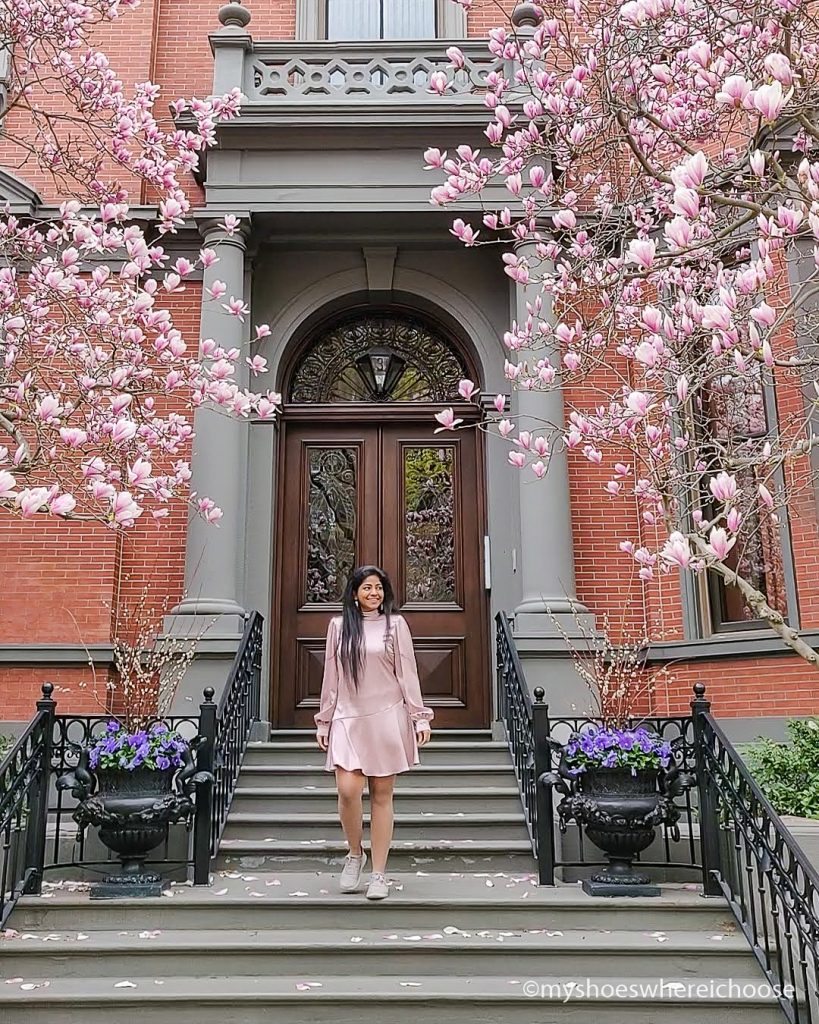 When I came across these lovely Magnolias framing the door during my spring blossom photoshoot, I knew I had to ignore the rule of thirds, and pose right at the center of the image!
Also Read:
Daffodils in Boston – where to find them and their significance
Best spots to experience Spring in Boston
4. Tell a story
What you see below is one of my favorite pictures even though the focus is off my face. The blur occurred because I was shooting alone with a tripod and didn't realize that the focus was off. But it can easily be attributed to my movement; it adds to the story I'm trying to tell.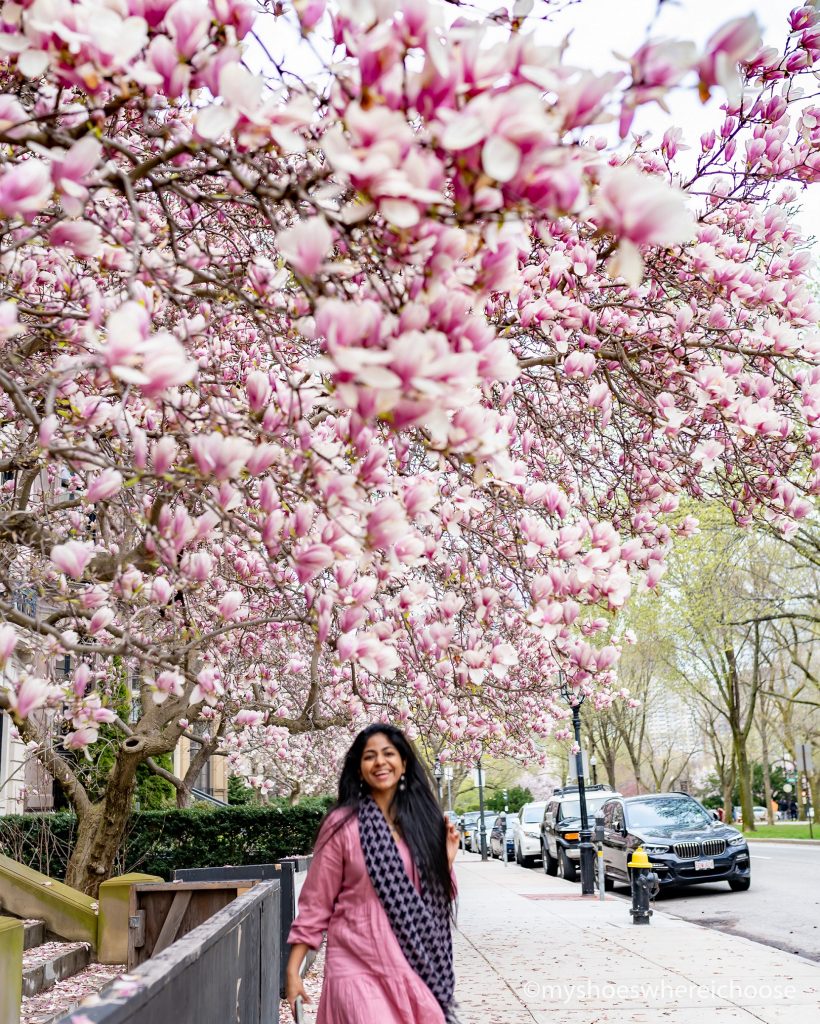 What story? The story of how I'm practically dancing with joy under the vibrant pink Magnolias, welcoming the warmth and light that come with the season after a long, cold winter.
5. Use Props
And if you're telling a story like we discussed above, what better way to say it than with props?
The month of April in Boston is characterized by showers (and sometimes even mild snowfall). It's also the beginning of warmer days, but still quite cold. I decided to show this with my boots, scarf, and umbrella. Also notice the floor, wet from the rain a few hours earlier.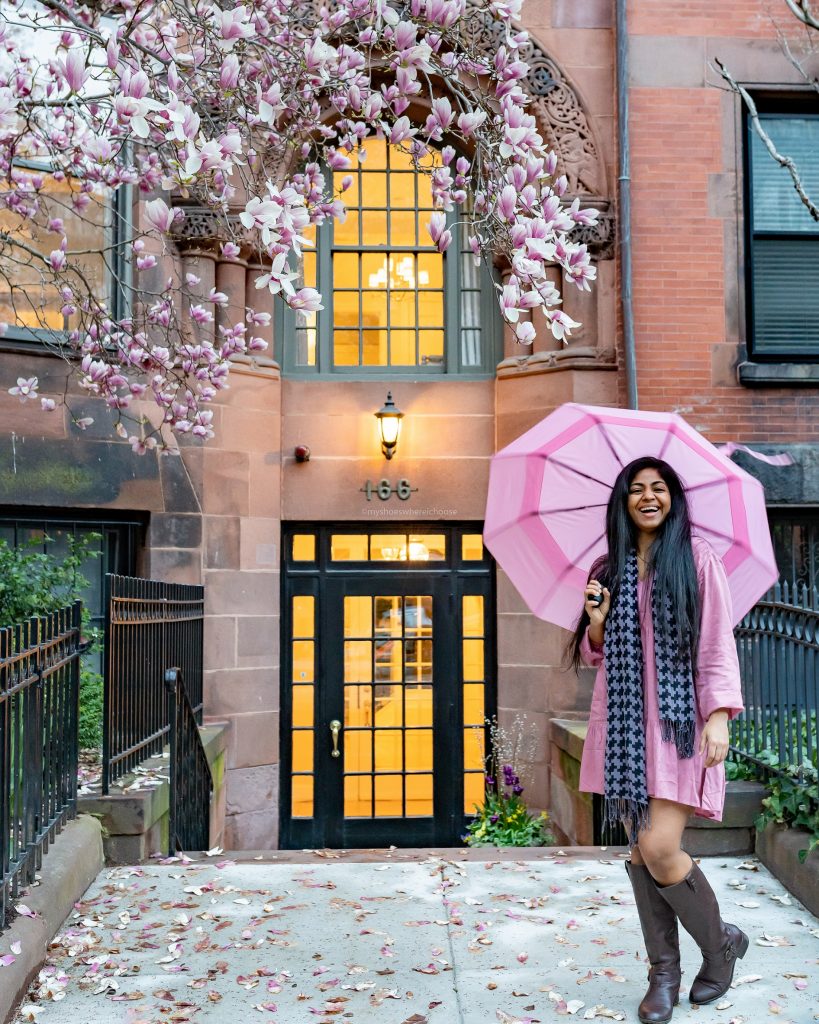 That said, there are days when the weather is just right for a picnic, or a quick read in the fresh air – which make great scenes to show in your spring blossom photoshoot!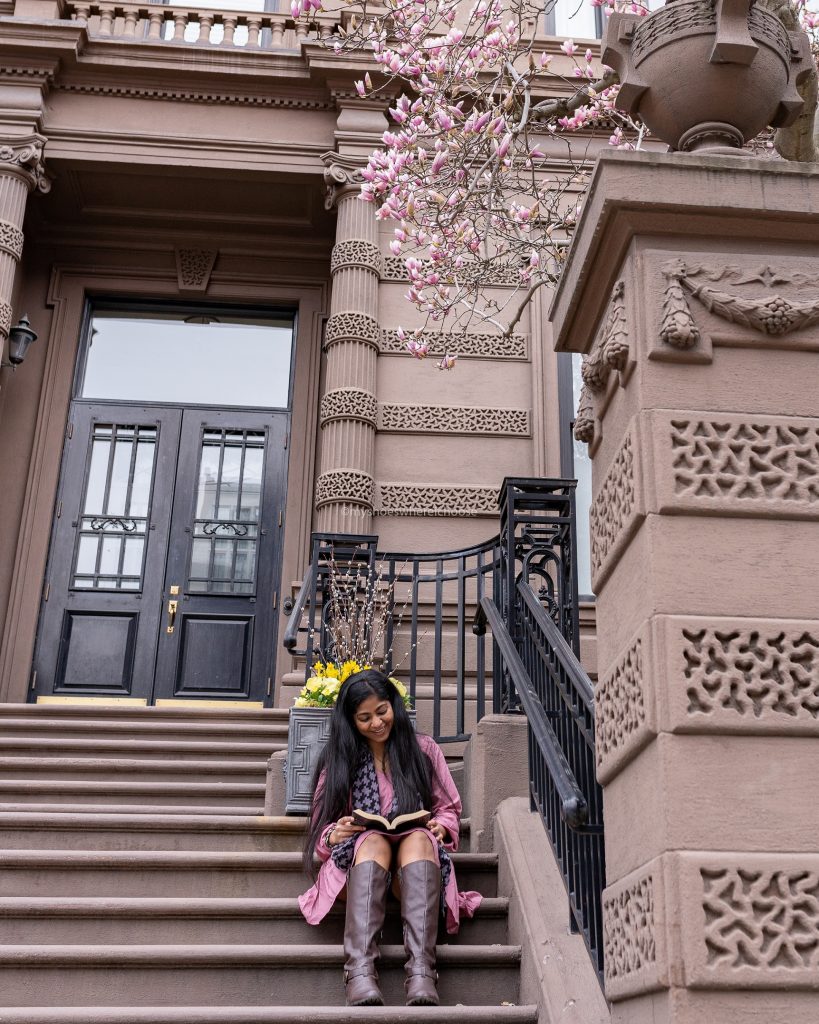 Also Read:
Daffodils in Boston – where to find them and their significance
Best spots to experience Spring in Boston
6. Color Coordinate
I don't know about you, but I love my pink clothes, and I go all in to match the blossoms in April!
Color coordination, however, doesn't always mean matching the same colors – you can choose colors that complement or contrast each other.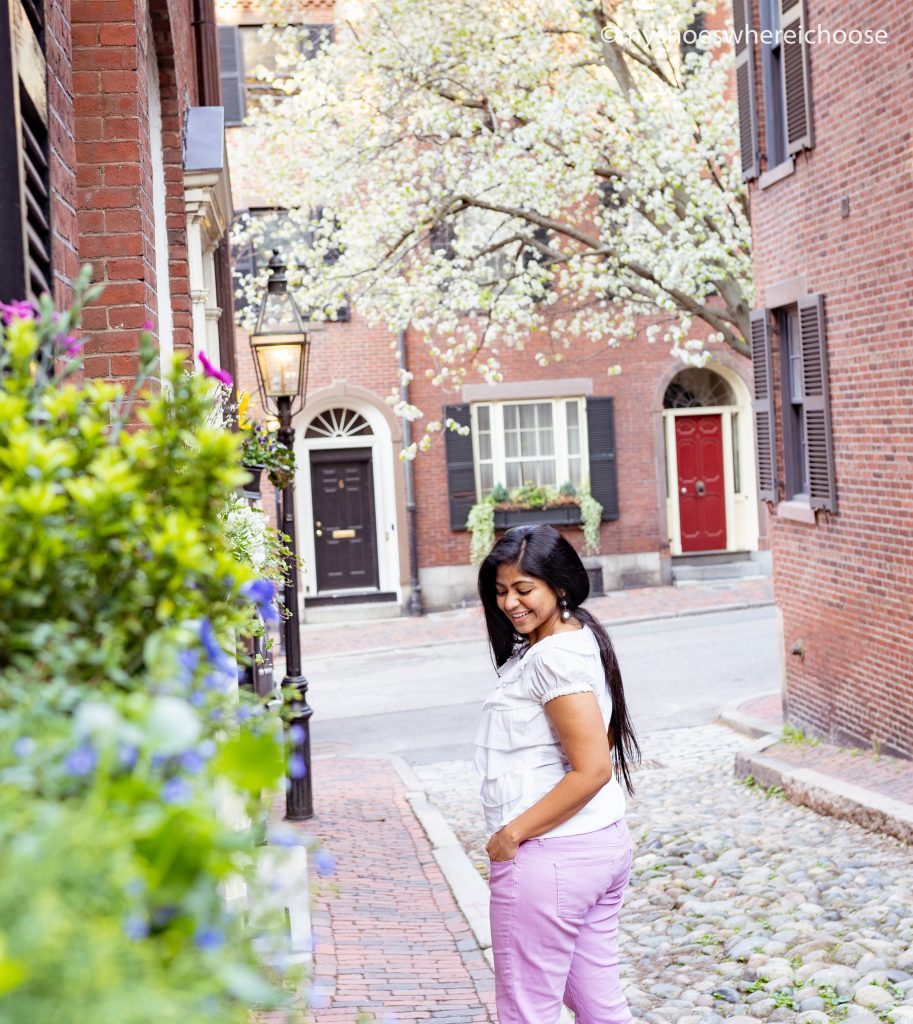 As you can see here, I wore pink and white in both pictures. In the first one, the blossoms are dull-white, leaving the job of adding pink vibes to the image solely to my pants.
In the second, my dress looks like an extension of the tree itself! There's no right or wrong – just go with what looks good to you.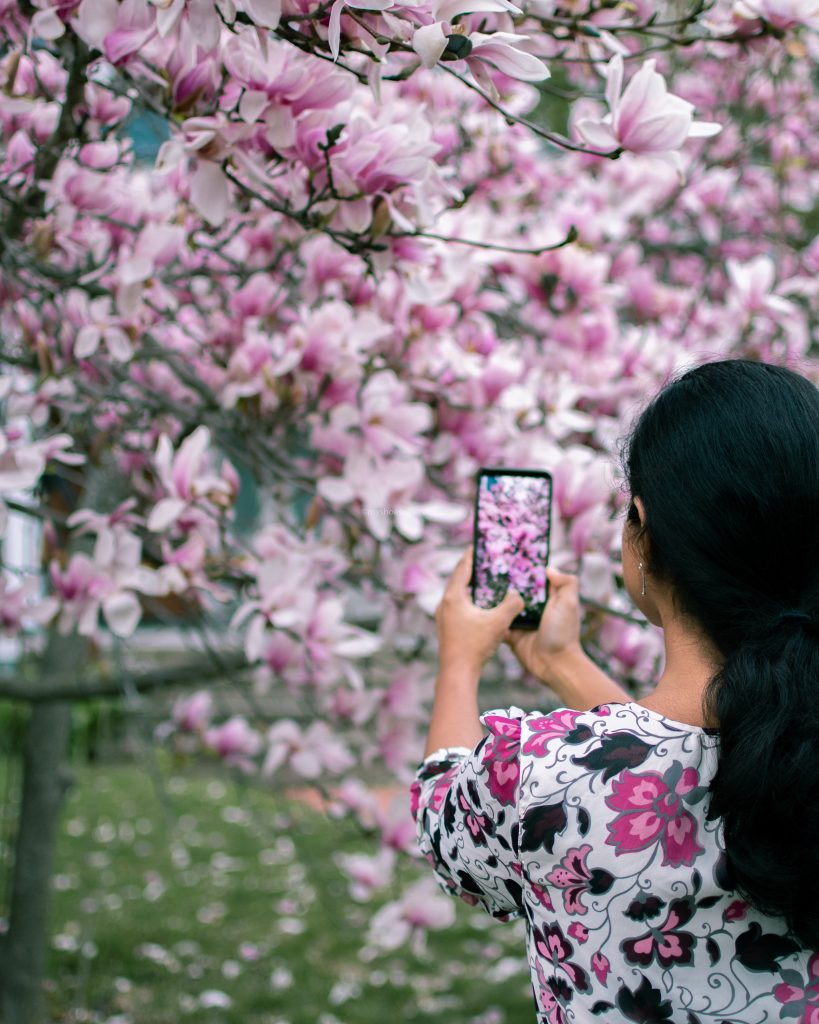 I hope you found these tips helpful! What other creative tips would you use for your spring blossom photoshoot?
Other posts you might like
Latest Posts on myshoeswhereichoose